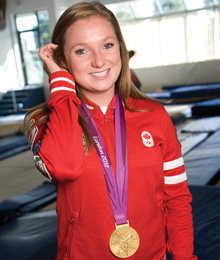 After capturing Canada's only gold medal at the 2012 Olympic Games, you'd think Rosannagh (Rosie) MacLennan would be flying high. But the 24-year-old trampolinist remains as grounded as ever — and the weight of gold has nothing to do with it, either.
"It's obviously something I'm really proud of," says the King City native, "but at the same time there's a lot more to celebrate than gold medals."
Of course, such as how your victory could spark grassroots enthusiasm, encouraging a new wave of fledgling trampolinists to enrol in this relatively unsung sport, boosting local economies and laying the foundation for future Olympians?
"Yeah, but I think as a kid, even watching the athletes that don't get a Read more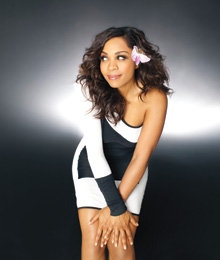 In a world where music is often treated like bubble gum, consumed and discarded fleetingly, how does an artist keep her music fresh, distinct and relevant? Sometimes, it means turning back the clock.
After a three-year hiatus, Canadian R&B singer Divine Brown returns to the spotlight with her hip-swaying blast from the past, "Gone." Its infectious hook — "I'm Gone!" — accented by the ba-dant-dun-da-dant of bellowing horns, set to the steady rhythm of underlying keys and choir-like harmonies, transports you back to the vinyl-spinning, radio-rocking days of 1960-something.
This first single comes on the cusp of her third album, Something Fresh, slated for release in early 2013. She describes the album — produced by Woodbridge-natives the Rezza Brothers — as a Read more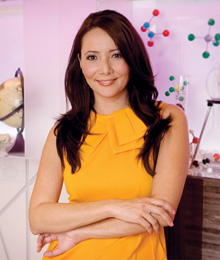 Ziya Tong and I have been forced to seek refuge in the last bastion of safety at CTV's studios: the set of Canada AM. Dan Riskin, the mad scientist sophomore that he is, is concocting some volatile experiment, and the results point to explosive. We can only pray for the well-being of the Daily Planet set and take cover where Beverly Thomson serves up the day's headlines over coffee.
OK, so that's a bit of a stretch. But there's enough pyrotechnic business brewing that we've been instructed to steer clear. That, and they're filming. So a dimly lit corner and two comfy armchairs beside a faux fireplace will just have to do.
While certainly not ideal, these circumstances are actually unsurprising. This "intelligent insanity," as Tong describes it, is just business as usual on, Daily Planet, Discovery Channel Canada's flagship series. One day they're learning to fight forest fires with fans, the next they're meeting an artist who created "bulletproof skin" out of spider silk and goat milk. Today, it just Read more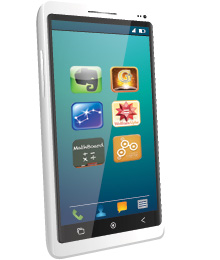 Help your child brush up on the basics and excel in academia with these comprehensive apps ideal for school life.
WORDFLEX TOUCH DICTIONARY
Like a dictionary 2.0, Wordflex Touch Dictionary maps the bottomless depths of language for easy and insightful user navigation. Search a specific word to find its definition, syntax, synonyms and more, all organized in malleable word-trees of expandable nodes – a handy sidekick for those English essays or for bolstering vocabularies.
GRAMMAR UP
With over 1,800 questions, Grammar Up is an excellent tool for learning the intricacies of English grammar. From word choice to verb tense, explore 20 topics delivered through randomized tests Read more
Driving an electric vehicle isn't for everyone. More accurately, it's for a select few. Case in point: the Ford Focus Electric, Ford's first fully electric car.
Here is, for all intents and purposes, a solid electric vehicle: it's attractive, drives well, and of course — its raison d'être — emits zero carbon emissions. But who's going to drive it?
Commuters? Unlikely. Regular travellers? Nope. Single-car households? You'd run into problems. I could rhyme off the figures — like its 23-kilowatt-hour lithium-ion battery, which produces 143 horsepower and 184 pound-feet of torque — but that doesn't really matter. This car is for the established eco-minded urbanite, plain and simple.
Read more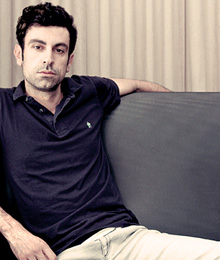 Local boy Gasper Barone sits at a corner table in the Moose & Firkin as classic pop/rock hits fuel a sparsely populated but lively room. It's a fitting backdrop, considering his first solo album, Hype, reverberates with era-spanning sound.
Pleasant and soft-spoken, Barone details the two-year process developing his six-song EP. "I'm not content with just enough," he says. "I like perfection." But for Barone, 30, perfection isn't about a polished sound. It's about capturing the moment, seizing the emotion at hand and translating it into something raw and visceral.
This attitude is evident throughout Hype's palpable twanging and upbeat melodies. From the B-52's-inspired Words Get In The Way, to the folky, rhythmic strumming of A Letter Across Continents, to the Read more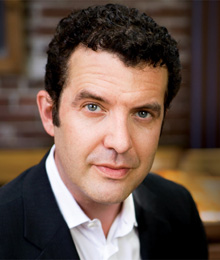 Rick Mercer is an enigma. This might not seem apparent through his playful on-air antics, but behind all the cheeky banter, commercial parodies and in-your-face ranting, there's more to this unadulterated Canadian than meets the eye. It's a lesson I learned early on during our midday sit-down at Allen's in Toronto, one that shines a light on a side of this political satirist that's rarely captured by cameras.
It's Mercer's choice, Allen's, and an excellent one at that. The Irish-American pub on Danforth Avenue, known for its à la carte burger and willow tree-shaded patio, gives a nod to the Emerald Isles via a bar lined wall-to-wall with a generous selection of spirits. Where better to interview a good ole islander like Mercer?
He mentions he likes to pop by for the odd Guinness, but he's ordered an ice water — he's a professional, after all. And, as it turns Read more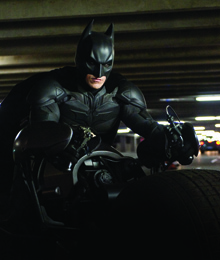 If you make yourself more than just a man, if you devote yourself to an ideal and they can't stop you, then you become something else entirely. A legend, Mr. Wayne. – Ra's al Ghul, Batman Begins, 2005.
This line, so eloquently delivered by Liam Neeson in Christopher Nolan's Batman Begins, the 2005 reboot of the Batman film franchise, is the existential nudge directing a once lost and disillusioned Bruce Wayne down the path towards dark knighthood — a storyline that wrapped up this July in the highly anticipated blockbuster The Dark Knight Rises.
It was the simple yet powerful push Wayne needed. Like a forest being born again in the aftermath of wildfire, this counsel guided his gaze to the set of ideals that could, if embraced, grow from tragedy. Principles that are put to the test when al Ghul places a blade in the young billionaire's hand, ordering him to execute an alleged murder. Read more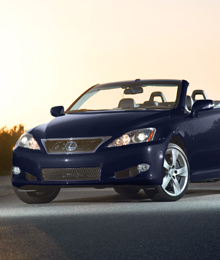 There's always been a stigma riding shotgun with Lexus. You've probably heard about the slights. "They're just dressed-up Toyotas;" "They have no personality." But those who like this Japanese luxury brand tenaciously stand behind it, and it's hard to belittle their loyalty. Each Lexus, after all, is exceptionally well built. But can the 2012 IS 350 C serve up some flavour and break free from the flak?
When first examining the IS 350 C, you may feel like you've seen this luxury convertible coupe before. That's because you have. Not much has changed stylistically since this two-door, hardtop convertible was released alongside the redesigned 2009 IS. Lexus apparently decided to skip the standard coupe altogether, but that's another story. This isn't necessarily detrimental, though. The same sharp, assertive eyes and sleek front-end give the IS 350 C a sporty look. Read more