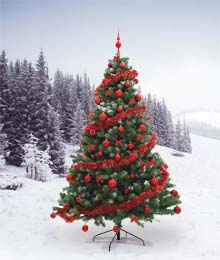 Perhaps the decision between a real or fake Christmas tree was once a contentious matter for consumers. But today, it seems, the decision is becoming more and more clear-cut. Faux fir is decking our halls.
According to Statistics Canada, in 2011 the fresh-cut Christmas tree industry reaped more than $51 million in sales. Not bad, especially considering over $28 million came from exports (Canada is a net exporter of Christmas trees, StatsCan notes). In 2010, however, the industry raked in $56.6 million — that's a 9 per cent drop. In fact, there's been a significant slide in real Christmas tree sales over the last decade: down 22 per cent since 2006 and nearly a third since 2001.
Artificial tree sales, on the other hand, continue to climb. Last year $47 million worth of fake Christmas trees were imported to Canada — more than double 2001's figure — with the vast majority of those coming from China. Like virtually every other holiday hallmark, Canadian souvenir or bargain-priced paraphernalia that fetches our hard-earned cash, we're importing Christmas from across the Pacific. The North Pole has moved its head office to Beijing.
Read more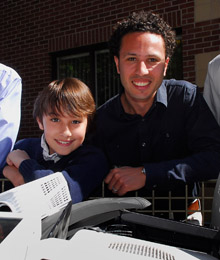 On June 7, 2012, students from the Froebel Education Centre in Mississauga were rewarded a $10,000 technology grant, courtesy of Samsung Hope for Children, for their substantial efforts in the Green Living Show's Passion for E-Recycling School Challenge. In response to this initiative, the 27 elementary-aged kids banded together, gathering an impressive 7,000 pounds of electronic waste (e-waste) in just 10 days. Averaging 261 pounds of e-waste each, more than any of the other participating GTA schools, these children exhibited great strength in small numbers. Read more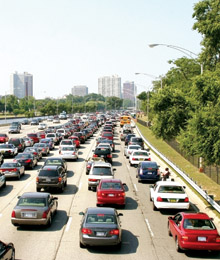 If you've ever tried to take Highway 400 out of the city on a long weekend, you might have noticed that the Greater Golden Horseshoe is growing fast. With an exploding population that is expected to reach over 11 million by 2031, we really need to look forward in planning development for the fastest growing area in Canada. Accommodating new growth with the sprawling low-density developments that are rampant throughout this area will only mean bad things for our quality of life and our environment.
Luckily, Ontario has a Greenbelt, created in response to the uncontrolled sprawl Ontario has seen over the last decade.
In numbers, the Greenbelt is very impressive: it is the largest in the world, protecting over 720,000 hectares of countryside, including agricultural land, wetlands and green space. Read more
In most Canadian gardens, there is too much clay or sand content, say experts in this field. Both are responsible for a compromised growing environment – and that spells frustration for those of us who work hard to grow flowers, tomatoes, vegetables and fruit.
"For plant roots to thrive, they need a proper balance of moisture, nutrition and aeration," says Syd Pell at Miracle-Gro. "Clay soil is dense and heavy, with tiny pores, so the oxygen level is low. Water cannot readily pass through, causing drainage problems that essentially drown the plant. At the other extreme, sandy soil has large pores and is low in organic matter, making it difficult to retain nutrients as water drains away far too quickly. If the roots can't get sufficient water and oxygen to transport nutrients, the plants will shut down."
Read more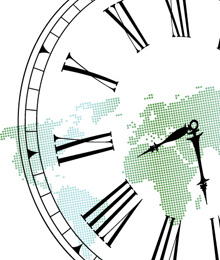 For me, one of the most dramatic Earth Hour events in Ontario occurs when the Niagara Parks Commission turns off the lights that illuminate Niagara Falls (you can find photos on Flickr or YouTube). Seeing one of the natural wonders of the world and a source of our hydroelectric power temporarily darkened reminds me of how dependent we are on electricity. None of us would wish to do without the heating, lighting or other essential services that energy provides, but we need to find ways to deliver these services while doing less harm to the environment.
Read more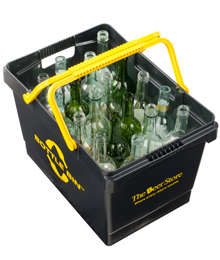 Forty per cent of recycled glass ends up in landfills because mixed or contaminated glass cannot be recycled. In order to decrease waste and protect our planet, it is crucial that 100 per cent of recycled glass is recycled properly. Bottle Bins is a simple yet innovative way to ensure that you are productively recycling. Each bin holds 18 standard spirit or wine bottles, or 48 beers bottles. The bin prevents bottles from breaking and the simple system allows you to sort your bottles by colour to ensure each item does not end up in a landfill. Made of 100 per cent recycled materials, Bottle Bin demonstrates how highly the Beer Store regards environmental initiatives. By making it so convenient, there is no reason to not partake in this green movement. If reducing your environmental footprint isn't reason enough to recycle, the Beer Store financially compensates those who return bottles with a deposit fund. Read more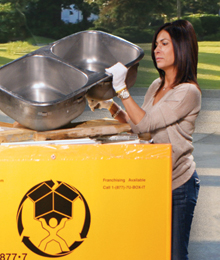 You could easily pack a landfill with the number of waste removal companies that exist today. From metal bins to flimsy bags, separating the junk from the gems is an arduous task. That's why industry innovator Antonio Mammone knew that in order to shine he needed to design a product and business model that differentiated itself in a stagnant market. Enter U-Box-It: A unique idea that raises the bar with a revolutionary bin that satisfies eco-conscience clients. "While most people are trying to think outside the box, I focused my efforts on the box itself," Mammone famously says of the delivery, pick-up and disposal concept that's cleaning up the GTA.
While prepping for a major home renovation, Luana Guglielmi required a practical system that would provide storage and allow her to rid waste at her own pace. An ambitious do-it-yourselfer and advocate of green living, Luana found U-Box-It Read more
Give your green thumb a workout with these gardening must-haves.
1 Zensations
With vibrant colours complementing the hues of spring blossoms, these traditional Buddha heads fuse Zen with a hint of modern design into your space. www.homesense.ca
2 Home Made
Carmine strawberries and leafy green asparagus by Harvest Collection will up the ante when harvesting season favourites. www.homedepot.ca
3 Green Bay
Stripe your grass as you mow with a system that can be easily attached to your walk-behind mower. The end-result is a Read more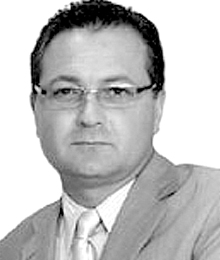 "While most entrepreneurs are thinking inside and outside of the box, I focused my efforts on the box itself," says Antonio Mammone, founder of the revolutionary waste management company U-Box-It. An industry veteran and creator at heart, Mammone's 100 per cent recyclable concept has been hailed by Bloomberg Businessweek and won bronze at the 2008 International Design Excellence Awards in Washington, D.C. "A mini bin that was recyclable was unheard of. I just knew that there was something there," he says, of what's become North America's first disposable junk bin.
Born into a thriving disposal business, some might say Mammone was destined to follow his father's entrepreneurial footsteps. "My dad has always been more of an innovator, and I think I took after him … I've always tried to think differently, try new things, come up with new ideas," says Mammone, who invented U-Box-It to fill Read more
The province's proposed Green Energy Act will spearhead Ontarians into a greener future, and pave the way for renewable energy sources.
It's an exciting time to be alive. Every once in a while throughout history, a major revolution takes place. It happened at the turn of the 18th century when industry sprung into action using chemicals, gas and steam power. We recently witnessed another one, as the dawn of technology came to pass, unleashing a newly digital and computerized world. Now one more major transformation is being born. Countries all over the globe are going green by looking at new eco-friendly technologies and ways to preserve Mother Earth – something we might see sooner than later in Ontario. Read more