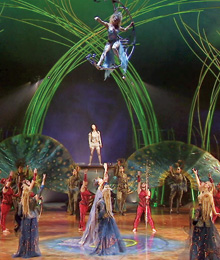 A stage is subtly illuminated with dreamy, oceanic colours; posing in its midst is a sparkling glass bowl of water. Above, an intricate web of ropes and harnesses sway lightly in mid-air, and off to the side, an acrobat stretches her muscles in quiet preparation.
This is the unusually still, silent stage of Amaluna, Cirque du Soleil's latest sensation. In a matter of days, the theatre will be brought to life with marvels beyond onlookers' wildest imaginations. For now it waits; a fantasy world undiscovered.
The term Amaluna means "mother moon" — a title that certainly fits the out-of-this-world show, which sports mind-bending acrobatic feats and tantalizing visuals. Director Diane Paulus brings the performance back down to earth with acts deeply inspired by Shakespeare's The Read more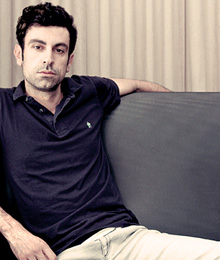 Local boy Gasper Barone sits at a corner table in the Moose & Firkin as classic pop/rock hits fuel a sparsely populated but lively room. It's a fitting backdrop, considering his first solo album, Hype, reverberates with era-spanning sound.
Pleasant and soft-spoken, Barone details the two-year process developing his six-song EP. "I'm not content with just enough," he says. "I like perfection." But for Barone, 30, perfection isn't about a polished sound. It's about capturing the moment, seizing the emotion at hand and translating it into something raw and visceral.
This attitude is evident throughout Hype's palpable twanging and upbeat melodies. From the B-52's-inspired Words Get In The Way, to the folky, rhythmic strumming of A Letter Across Continents, to the Read more
While toys and family adventures into the unknown may seem beneficial to those significant years of human development called childhood, experts agree that the only souvenir kids need on their journey to a happy adulthood is time with mom and dad.
"Kids don't need expensive holidays," says Linda Cameron, a mother and associate professor in curriculum teaching and learning at Ontario Institute for Studies in Education at the University of Toronto. "It's quality time, where you are attentive and fully present and mindful of the child – the actual interaction and close one-on-one attention that you pay to an infant – that is far more important than all the toys that you might buy or all the entertainment that you might provide. That gives them a sense of security, connectedness, and an emotional bond." Read more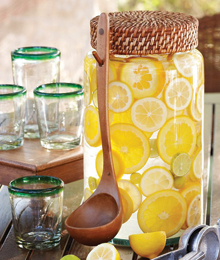 Enjoy the finest in food, décor and entertainment this summer with these items that will help to set the mood.
1. Corsica Single Chaise and Cushion Feel like you are on vacation at a tropical resort as you relax in the beaming sun on this hand-woven, durable, all-weather wicker lounge chair. It is quick drying in case any cool drinks are spilled and features a thick, comfy cushion that's covered in a stain-resistant fabric. www.potterybarn.com
2. Chesapeake Double Chaise and Cushion Sit back and enjoy a good book, a cool drink or some company in this inviting chair that adjusts to four positions and comes with a convenient pullout tray. As nature surrounds you, you'll be consumed by summer's beauty. www.potterybarn.com Read more