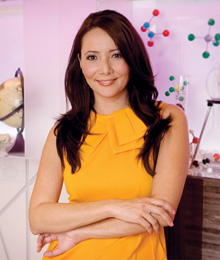 Ziya Tong and I have been forced to seek refuge in the last bastion of safety at CTV's studios: the set of Canada AM. Dan Riskin, the mad scientist sophomore that he is, is concocting some volatile experiment, and the results point to explosive. We can only pray for the well-being of the Daily Planet set and take cover where Beverly Thomson serves up the day's headlines over coffee.
OK, so that's a bit of a stretch. But there's enough pyrotechnic business brewing that we've been instructed to steer clear. That, and they're filming. So a dimly lit corner and two comfy armchairs beside a faux fireplace will just have to do.
While certainly not ideal, these circumstances are actually unsurprising. This "intelligent insanity," as Tong describes it, is just business as usual on, Daily Planet, Discovery Channel Canada's flagship series. One day they're learning to fight forest fires with fans, the next they're meeting an artist who created "bulletproof skin" out of spider silk and goat milk. Today, it just Read more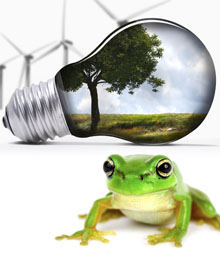 With everything we know about pollution and the environment, it's clear we need to take control. In every major city around the globe, humankind consumes the Earth's resources to exhaustion. And if we don't wake up and smell the fumes, it may one day be too late. When it comes to ensuring our survival, the question is: Where do we start? For homeowners and businesses in Ontario, one solution is finally here, and it comes in the shape of a little green amphibian.
Established just four years ago, Bullfrog Power has become a leading provider of 100 per cent green electricity in the province. "We give people the choice to buy from renewable resources like wind and small hydro," says president and co-founder Tom Heintzman. "It's a choice for people looking to reduce their negative environmental impact, and help promote renewable power." With the help of Bullfrog's Read more