Ziya Tong: Sky Cranes and Electric Brains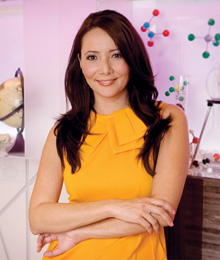 Ziya Tong and I have been forced to seek refuge in the last bastion of safety at CTV's studios: the set of Canada AM. Dan Riskin, the mad scientist sophomore that he is, is concocting some volatile experiment, and the results point to explosive. We can only pray for the well-being of the Daily Planet set and take cover where Beverly Thomson serves up the day's headlines over coffee.
OK, so that's a bit of a stretch. But there's enough pyrotechnic business brewing that we've been instructed to steer clear. That, and they're filming. So a dimly lit corner and two comfy armchairs beside a faux fireplace will just have to do.
While certainly not ideal, these circumstances are actually unsurprising. This "intelligent insanity," as Tong describes it, is just business as usual on, Daily Planet, Discovery Channel Canada's flagship series. One day they're learning to fight forest fires with fans, the next they're meeting an artist who created "bulletproof skin" out of spider silk and goat milk. Today, it just so happens they're blowing up a studio. What are you gonna do?

"I just feel like people are so hungry for thoughtful, intelligent programming," says Tong, co-host of Daily Planet. In a medium where spoiled socialites, love-struck vampires and sensationalized talent shows reign supreme, this may seem like wishful thinking. But Tong feels audiences crave more than the mindless monotony of primetime TV's safe standards. At least that's what she hopes, anyway. "I mean, that's why I watched the show before I was on it," she adds with a chuckle.
She may not be too far off, either. Especially considering its special, Mars Landing 2012: The New Search for Life, attracted more than 1.3 million viewers across the U.S. this past August. "I really think the Mars landing was a truly euphoric science moment," she eloquently says of NASA's latest and most ambitious mission to Mars. However, Tong just can't contain her enthusiasm: "There was a sky crane!" she bursts out, slapping knuckles to palm. "It was crazy."
Her passion is palpable, broadcasting a contagious energy throughout the dark, dormant stage — which, she adds, she actually kind of digs. It's certainly not hard to see why, after what was supposed to be a temporary six-week stint in 2008 — and a few prior interim hosts — Tong was offered a permanent home on Daily Planet.
With the show's 18th season underway, Tong details the informative, yet out-there, adventures on deck this fall. From shark tagging off the Miami coast to swimming with 57,000 migrating beluga whales north of Churchill, Manitoba, to trekking to the Northwest Territories to meet a pack of parachuting paramedics, Daily Planet's content remains as entertaining as it is educating.
"I'm endlessly curious," she says of her passion for knowledge, noting the question mark tattoo on the back of her neck as a manifestation of that inquisitiveness. "I'm just constantly fascinated by people's discoveries, and I love talking to smart people. I mean there's really nothing better." If only my Grade 9 science teacher taught with such fervour. But that's another story.
Ironically, this bubbly, charismatic on-air personality wasn't always comfortable in the limelight. While working for Orientatin.com, a news site for developing nations that is now defunct, Tong felt the content it was producing was ideal for video. However, "I was very, very, very camera-shy," she says of her fledgling days in the industry. But Tong had a dream. A David Attenborough inspired dream. She details her fascination with his ability to reveal the secret world of animal behaviour — how "you can't help but be enamoured" of his refined expositions — and how she wished to do the same. Stirred by the British naturalist and broadcaster, Tong thrust herself in front of the lens. "I'd force myself to do it," she says of the process for overcoming her fears. She was cast in a few Apple ads before sending over 2,000 emails to various TV executives. "I probably emailed every single television executive that, well, certainly had email at the time," she adds. It may seem excessive, but persistence is Tong's middle name. Literally, in Chinese, it's her middle name.
Her tenacity paid off. Tong eventually landed a field producer position with Wired Science, hosted CBC's ZeD, which earned her a Gemini nomination, and worked as host, writer and director for The Leading Edge before finding herself on Daily Planet.
Life is a perpetual learning process for this British-born television star. She's travelled to over 50 countries, periodically in the pursuit of great scuba diving, and is a developing linguist. She fluently speaks English and Cantonese, and dabbles in Mandarin, French and Arabic, which she finds particularly beautiful. "I just feel like if I could see and understand the way that language works, I would have an entirely different perspective on life," she says. Chinese, for example, is far more literal than English, allowing her to approach ideas from novel angles. Take the word "computer," she says. In Chinese it translates to "electric brain" — an intriguing interpretation. As if on cue, a cellphone rings from an undetermined location to confirm her point. "Oh, and there's one right now." We can't help but laugh.
While we were forced to hunker down in Canada AM's dormant, but rather cosy, setting, the lively conversation proved pleasantly engrossing. Tong currently has a book in the works and sits on the board of directors of the World Wildlife Fund, but she just can't picture a better role than her now five-year tenure co-hosting Daily Planet. "I think I tried at one point and I got this job. It's a dream job," she concludes. Let's just hope Riskin left the set in one piece.