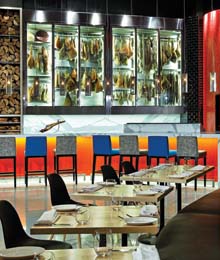 When it comes to the palate of the experienced epicurean, ambiance is a distinct necessity. It involves an unabashed drive to beautiful design, a commitment to exceptional service and an irresistible selection of gastronomic creations. For the seasoned restaurateur, it's a road map to raising the roof for those that crave the wow factor. "This is an urban restaurant for the suburban patron — someone searching for a downtown feel without leaving home," says Luigi Beccati, owner of A1 Autostrada in Vaughan. "And it's all about family and good food."
A restaurateur and chef with over 20 years of experience, Beccati's unending search to reinvent the dining experience has culminated in an innovative concept that began two and a half years ago. Guests are immediately welcomed into a sublime setting that ingeniously simulates the adrenaline rush of riding in a supercar. Designed by the award-winning firm II BY IV DESIGN, the spacious interior is awash with pops of colour, subway-inspired graphics, marble fixtures and a pizza oven blazing with a mosaic of red-orange tiles. A wine cellar and trendy prosciutto bar displaying market-style charcuterie are among the restaurant's favoured features. A glance at the sunken dining area in the heart of Autostrada reveals a table for eight embraced by a mesh fabric scrim. The centrepiece showcases a sentimental print of Italian people gathered in tradition. Speeding along the wall of the main dining area is a customized Pirelli tire tread, achieved by individually placed, luminescent tiles that result in a stunning 3D feature. In 2011, Boutique Design Awards praised Autostrada with a Best Restaurant award.

Read more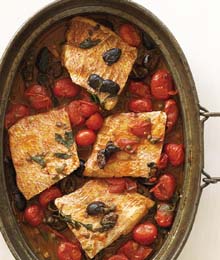 Ingredients:
1 tablespoon extra virgin olive oil
6 cloves garlic, thinly sliced
32 grape tomatoes
2 tablespoons nonpareil capers
12 oil-cured black olives, pitted
6 tablespoons roughly chopped fresh flat-leaf Italian parsley
4 (5-ounce) boneless red snapper fillets
salt
freshly ground black pepper
1 lemon
Method:
1. Preheat the oven to 325°F.
2. Heat the olive oil with the garlic in a large, nonstick, ovenproof skillet and cook until the garlic is golden brown, about 2 minutes.
Add the tomatoes and cook until they blister and soften, about 3 minutes. You can help the tomatoes pop by gently pressing them with a fork. Add the capers, olives and parsley to the sauce and bring to a simmer.
3.
Season the snapper with salt and pepper and place on top of the tomato sauce skin-side up. Place in the oven and cook until the fillets are warmed through, about 5 minutes.
4.
Remove the fillets and place them on 4 plates. Using the small holes of a box grater or a Microplane zester, grate ¼ tablespoon lemon zest and add it to the sauce, then cut the lemon in half and add a squeeze of juice. Spoon the sauce over the fish.
The Red Snapper Puttanesca dish found in Rocco DiSpirito's latest cookbook, Now Eat This! Italian: Favorite Dishes From the Real Mamas of Italy, is one of over 90 recipes under 350 calories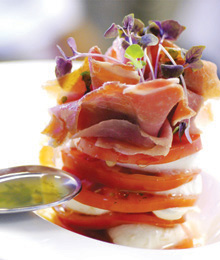 FIRST PLACE: T2 LOUNGE This resto-lounge has given our readers the best of both worlds. With delicious dishes made by award-winning chef Domenic Chiaromonte, and an appealing bar-like atmosphere, T2 Lounge received an overwhelming response and came out on top as Vaughan's Best Restaurant! Year-round, this front-runner caters special events. Many private areas are nestled into this spacious restaurant, such as the decadent dining room that overlooks the bar and dance floor. The heated patio features live entertainment and mingling patrons, changing the pace after diners have enjoyed an impressive Chiaromonte creation.
The Italian fusion cuisine may be one reason our readers have named T2 their favourite place to wine and dine. Owner Enzo Commisso recommends sharing an appetizer platter with friends. The innovative Italian sushi starter made with risotto, prosciutto, bocconcini, basil olio and spicy sriracha crema has people coming back for more. Unsurprising after years of experience, Chiaromonte's dishes are complimented daily. "He has basically travelled the world and he's won many awards," says Commisso of his business partner. "He's a fantastic chef. The food presentation and plating is phenomenal."
Since its doors opened almost three years ago, T2 has been giving clients an unparalleled experience. An astonishing 650 people attended the restaurant's grand opening, which was a big indication of the success that would follow. "It was an accomplishment," says Commisso of the turnout. From that day forward, T2 continued to offer good food, a good time and good music.
"A common compliment is that people think they're downtown," he says. Romantic interior décor, including mirrors and chandeliers, adds a luxurious element to the restaurant. T2's atmosphere is what sets it apart from the rest. Unlike regular restaurants, it keeps its doors open and the party going until 2 a.m. The lavish lounge makes people feel right at home. "We're not big on turning over tables — once you're here, we don't want you to leave," says Commisso, who was born and raised in the restaurant industry.
Expanding their business, Commisso and Chiaromonte have opened up a sister company called C2 Catering Couture with Jeff Berg and Alison Kadlovski of Double Chocolate Fountain and Fun Foods. Now crowned Vaughan's Best Restaurant by our readers, T2 will continue to impress Vaughan residents with impeccable food and irresistible festivities.
905-850-9990
www.t2lounge.com
---
SECOND PLACE: MOTORINO ENOTECA For our readers, Motorino is that home away from home. With a convenient and cosy location, this Italian restaurant has touched the hearts of Vaughan residents and become a popular dining destination. The enthusiastic staff at Motorino describes the atmosphere as relaxed and European. Sitting in a restaurant category of its own, Motorino creates classic Italian food in a young and trendy environment.
Authentic cuisine, which includes stuffed focaccia, wood-fired Neapolitan pizzas and handmade ricotta gnocchi have made this eatery a family favourite. "We sponsored our chef from Italy," says Nancy Babochian, who has been around the restaurant business since she was a young girl. "It doesn't get anymore authentic than that." Motorino only opened its doors a year and a half ago, and since then, has seen clientele fall in love with its cuisine.
Motorino brings classic Italian dishes to a homey environment in Vaughan. Patrons are often impressed with the wine list and the freshness of each dish. "Everybody loves the food," says Babochian. "We'll be changing the menu every year." Keeping Vaughan residents interested with new dishes and satisfied with old favourites, Motorino has been awarded the position of first runner-up by City Life readers and loyal customers.
905-264-1911
www.motorinoenoteca.com
---
THIRD PLACE: ZIZI TRATTORIA This rustic Italian restaurant prides itself on friendly service and traditional dishes. "We're not pretentious at all," says Ara Iskender, co-owner of Zizi Trattoria. "I treat people the way I want to be treated when I go to a restaurant." This business approach, along with the delicious cuisine by chef and co-owner Bill Zaya, has won over many City Life readers. Known for its gnocchi, veal marsala, homemade pasta and daily fish specials, Zizi uses quality ingredients and knows what it takes to satisfy its customers. "There's a big Italian community [in Woodbridge], and they appreciate good food, good Italian meals." Heartfelt tradition and authenticity is felt throughout this establishment.
After a decade in Toronto, owners Iskender and Zaya decided to move north to a neighbourhood they knew and loved. Now in business for 17 years, Zizi has made a mark in the restaurant industry. As a family-oriented trattoria with a great reputation in Vaughan, it was voted second runner-up in this contest. Zizi has made an impression on customers, new and old. "I would say the best compliment we ever received was from an 80-year-old man," says Iskender. "He said our tomato sauce is better than his wife's." Let's hope she's not reading this.
905-850-9875
www.zizi.ca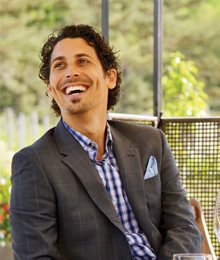 My passion for food began at an early age. Whenever I was allowed in the kitchen, I would help prepare family meals. My traditional Italian family continuously instilled an old-world culinary philosophy of simple, ingredient-driven food. Fresh pasta with seasonal vegetables from the garden tossed in a Tuscan olive oil was the start of many nights shared around our kitchen table. My culinary education took me across Europe and North America, and in 2006, I came home to Hockley Valley Resort.
We have worked very hard over the past five years to turn Hockley Valley into a top Ontario culinary destination. One of the biggest changes was the installation of our on-site, four-acre organic fruit and vegetable garden.
Investing in the garden has been such a worthwhile feat on so many Read more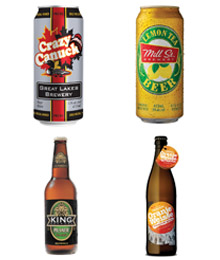 Nothing beats a cold beer on a hot summer day. The thin layer of foam capping a frosty mug; the refreshing, hoppy taste kissing your lips and fighting off the relentless heat – it's a welcome relief from the sweltering midday sun. Indeed, beer is the go-to drink for many Canadians, especially when the summer hits. But while we're quick to grab a two-four from the big -name brands, a little exploration cracks open a world of novel beers and rarely experienced flavours, courtesy of local craft breweries.
Phil DiFonzo, brew master at Nobelton's King Brewery, feels the palate of Canadian beer drinkers is evolving towards flavour-forward blends that deliver more than just inebriation. "There's a beer drinker out there that thinks the best beer is the cheapest beer," he says, explaining how many shop with an as-many-beer-for-as-cheap-as-possible attitude. However, that breed is dying. "We're now getting
Read more
John Zagaria nods towards a black and white photo hanging by the register in his Vaughan butcher shop, Dolce Lucano. "That's my father, Rocco," he says, pointing to a youthful face standing behind a slain cow. He's surrounded by a handful of beaming family members posing in a dilapidated, old-world setting – conditions that simply wouldn't cut it by today's strict sanitation standards. "That's as crude as it gets," Zagaria adds as he gazes fondly at the roots of his craft.
Much has certainly changed since Zagaria's father first learned how to wield the weighty cleaver that was once a standard tool of the butcher's trade. That cumbersome blade – one only the brawny, dexterous hands of a master could brandish – is proudly displayed as Zagaria's business logo. It's both a nostalgic mark of the art's evolution, and the time-honoured traditions that made butchers such integral parts of the community.
Read more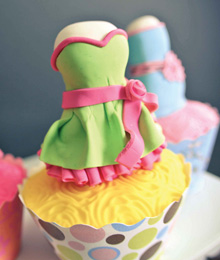 Red velvet, classic vanilla and chocolate are all flavours we're familiar with, but when you venture into one of these boutiques, you'll experience the craze that's hit North America. With a history rooted in the late 18th to early 19th century, the treats aren't new to the sweet scene, but as of late, specialty cupcake shops have been popping up across Toronto and the GTA, prompting competition that has inspired some of the most intriguing of new flavours. From clever options like s'mores and blueberry champagne, we've found Vaughan's most delicious spots to satisfy your cupcake cravings.
We Bake in Heels
A need for change brought two friends together to open We Bake in Heels. With Catherine (Cat) D'Agostino developing recipes, and Adrienne D'Amico handling operations, it's been a match made in cupcake heaven since the shop opened in 2009. "We make Read more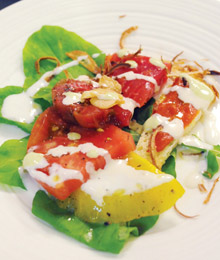 One of summer's greatest pleasures, and something we grow so well in Ontario (and in our backyards), is fresh tomatoes. Here's a recipe for Jamie Kennedy's delicious tomato salad.
Serves Six
For the Dressing:
2 egg yolks
1 tbsp/15 ml fresh lemon juice
1 tsp/5 ml white wine vinegar
1 tsp/5 ml Dijon mustard
2 tbsp/30 ml fresh basil leaves
5 tbsp/75 ml sunflower oil
2 tbsp/30 ml 35% whipping cream
Salt and freshly ground black pepper to taste Read more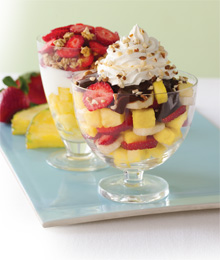 According to Canada's Food Guide, women between the ages of 19 to 50 should be eating seven to eight servings of fruits and vegetables a day, while men should be consuming between eight and 10. By choosing the right foods, people can enjoy increased energy levels, look more vibrant, and feel better overall. But with our busy schedules, it's often hard to make healthy choices. That's where Edible To Go comes in.
Expanding on its existing niche of deluxe fruit arrangements, Edible Arrangements is implementing a new product line that will enrich your everyday meal choices. Offering fresh fruit smoothies, juices, parfaits and salads, the Vaughan location of Edible Arrangements is the first and only store in the GTA to offer these delicious and healthy treats. With bikini-body season upon us, Edible To Go couldn't have come at a better time. "This is a healthy twist to the products that we
Read more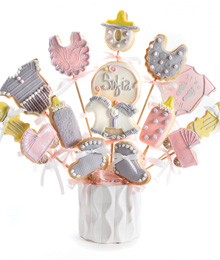 There's nothing quite like a homemade cookie – each soft bite filling you with scrumptious and nostalgic pleasures. The Cookie Messenger holds these age-old sentimentalities close to the heart with each stunning and delicious cookie bouquet it creates.
"It's a feast for the eyes, as well as the palate," says Daniela Nicosia, co-owner of The Cookie Messenger, Canada's only cookie bouquet company. Along with her partner, Gioia Grandinetti, the pair creates colourful arrangements of edible art that are ideal for any occasion. For spring celebrations, a pastel floral bouquet will break the mould of conventional sweets, and with Mother's Day around the bend, a personalized family bouquet with your mother's photo as the centrepiece is a unique and considerate way of expressing appreciation.
Read more