App-ademia: Educational Apps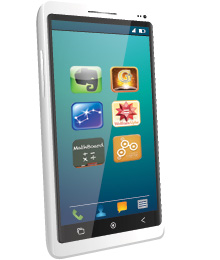 Help your child brush up on the basics and excel in academia with these comprehensive apps ideal for school life.
WORDFLEX TOUCH DICTIONARY
Like a dictionary 2.0, Wordflex Touch Dictionary maps the bottomless depths of language for easy and insightful user navigation. Search a specific word to find its definition, syntax, synonyms and more, all organized in malleable word-trees of expandable nodes – a handy sidekick for those English essays or for bolstering vocabularies.
GRAMMAR UP
With over 1,800 questions, Grammar Up is an excellent tool for learning the intricacies of English grammar. From word choice to verb tense, explore 20 topics delivered through randomized tests examining word use in a variety of sentences. Review results and track progress to build competence.
EVERNOTE
Life can be hectic, especially for students. Evernote is a free-to-use note organizer that helps keep things in order. Write and edit notes, take pictures and record audio on any subject and Evernote will save the information in specified notebooks for quick search and retrieval. Keep your kids' schoolwork organized with this handy software.
MATHBOARD
Improving math skills is as easy as one, two, three with MathBoard. Resembling a chalkboard, this app randomly generates quizzes in addition, subtraction, multiplication, division, squares, square roots and cubes. Set timers, review incorrect answers, save and retry tests, and use the Problem Solver to learn mathematical problem solving step by step.
STAR WALK
Take the little astronomer in your life on a fun and enlightening trip to the stars with Star Walk. Using augmented reality, Star Walk lets you label celestial objects simply by pointing your smart phone to the sky. Learn about stars and constellations, plan stargazing outings, marvel at images from deep space and even track satellites.