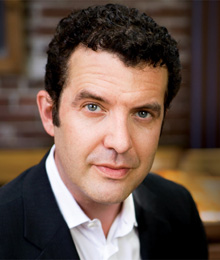 Rick Mercer is an enigma. This might not seem apparent through his playful on-air antics, but behind all the cheeky banter, commercial parodies and in-your-face ranting, there's more to this unadulterated Canadian than meets the eye. It's a lesson I learned early on during our midday sit-down at Allen's in Toronto, one that shines a light on a side of this political satirist that's rarely captured by cameras.
It's Mercer's choice, Allen's, and an excellent one at that. The Irish-American pub on Danforth Avenue, known for its à la carte burger and willow tree-shaded patio, gives a nod to the Emerald Isles via a bar lined wall-to-wall with a generous selection of spirits. Where better to interview a good ole islander like Mercer?
He mentions he likes to pop by for the odd Guinness, but he's ordered an ice water — he's a professional, after all. And, as it turns Read more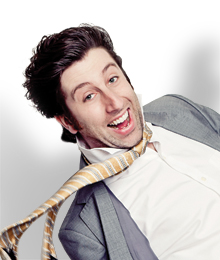 When told I would be interviewing Simon Helberg, best known for his role as Howard Wolowitz on the hit TV show The Big Bang Theory, I thought it was because our female writers were just too afraid of being seduced by an overly sexual, Jewish aerospace engineer. Not one to be afraid, I stepped up to the dish, only to be delighted by a witty conversation with a humble and humorous actor.
Q. Howard's the most sexually forward character on the show. What's the worst pickup line you've ever used on a girl?
Oh gosh. You know, I never was somebody for pickup lines. I think my flaw was being too honest. I didn't have the game that Howard has; Howard may have a terrible game, but he has a game. I would walk up to talk to somebody, a girl at a party, and then immediately tell them I loved them, and I think that we could be Read more
Dane Cook is staring at cover art for his Greatest Hits album. He's narrowed the title choices down from 15 to three and his deadline is today. The creative process has caused the sandy haired star comedian to take a scenic route down Memory Lane – long before his Forbes list fortune and arena-filling fame. He's spent the last few weeks listening to grassroots routines and discovering edits of CDs that he didn't even know existed. "It's interesting – watching and listening to the evolution of myself. It's very, very strange." He pauses. In that brief silence you can hear the deafening authenticity behind Cook's quiet confidence.
Ankle-deep in conversation, it becomes refreshingly apparent that one of Time magazine's 100 Most Influential People hasn't let sold-out stadiums and Hollywood movie roles alongside Kevin Costner, Kate Hudson and Steve Carell Read more