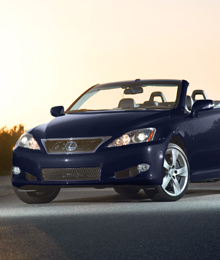 There's always been a stigma riding shotgun with Lexus. You've probably heard about the slights. "They're just dressed-up Toyotas;" "They have no personality." But those who like this Japanese luxury brand tenaciously stand behind it, and it's hard to belittle their loyalty. Each Lexus, after all, is exceptionally well built. But can the 2012 IS 350 C serve up some flavour and break free from the flak?
When first examining the IS 350 C, you may feel like you've seen this luxury convertible coupe before. That's because you have. Not much has changed stylistically since this two-door, hardtop convertible was released alongside the redesigned 2009 IS. Lexus apparently decided to skip the standard coupe altogether, but that's another story. This isn't necessarily detrimental, though. The same sharp, assertive eyes and sleek front-end give the IS 350 C a sporty look. Read more
A staple of luxury, the smooth curves of a Lexus vehicle will transform your life the minute you slide into its high-quality interior engineered with excellence. While the powerful engine purrs seductively as you maneuver its crafted elegance to your destination, trust that Policaro Auto Group will heighten your senses when it comes to choosing the car of your reveries.
Basil, Tony and Paul Policaro are the unbeaten trio of brothers who have steered Policaro Auto Group into a successful five-car dealership business, which includes Northwest Lexus and Northwest Toyota, Acura 2000 and Acura Barrie and Family Honda. Read more
Those unaccustomed to the ISF should beware of the beast within. Armed with some serious artillery, the IS F delivers devastating performance!
It's common knowledge that the German car companies rule the mega horsepower roost with machinery sporting acronyms like AMG by Mercedes, M from BMW and RS from the house of Audi. These bad boys are constantly battling for power supremacy with their steroid induced, four-door sedans and coupes. Their performance matches or exceeds many exotic super cars.
Read more