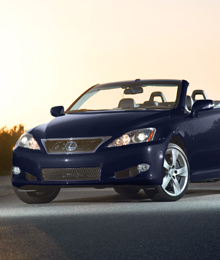 There's always been a stigma riding shotgun with Lexus. You've probably heard about the slights. "They're just dressed-up Toyotas;" "They have no personality." But those who like this Japanese luxury brand tenaciously stand behind it, and it's hard to belittle their loyalty. Each Lexus, after all, is exceptionally well built. But can the 2012 IS 350 C serve up some flavour and break free from the flak?
When first examining the IS 350 C, you may feel like you've seen this luxury convertible coupe before. That's because you have. Not much has changed stylistically since this two-door, hardtop convertible was released alongside the redesigned 2009 IS. Lexus apparently decided to skip the standard coupe altogether, but that's another story. This isn't necessarily detrimental, though. The same sharp, assertive eyes and sleek front-end give the IS 350 C a sporty look. Read more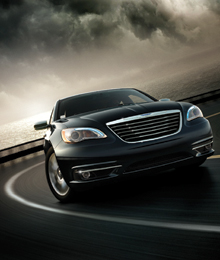 What's the quickest way to erase a past, especially one that brings nothing but bad memories? How about an identity change? Well, it seems that the powers that be at Chrysler felt a need to change the identity of its mid-size sedan and convertible models to '200,' formally known as the Sebring. This gives the heavily made-over model a fresh start with the buying public, especially after coming out of its much-publicized financial woes.
Remember the Chrysler Sebring sedan and convertible? It launched about three years ago unsuccessfully. I had driven one from a rental fleet at the time, and it was certainly clear that some serious re-work was required!
Fast-forward to today and the Sebring gets an extreme makeover in bodystyle, interior design and powertrain, Read more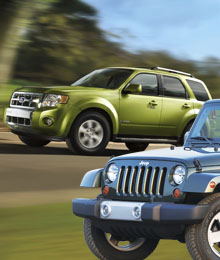 Ford Escape hybrid
SUV practicality without fuel consumption worries.
With the fuel efficiency gains of gas electric hybrid power, it wasn't long before SUVs started adopting this green technology. Ford was one of the early adopters, after Toyota, to equip its popular Escape compact SUV with a hybrid system. Ford launched the Escape Hybrid early in the decade and since then the model has been updated and modernized to its current form. Having driven the Escape on an extended trip, the 177-combined horsepower of the 2.5-litre four-cylinder gas and electric hybrid motor feels energetic and gives surprising acceleration. At one point, with no highway traffic and the gas pedal floored, the Escape impressed by reaching "hello, officer!" speeds effortlessly. The only downside was the aural whine of the engine as the continuously variable transmission Read more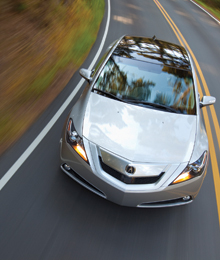 In 1769, Nicholas-Joseph Cugnot invented the first-ever self-propelled vehicle. It ran on steam, and it topped out at two miles per hour. Even back then, engineers like Cugnot faced the same problem we have today: How do we create an environmentally friendly car without sacrificing speed and power?
While efforts are being made to answer that billion-dollar question, environmentally conscious cars, along with carefree speedsters (and everything in between) were on display at the 2010 Toronto International Auto Show. With over 1,000 cars to choose from, we selected four – three Japanese models looking for attention, and one class-leader looking for redemption.
Let's take a closer look at the 2010 Lexus IS C250 and 350 convertibles. The C badge means drivers will enjoy a Read more
Welcome to the chic, sleek, all-glass showroom of Northwest Lexus, located in Brampton, Ont. Whether you're looking to invest in a gas-efficient, smooth-sailing sedan or an ultra-fast sport coupe convertible, the impeccable sales service at Northwest Lexus can assist and educate you in all areas of the vehicle and pricing. Just drop in and book your appointment to take a luxury vehicle for a spin, with Northwest Lexus's new special offer. www.northwest.lexus.ca
TOP LEFT: The futuristic ladies of Northwest Toronto strike a pose next to an outstanding vehicle of what's to come. TOP RIGHT: Guests and the employees of Northwest Lexus mingle about the posh dealership, ready to network amongst their car-friendly peers. ABOVE: The all-glass showroom of NorthWest Lexus, located at 2280 Queen St. E. in Brampton, Ont.