Rocco DiSpirito: Rocco's Road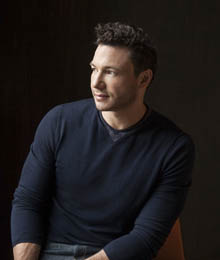 There's a sizzle of spirit spilling through a Vaughan Chapters, and of its endless rows and stacked tables of literature, the open book is Rocco DiSpirito. He's walking in brown leather shoes and fitted in an olive zip-up, weaving through a fidgeting crowd. A woman brazenly shouts out a dinner invitation to him, and he presses a mic to his mouth. "Buy a book or give me a hug," he deadpans. A shameless grin spreads across her face as he wraps his arms around her. The audience inches close.
The American celebrity chef and bestselling author from New York City is in town to promote his latest cookbook, and while expounding the virtues of healthy food, he's unabashed when confessing an erstwhile sweet tooth for saccharine cinnamon rolls. "I had an addiction to Cinnabon — it was harder to break than my crystal meth habit," he jokes, the crowd doubling over in a fit of laughter. Continuing to quip and cajole and lightheartedly lecture on Japanese kale and kamut, he concludes his visit with personalized autographs and photos that stream through the Twitterverse.
However comfortable he appears to be in his own skin, DiSpirito surprisingly had difficulties achieving a level of assuredness that leaves audiences enraptured.
A few meals before, at Alimento Fine Food Emporium in Toronto, he's sipping on espresso at a table tucked away from the lunch crowd. Vividly recalling his early days, the cordon bleu cook, food show host and former culinary judge was once gripped by self-consciousness. "I have to tell you of the days I was frightened over my own shadow. I used to practise Today segments in the private dining area of my restaurant: a host would play Matt Lauer and a hostess would play Katie Couric. When you have to be yourself on TV, the anxiety of worrying whether that self is the self everyone will like just gets to you." He moderates the disclosure with a bon mot, his modus operandi. "I take medication now, so it's much better." At 46, his charm braises in a drum of alacrity.



In 2005, a series of fortunate serendipities came together at an opportune time for DiSpirito. He had just left behind the tizzy timetables and sleepless nights of the restaurant scene, was starring in a reality television series and about to launch his first book. Withdrawing from the pressure-cooked realities of a restaurateur allowed him the freedom to pursue the options swirling around him, leading him onto a road that reversed his self-neglectful lifestyle into one of self-renewal. "I was flirting with the idea of getting in shape and being athletic, but I never had time. Then a couple of things happened: The Biggest Loser asked me to be on the show, my chiropractor friend asked me to help him with a fundraiser, and my doctor told me I had high blood pressure and high cholesterol and I had to go on three medications. This all happened within nine months, and everything was pointing me down the same path. I could see where I was headed."
Swallowing the valuable lesson that diet and exercise really work, DiSpirito has since shed 30 pounds, eating the food he loves while training for rigorous triathlons, Iron Man competitions and hopping on his bike for morning rides up the Upper West Side. The ingredients that shaped a turning point in his life gave spirit to his Now Eat This! empire, a fusion of books, TV shows and an NYC food truck that reflect his personal search for better health. "I had to figure out what I was going to eat. Athletes drink a lot of shakes, eat whole wheat bread with peanut butter on it and lots of bars. And I thought, 'I'm not going to eat this crap for the rest of my life! I'm going to figure out how to make my food taste good.'"
His latest book, Now Eat This! Italian: Favorite Dishes from the Real Mamas of Italy, reflects his sojourn to Southern Italy to whittle down North American waistlines. There, the New York Times bestselling author wandered into the kitchens of local cooks, absorbing the simplicity of age-old techniques and the principles of preparing Italian food. "I had to go there and relearn and take those lessons to create dishes that were lower in fat and calories. I had to bring Italian food sensibilities into the Italian-American food culture." The result is a cookbook of over 90 recipes — all under 350 calories.
Born to Italian parents, DiSpirito admits that it took him three decades to embrace his roots, a critical impasse self-described as the common awkwardness felt by first-generation kids. "You don't know what culture you're part of and it turns out you're part of both," says DiSpirito, who as a child would hide his lunches in the back of his cubbyhole at school. Weeks later he would find rotting salami sandwiches wrapped up in tea towels. "It took me 30 years to realize what a fool I was, because how lucky was I to have a mother making food for me every day?"
The Culinary Institute of America alumnus is the one now rolling up his sleeves — with a few tricks up his apron. Hosting his annual Christmas dinner last year for close to 60 family members, he blended hale and hearty ingredients in a traditional menu of fish and turkey, unbeknownst to his loved ones. "I'm totally down with lying and deceiving, especially when it comes to making people healthy. They didn't even know. I deceived them and manipulated them and they were happy about it."
Through his weekly syndicated TV show Now Eat This! with Rocco DiSpirito, he sounds the alarm of skyrocketing child obesity rates, encouraging families to prepare home-cooked meals and teach their kids healthy eating habits to avoid a lifestyle of weight issues. Growing up, DiSpirito paradoxically resented his parents for banning sugar at home. "We weren't allowed to have soda and candy in my house; we used to fight with my father all the time. But now I understand why he did that. You have to invest in your kids from when they're young. Never feed them the bad stuff and they'll never know about it." DiSpirito now rolls out pasta with sprouted wheat flour, grows his own vegetables and herbs, and pickles what's left of his homegrown tomatoes. "'Restaurant' was a bad word in my house."
As for how to achieve what may seem gastronomically impossible, the gourmet DiSpirito lets us in on a chef's secret: seizing the possibility of the moment with raw emotion. "We are talking about people who are in touch with their passion place — your centre, your core, the place that aches," he says, his fingers tapping the middle of his chest. "And you can taste it. Food absorbs and collects your feelings and your emotions and your energy and it's reflected in the flavour."
Click here for Rocco's Red Snapper Puttanesca Recipe!