Lexus IS 350C: Take a ride in this luxury compact convertible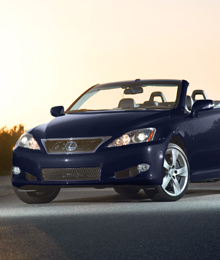 There's always been a stigma riding shotgun with Lexus. You've probably heard about the slights. "They're just dressed-up Toyotas;" "They have no personality." But those who like this Japanese luxury brand tenaciously stand behind it, and it's hard to belittle their loyalty. Each Lexus, after all, is exceptionally well built. But can the 2012 IS 350 C serve up some flavour and break free from the flak?
When first examining the IS 350 C, you may feel like you've seen this luxury convertible coupe before. That's because you have. Not much has changed stylistically since this two-door, hardtop convertible was released alongside the redesigned 2009 IS. Lexus apparently decided to skip the standard coupe altogether, but that's another story. This isn't necessarily detrimental, though. The same sharp, assertive eyes and sleek front-end give the IS 350 C a sporty look.
Its body isn't as dynamic as the sedan — a subject convertible drivers seem to regularly contend with, as you could weigh a similar argument against rival cabriolets such as the BMW 3 Series, Audi A5 and Infiniti G37. Nevertheless, this convertible still has plenty of pizzazz.
When it comes to hardtop convertibles, modern drivers want ease and convenience without sacrificing trunk space, and Lexus does well here. It takes about 20 seconds for the automatic, three-piece aluminum roof to retract, and when down, it isn't a complete hog of the trunk, either. You'll obviously sacrifice space — bulky luggage for a weekend road trip may need to ride backseat — but compared to other convertibles, it's not as claustrophobic.
The heart of the IS 350 C is the same direct injection, 6-cylinder, 3.5-Litre V-6 you'll find in the sedan. Like its styling, this engine hasn't been significantly altered. It still places a hearty 306-horsepower and 277 lb-ft of torque at your foot's command — the same power you were getting back in '09. With the top down, the rear-wheel-drive pushing you along and the agile steering, it still all makes for a nice ride.
All this power is certainly welcomed, but the oomph isn't actually fully available until you reach higher into the revs. You'll need to push to 4,800 r.p.m. to feel the full force of the torque, and 6,400 r.p.m. to get all those ponies kicking. And while its steering is sharp and performance is satisfying, it's still shy of the heavily acclaimed
BMW 3 Series.
Fuel economy is also solid: 11.5 L/100 km in the city and 7.9 on the highway, numbers are comparable to rival convertibles. You are stuck with a 6-cylinder engine, though. Even the less powerful Lexus IS 250 C only offers a 2.5L V-6, which isn't much lighter on gas than the 350. A smaller engine option would have been nice for those concerned with efficiency over power.
Luxury-wise, you'll find comfortable 8-way, power adjustable leather seating; leather trim, LED headlights, push-button start, Bluetooth connectivity, USB jack, 13-speaker stereo and touch-screen navigation. When the top is up, its cabin is also whisper quiet. Standards you've come to expect from Lexus.
The interior styling, however, isn't anything to write home about, especially the dash. It's refined, but vanilla. Even the optional red leather seating appears more gaudy than stylish.
In the end, there's no question that there's plenty to enjoy in the IS 350 C, but it lacks the passion of its rivals; that soul enthusiasts crave. For some, this is perfectly fine. You may, after all, just be looking for reliability and comfort while cruising with the top down. The IS 350 C has that in spades. It is, however, for the established Lexus lover. If past versions of this luxury convertible hit the mark, the 2012 IS 350 C stays the course.
General Specifications
Engine: 6-cylinder, 3.5-Litre V-6
Horsepower: 306
Torque: 277 lb-ft
Fuel Economy L/100 km: City/Hwy 11.5/7.9
Roof: Aluminum hardtop (retracts in 20 seconds)
MSRP: $57,000