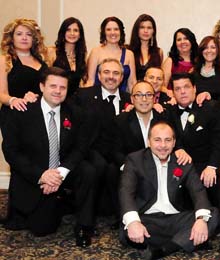 The Smiles of Innocence Memorial Charity is an organization of caring individuals dedicated to promoting awareness and raising funds through various activities in the community. On Nov. 10, 2012, its Annual Gala attracted over 1,000 attendees at Le Parc Dining and Banquet hall in Markham, where guests enjoyed an entertainment-filled evening with performances by Sensations, Blue Soul and Brass Transit. The charity event also hosted silent and live auctions, as well as many raffles, including a $5,000 shopping spree prize at Radiant Fine Jewellers. The Smiles of Innocence Memorial Charity is an organization that supports high-priority programs at the Hospital for Sick Children. To date, it has raised over $2.5 million for the SickKids Foundation.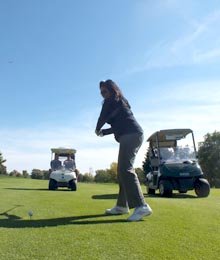 On Sept. 27th, 2012, the hard-working businesswomen of the Brampton Board of Trade tore up the links at Brampton Golf Club for the 12th Annual Ladies on the Links Golf Tournament. The Brampton Board of Trade thanks Dolce Media Group and other proud sponsors for their support of Brampton's business community.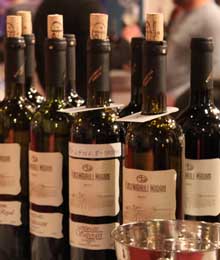 The 18th annual Gourmet Food and Wine Expo took place on Nov. 15 – 17, 2012, at the North Building of the Metro Toronto Convention Centre. Guests had the opportunity to sample gourmet cuisine, as well as an assortment of 1,500 wines, beers and spirits. Expo highlights included an All You Need is Cheese Stage, a Connoisseur's Corner, a Fine Wine Tasting Lounge, a Spiritology Pavilion and tutored tastings. The forthcoming Gourmet Food & Wine Expo will take place on Nov. 14 — 17, 2013 at the Metro Toronto Convention Centre.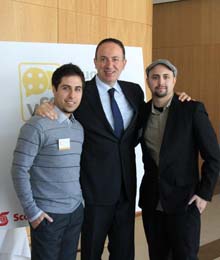 Toronto, Cannes, Vaughan! The magic of the movies hit Vaughan this year when the city announced its first Vaughan Film Festival. Established by local filmmakers Antonio Ienco and Mark Pagliaroli, the VFF will celebrate local and international artists by selecting 20 to 30 short films to screen and crowning the Best Picture, Best Actor, Best Actress and Best Director with Golden Reel Awards.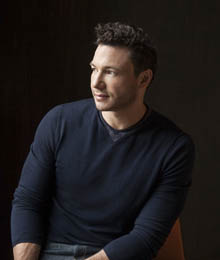 There's a sizzle of spirit spilling through a Vaughan Chapters, and of its endless rows and stacked tables of literature, the open book is Rocco DiSpirito. He's walking in brown leather shoes and fitted in an olive zip-up, weaving through a fidgeting crowd. A woman brazenly shouts out a dinner invitation to him, and he presses a mic to his mouth. "Buy a book or give me a hug," he deadpans. A shameless grin spreads across her face as he wraps his arms around her. The audience inches close.
The American celebrity chef and bestselling author from New York City is in town to promote his latest cookbook, and while expounding the virtues of healthy food, he's unabashed when confessing an erstwhile sweet tooth for saccharine cinnamon rolls. "I had an addiction to Cinnabon — it was harder to break than my crystal meth habit," he jokes, the crowd doubling over in a fit of laughter. Continuing to quip and cajole and lightheartedly lecture on Japanese kale and kamut, he concludes his visit with personalized autographs and photos that stream through the Twitterverse.
However comfortable he appears to be in his own skin, DiSpirito surprisingly had difficulties achieving a level of assuredness that leaves audiences enraptured.
A few meals before, at Alimento Fine Food Emporium in Toronto, he's sipping on espresso at a table tucked away from the lunch crowd. Vividly recalling his early days, the cordon bleu cook, food show host and former culinary judge was once gripped by self-consciousness. "I have to tell you of the days I was frightened over my own shadow. I used to practise Today segments in the private dining area of my restaurant: a host would play Matt Lauer and a hostess would play Katie Couric. When you have to be yourself on TV, the anxiety of worrying whether that self is the self everyone will like just gets to you." He moderates the disclosure with a bon mot, his modus operandi. "I take medication now, so it's much better." At 46, his charm braises in a drum of alacrity.

Read more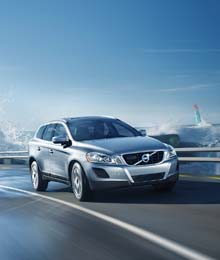 Winter is underway, and with it, those fluffy, fender-bender-causing flurries of calamity. While there's no substitute for a level head and snow tires, this list of winter-ready autos can make life behind the wheel a little less frigid. So bring it on, Mother Nature — let it snow.
Infiniti JX
Just because it's like the Arctic tundra outside doesn't mean luxury curls up to hibernate. The seven-seat Infiniti JX keeps the comforts roaring all winter with, among other things, three-zone climate control, leather seating and steering wheel, heated seats and a seven-inch information display. Intelligent all-wheel drive (AWD) adjusts power and handling to combat erratic weather while Infiniti's Safety Shield, Blind Spot Intervention and Backup Collision Intervention keep an eye on traffic. Traction control and anti-lock brakes also come standard, and with this midsize luxury crossover's remote starter, you'll never have to sit shivering in the driveway. Starting from $44,900.
www.infiniti.ca
Read more
When the women and children at Red Door Family Shelter in Toronto awoke last Christmas morning to find nearly 200 shoeboxes stuffed with thoughtful presents from local women, they were shocked. "It's a real gift to see that the community cares about them and cares about the crises they're going through," says Bernnitta Hawkins, Red Door's executive director. What stemmed from a generous gesture has become a national initiative to spread joy over the holiday season to those who need it most. "It's not a huge thing, but I do believe in it," says Caroline Mulroney Lapham, co-founder of The Shoebox Project.
After a conversation in mid-November 2011, Mulroney Lapham was inspired to help her sister-in-law Jessica Mulroney extend her mother's philanthropic mission to the streets of Toronto. "Her mother would put together shoeboxes filled with small items that women really enjoyed — little splurges — and she would ask her friends to do the same and deliver them all to a local shelter in Montreal. Jessica said she wanted to bring it here and I thought it's such a nice idea." So they banded together with fellow sisters-in-law, Vanessa and Katy Mulroney, and sent an email out to family and friends inviting them to participate. "We were worried for a while that we wouldn't even get 100 shoeboxes, and low and behold, we got almost 400 without any kind of marketing," says Mulroney Lapham, who was delighted to be able to share the shoeboxes with other local shelters across the city.
Read more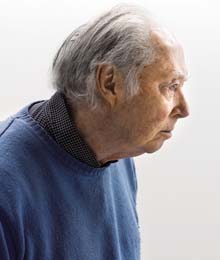 It's tough to keep up with Michael Snow. The 84-year-old juggernaut of art, who over the years has entranced the public imagination with such iconic works as the odyssey of grandiose geese in Flight Stop at the Eaton Centre, the sculptural gazers that toast the facade of the Rogers Centre in The Audience and the landmark film Wavelength, continues to provoke and stretch artistic paradigms in Canada and beyond. Unrelenting in his ability to transform and shape our visual perceptions of art, his current master strokes include "Objects of Vision," an exhibit at the Art Gallery of Ontario (AGO), In This Way, a video installation featured in the National Gallery of Canada's exhibition "Builders," and a glowing canvas display that will climb its way up the Trump Tower in Toronto, illuminating a spectrum of light and Snow's innovation and resilience. With works housed in prestigious galleries the world over, the thriving, decades-long career of Snow is a portrait of his permanence. The pluralist sees beyond single artistic realms, comfortably drifting through mediums, flowing through time with experiential art as new and relevant today as if unveiled decades ago.
What inspired you to create the 14 works that constitute "Objects of Vision," your exhibit on display at the AGO?
It's an assembling of works from various periods. I won the Gershon Iskowitz Prize, and one part of it is that you can have an exhibition at the AGO. And for many years I'd been thinking about attempting to bring together these separate sculptures that had been made at different times. The Gershon Iskowitz Prize was an opportunity to finally bring them all together and see what they kind of said to each other.
Read more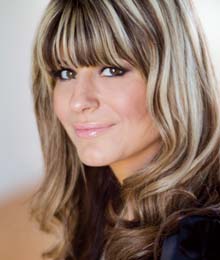 Tease the season for amped-up eyes and angelic complexions. Makeup artist Rita Stirpe shows us how.
1. Express your eyes with a seductive stare using Infallible Never Fail Eyeliner by L'Oréal
2. Kiss your cupid's bow with a stroke of MAC's Subculture lip liner
3. Blend Lise Watier's Couleur Folle Mineral Loose Powder Eyeshadow in Folie D'or for a star-studded wink
4. Create a sultry smokescreen with the Black Pearl Eye Palette from Bobbi Brown
Read more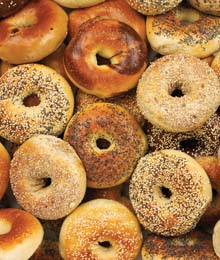 City Life Magazine gives you 10 good reasons not to cry on your birthday. We've scoured the GTA and uncovered free merchandise, food and fun for you to save hundreds of dollars on the one day you can.
1. COMPLIMENTS OF THE CHEF
For those who think there's no such thing as a free lunch, feast your eyes on Tucker's Marketplace's free birthday buffet. Located in Mississauga, Burlington and Etobicoke, this culinary hot spot will make you salivate on that special day with scratch-made soup, hand-carved roast beef and crème caramel. Just show some proof and enjoy the bread pudding! Value is $18.99 on weekdays and $22.99 on weekends.
www.tuckers.ca
2. IN CASE YOU DIDN'T KNOW
This is the ideal deal for the good friend who offers to treat their birthday buddy. The rules are simple: simply pick up the celebratory chum, take them to the nearest Casey's restaurant, order yourself a delicious entrée (min. $14.99) with a drink and let Casey's cover the cost of your ID-carrying comrade.
Maximum Value is $14.99.
www.caseysbarandgrill.com
Read more