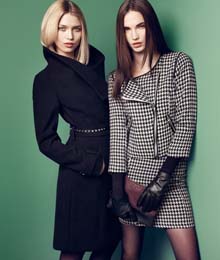 Whether you're standing under the mistletoe or the office glow, these outfits will ensure you're always in the spotlight. One of the perks to imperfect weather is the plush, patterned fashion that tends to trend this time of the year. Add a little spice to your wardrobe with these haute holiday pieces.
1. Zippers, studs and houndstooth coats make the coldest winter months worth it.
www.soakedinluxury.com
2. This beaded miniskirt gives Tinseltown new meaning. An unexpected biker jacket kicks this look into full gear.
www.zara.com
3. Shake up the classic holiday ensemble by sporting a sequined, embroidered cardigan over an oriental print chiffon blouse. Slip into seamed jeans and go get your jollies.
www.zara.com
Read more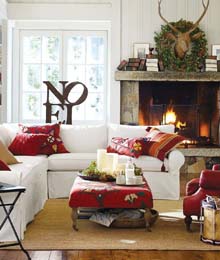 HOLIDAY WISHES FOR HER
1. SIGN ME UP
Sweet, rustic touches like this 'Noel' sign will make your home merry and bright this season.
www.potterybarn.com
2.DANGLING DAZZLES
Don these white coral Angelica earrings for an alluring look.
www.vivre.com
3.SWEET & SWANKY
This platter of luxury chocolates with Swarovski Elements will bewitch your guests.
www.godiva.com
4. BOLD BAUBLES
Cast a spell with these bold and unexpected accessories from Anthropologie.
www.anthropolgie.com
5. HAND CANDY
Find your fancy flair with this baroque-inspired Kotur box clutch.
www.net-a-porter.com
Read more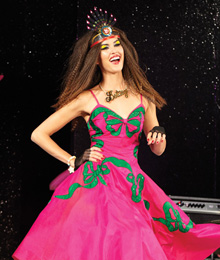 Bursting with fresh colours, bold patterns and striking attitude, Mercedes-Benz Fashion Week in New York rocked the runways and wowed fashion lovers. Vera Wang, Carlos Miele and Naeem Khan brought a flush of culture and colour with Indian-inspired masterpieces; fairy tale couture is making a comeback thanks to designers Oscar de la Renta and Carolina Herrera; and a barrel of hot trends can be chalked up to Betsey Johnson, the queen of fun. The coming months will see a rush of brilliant colours, and fashionistas will play a little truth-or-dare with the upcoming leather and cut-out trends. This trend report promises a season stuffed with fun ways to twist the classics and add personal touches. Here is your chance to glimpse your year's shopping list! Read more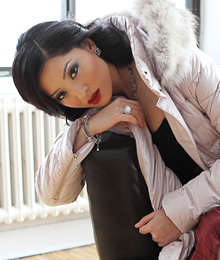 Johnny Yiu Handmade in Canada, Johnny Yiu jackets are filled with goose down to withstand harsh weather. Available in an array of cuts and colours, this fall/winter must-have is cinched with style. www.johnnyyiu.com
Anthropologie Bracelet Designed by Athens-based designer Dimitriadis and handcrafted in Greece, this canary yellow bracelet sparkles with porcelain roses and Swarovski crystals. www.anthropologie.com
Cottonfield From Cottonfield's autumn 2012 collection, this navy blue sweater is a great addition to a fall wardrobe. Wear a plaid shirt underneath to give your look a touch of sophistication. www.iccompanys.com Read more

This quintessential summer shade brings about the freshness we seek on those warm, sunny days. Whether you prefer it in a pretty lace dress, crisp bedding or sexy heels, we've selected a range of ways to be white-hot this summer. Read more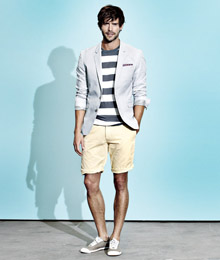 Dress Up
Your little man in a plaid bow tie that's fun for him and classy for you.
www.etsy.com
Heeling Power
You can accomplish anything in these hot pink heels. Pair them with orange or blue for a colour block effect, or with a neutral outfit for a pop of colour.
www.zara.com
Brace Yourself
This sterling silver Scott Kay bracelet is not for the faint-hearted. Show off your wild side with this eye-catching accessory.
www.cupidodesigns.com
Read more
CL: What is at the heart of your label?
MA: Alya Couture is named after my grandmother – it's a tribute to her. She was a seamstress for society weddings and I would always accompany her through the market, looking for beads and all those gorgeous silk fabrics that we have in that part of the world [Jordan]. She taught me little secrets of the trade when I was young. Today, I try to make my gowns and dresses work year-round, and really look for longevity and value. Couture dresses in the past were something that were passed on from your great-grandmother to your grandmother, to your mother and now you, who gets to wear it again. This is what I really try to bring back – things that are very well made and of high-quality.
Read more
Pink Tartan's fall/winter 2012 collection combines the season's trusty neutrals with unexpected pops of emerald green and red. Borrowing from spring's trends, colour-blocking and monochromatic palettes make a reappearance, but you won't see any pink or neon here. Rather than a wave of colour, designer
Kimberley Newport-Mimran (Joseph Mimran's other half) plays with layers of mixed mediums. The collection features combinations of leather, mesh, fur and feathers in an unexpected but satisfying way. To get the look, pair bold pieces with simple, well-made basics for a unique take on every outfit.
Read more
Joe Fresh brings back the '70s without looking dated. Skinny pants, thick knits and striking colours have us cosying up for fall.
Read more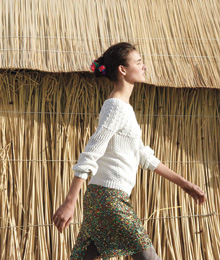 Pay homage to the heyday of design with fashion and décor that will woo even the wildest horses.
Horseshoe www.anthropologie.com
Mounted trong>
Anchor your home with striking ironwork inspired by the equestrian life. Anthropologie's Stable Hook is a subtle detail that no one will be able to overlook.
www.anthropologie.com
Take the Reins
A throwback to the saddlebag, J.W. Hulme Co.'s Legacy Shoulder Bag is great for the girl on the go. If you need a purse that will come along for the ride, the lifetime guarantee offers added insurance.
www.anthropologie.com
Read more