Rick Mercer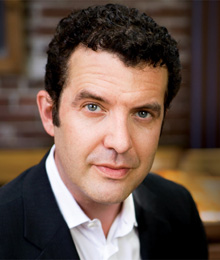 Rick Mercer is an enigma. This might not seem apparent through his playful on-air antics, but behind all the cheeky banter, commercial parodies and in-your-face ranting, there's more to this unadulterated Canadian than meets the eye. It's a lesson I learned early on during our midday sit-down at Allen's in Toronto, one that shines a light on a side of this political satirist that's rarely captured by cameras.
It's Mercer's choice, Allen's, and an excellent one at that. The Irish-American pub on Danforth Avenue, known for its à la carte burger and willow tree-shaded patio, gives a nod to the Emerald Isles via a bar lined wall-to-wall with a generous selection of spirits. Where better to interview a good ole islander like Mercer?
He mentions he likes to pop by for the odd Guinness, but he's ordered an ice water — he's a professional, after all. And, as it turns out, this Newfoundlander doesn't need any more fire in his belly.
A good cabinet minister, he says, is like an anchorman from the 80s. "You know, someone who can read the teleprompter and never deviate." Whoa, a zinger and we're barely five minutes in. Then again, this is the co-founder of This Hour Has 22 Minutes, was the face of the wildly successful Talking to Americans feature and the host of the highly popular Rick Mercer Report (RMR), which is entering its 10th season this fall. The man has been razzing politicians since he learned how to talk. Probably. I should have seen it coming.
Even on the cusp of 20 years on television, Rick's ranting certainly hasn't lost any of its wit nor punch. But still, most of the commentary from the St. John's native is just good-natured ribbing. As the full force of the conversation lands on the shores of Canadian politics, it's arresting, captivating, and rather encouraging to watch such a beloved public figure cut loose and charge head first into the fray.
Once upon a time, the 42 year old continues, an ideal shoot on RMR would have involved a cabinet minister, a premier or the like, discussing whatever issue was dominating the headlines. But the grandstander is far more professionally disciplined; controlled, as it were, by the boys upstairs. "They're not individuals in the same way they used to be," he says. It's a sober reminder of the compliant life of partisan politics, where party-first yes-men (and women) are more willing to fall in line than speak their mind. And that rhymed, so it must be true.
"That's the downside of politics," says Mercer, who's also releasing a new book this fall, A Nation Worth Ranting About, to coincide with RMR's newest season. "One of our most cherished freedoms is, and everyone understands it, the freedom of speech and the freedom of opinion. One of the things I love to do more than anything is to sit around and talk about what's going on. Everyone has an opinion, but MPs, now, are different. They don't have that. They just have to check with head office."
Indeed, much has changed since his first days on the set of 22 Minutes, in politics and in life. For one, issues are no longer as black and white — a sharp contrast to the "21-year-old angry young man" who could never be stopped when it came to debating issues. But with age comes change, and matters aren't as clear-cut. "I know less now than I've ever known in my life," he says earnestly. "Now I just see it, just, everything is a sea of grey."
He's also concerned that his marathon on Canadian television could come to a sudden end. "But still, I always feel like, 'Oh my God, it's all going to go away at any minute,'" he says. The statement lingers for a brief moment, processes, and then strikes with unbalancing lucidity. Really? Rick Mercer? Worried about his job? "No, everyone does," he says, delving into the tale of when he became friends with one of his boyhood idols, Gordon Pinsent. The iconic Canadian actor always had a fear of never again working. "I was going, 'Good God, you're Gordon Pinsent, you always work. If you're not going to work, who's going to work?'"
Interestingly enough, Mercer, one of the most recognizable faces on Canadian television, was raised in a home where television wasn't always welcomed. It was a love-hate relationship, he says, in that he loved it and his parents, well, not so much. "TV was not something that was encouraged in our house," he explains. "There were long periods of time when we weren't allowed to watch TV at all if anyone got a bad mark, which was usually me."
That never dampened his spirits, though. His love for the small screen held firm. "I would think, 'why would anyone want to do anything else in the world other than work in television,'" he says. But, again, age and change seem to walk hand-in-hand: "That said, as of late, sometimes I think, 'Why in God's name would anyone want to work in television?" he adds dryly.
While attitudes have shifted, Mercer remains a self-proclaimed political junkie — the knee-slapping satirical sketches, jabbing at the missteps and madness of today's elect attests to it. However, "When it comes to me leaving the studio and going out and doing a segment," which, he explains, is a sizable slice of the show's content, "I now avoid politics." The reason? Politicians are just not as interesting as they once were.
Toning down the political content does have its flip side. "Quite frankly, when I stopped talking to so many politicians, my numbers went up." Instead of chatting with the country's political elite, Mercer has branched out in recent years, meeting and greeting with your everyday Canuck. The escapades that follow are often as wacky as they are wild, forming a proverbial bucket list of on-air adventures. From skydiving with the SkyHawks, the Canadian Forces Parachute Team; to pulling a loop-da-loop in a biplane with an 80-year-old pilot and ice climbing outside of Thunder Bay, to the more down-to-earth experience, like lobster fishing in Grand Manan Island, New Brunswick, and working on the line of General Motor's Oshawa car plant, Mercer experiences Canada in the most memorable of ways.
Although, he must admit, some encounters were unforgettable for all the wrong reasons. "I was Tasered," he says chuckling, "and that wasn't something I always wanted to do, and never want to do again."
Even in the not-so-comfortable moments, Mercer isn't complaining. "I just like doing exactly what it is that I get to do, which is travel the country on a weekly basis and meet interesting people," says the multiple Gemini award-winner, adding, "and turning it into great television or television that people find interesting is a big privilege."
But while Mercer enjoys shining a more prominent light on hidden gems and Canadian blue-collars, that political itch still needs to be scratched, and he refuses to ignore the shortcomings of our elected officials.
Labour, for one, is a big issue, but not in the broad, Canadian-workforce-sense. He's concerned with jobs, and the politicians who've never had one. "It's one area where I would say half of the cabinet is loath to discuss," he explains. Minister of foreign affairs, John Baird, for example, has worked exclusively in politics since he was 16 — "Literally, that's it." Pierre Poilievre, former parliamentary secretary to the prime minister, and current parliamentary secretary to the minister of transport, infrastructure and communities, is cut from the same cloth. "I held a contest on the show asking Canadians to provide evidence that he ever had a job," Mercer says with a laugh. "No one could!" But more power to them, he adds. They have, after all, led highly successful political careers. Baird, for one, is a "fine fella" and doing a good job in Mercer's opinion. It's just that they may be doing better work if they put in the odd nine-to-five with the rest of us civilians.
Such circumstances are creating a detachment between politicians and the people they govern. "They live in a real bubble," Mercer says, noting the first move for many political figures is to hire a chauffeur. "Like Mr. Lodge does in the Archie comics," he adds. It's an old-fashioned, rather pompous idea, really, especially considering the economic climate.
Though this point irks, Mercer remains, as always, the well-mannered Canadian. Drivers are "good people" and he certainly wouldn't want to see them out of work. It just doesn't paint the prettiest picture of Canadian politicians.
As we continue inland with the conversation, lunchtime patrons begin filtering into the now buzzing pub — just in time for Mercer to heat up. Cue dystopian vision.
"Anyone who watches this business realizes it's like a car heading towards a cliff," he says, describing his sense of democracy's fate. "We will have a situation where a government will be elected and the 308 members of parliament whose job it is to vet legislation, to debate legislation, to vote on legislation, to see how our money is being spent, their jobs will cease to exist. They will be of zero importance."
He envisions one individual, the prime minister, simply presenting a single bill that contains hundreds of tweaks and amendments to Canadian law. It's never debated, it's never discussed, and this massive multi-page bill will pass, and that'll be it.
Heavy stuff. And the Tories' controversial omnibus budget bill isn't letting off the gas, either. While Mercer feels it's "disingenuous" to accuse the Conservatives of being the first governing body to push an omnibus bill — governments have, after all, been doing it for decades — it's still a sign of a troubling norm. This all-encompassing, 400-plus-page document is supposed to create Canadian jobs, and the Conservatives have pushed this point hard. "Well, that's fine," says Mercer, "but why in this budget bill is there legislation that allows the FBI to operate on Canadian soil as law enforcement officers?"
Wait, what?
"As a sovereign nation, we have never even entertained such a thing," he continues. "Now, maybe that's not a bad idea, maybe it's an idea that the time has come, but it's an idea that certainly should be discussed, and certainly members of parliament should be aware of it."
It's rather disturbing to imagine foreign law enforcers extending their own brand of red-white-and-blue justice throughout the Great White North. How will this circumstance play out? As Mercer notes, no one really knows, seeing as it practically dodges any substantial debate in parliament.
Even after the criticism, Mercer still emphasises the quality work performed by numerous MPs. "There are many good members of parliament whose day is full of helping their constituents deal with the federal government in one way or another," he says, noting that the least important work they do is sit in the House of Commons and "rubber stamp" legislation. "You don't underestimate those people because they do such tremendous work," which often includes immigration issues and passport applications. "People are turning to them for all sorts of problems, whether it's federal or not," he adds.
Herein lies the dilemma. Even after rigorously dissecting Canadian politics, laying fierce criticism and stinging shots, Mercer remains that quintessential polite Canadian. Praise follows each reproach. But, really, why shouldn't it? We thankfully live in a democracy, after all, so it can't be all gloom and doom. It's a paradox in a way. Perhaps that's just what democracy is: freedom with restraint, pessimism entwined with optimism, binary oppositions always at odds with each other. Much like Mercer, and subsequently, his show. Each jab is wrapped in a joke; each remark is meant for a laugh, no matter how heavy-handed. So maybe that's just it. Maybe he's a regular guy struggling with the same issues as the rest of us, walking that line between criticism and compassion, doubt and hope — only with far more wit and presented squarely in the public eye.
Whatever the case, even if it doesn't all pan out, and comes to an abrupt end as he's worried it will, there's always the backup plan: "I always say bait shop." Bait shop? "Yeah, north of the city, up there. Have a bait shop. Sell some worms, you know?" I do know, Mercer, and once again, I'm hooked.
---
Watch City Life's exclusive interview with Rick Mercer, click here