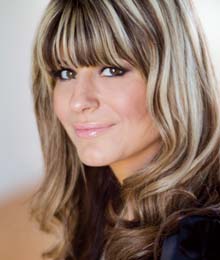 Tease the season for amped-up eyes and angelic complexions. Makeup artist Rita Stirpe shows us how.
1. Express your eyes with a seductive stare using Infallible Never Fail Eyeliner by L'Oréal
2. Kiss your cupid's bow with a stroke of MAC's Subculture lip liner
3. Blend Lise Watier's Couleur Folle Mineral Loose Powder Eyeshadow in Folie D'or for a star-studded wink
4. Create a sultry smokescreen with the Black Pearl Eye Palette from Bobbi Brown
Read more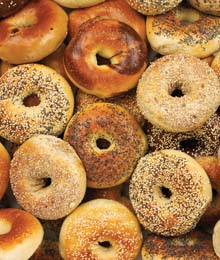 City Life Magazine gives you 10 good reasons not to cry on your birthday. We've scoured the GTA and uncovered free merchandise, food and fun for you to save hundreds of dollars on the one day you can.
1. COMPLIMENTS OF THE CHEF
For those who think there's no such thing as a free lunch, feast your eyes on Tucker's Marketplace's free birthday buffet. Located in Mississauga, Burlington and Etobicoke, this culinary hot spot will make you salivate on that special day with scratch-made soup, hand-carved roast beef and crème caramel. Just show some proof and enjoy the bread pudding! Value is $18.99 on weekdays and $22.99 on weekends.
www.tuckers.ca
2. IN CASE YOU DIDN'T KNOW
This is the ideal deal for the good friend who offers to treat their birthday buddy. The rules are simple: simply pick up the celebratory chum, take them to the nearest Casey's restaurant, order yourself a delicious entrée (min. $14.99) with a drink and let Casey's cover the cost of your ID-carrying comrade.
Maximum Value is $14.99.
www.caseysbarandgrill.com
Read more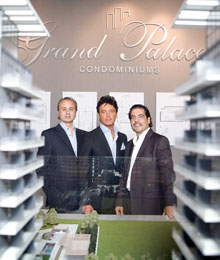 A new standard of grandeur is coming to Richmond Hill, and its name is Grand Palace Condominiums. While its lavish amenities and stunning edifice exudes opulence of the highest order, this palace isn't reserved for royalty. Its project leads, Stefano Guizzetti, Jack Scivoletto and Albert Gasparro, share a spectacular vision for this city on the rise, and it's one that doesn't cost a king's ransom.
With a name like Grand Palace, thoughts of unbridled luxury accessible only to the city's elite may parade by one's mind. But the Guizzetti Corporation team puts a halt to such processions. "It's luxurious, but it's affordable luxury," says Scivoletto, vice-president of Guizzetti Corporation. "We're trying to update the city's esthetic; to bring it up to the class it deserves." The plan is to reach beyond the now customary fare of condo living that's springing up across the GTA, to accent Richmond Hill's skyline with progressive style and to create a community that caters to and complements modern lifestyles, all starting from the low $300,000s.
Designed by renowned architectural firm Hariri Pontarini Architects, which has worked on other notable landmarks such as York University's Schulich School of Business, Grand Palace's three exquisite glass towers are fashioned with contemporary design unique within the city. Thanks to soaring nine-foot ceilings and stylish glass walls, which both come standard in each of the 524 units, living spaces are bathed in natural light. Sleek fixtures and energy-efficient appliances including Fisher & Paykel refrigerators and Whirlpool stainless-steel dishwashers, ovens, microwaves and full-sized stacked washers and dryers enhance the open-concept suites. Granite countertops and premium porcelain tiles are also standards, further adding to the prestige.

Read more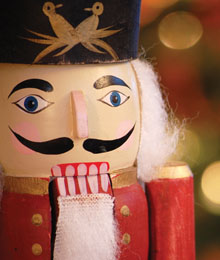 There's no need to hibernate — oodles of winter activities are calling your name, and they're all just around the bend.
Black Creek Pioneer Village
Step back in time and discover the rustic simplicity of a pioneer Christmas. Black Creek Pioneer Village invites you to celebrate with traditional candlelit dinners, Victorian-style ballroom dances, taffy pulls and more.
www.blackcreek.ca
Uplands Ski Centre
Hit the Alps — without leaving town! Uplands Ski Centre, Vaughan's hidden winter wonderland, gives families a safe environment to make a day of dashing through the snow.
www.uplandsgolfandski.com
Supervised Outdoor Skating Rinks
It's like a scene from The Bishop's Wife: skates laced, scarf wrapped and hands clasped to your significant other's. Give your holiday a playful spin by hitting the ice at Nathan Phillips Square or Woodbridge's Chancellor Park.
www.toronto.ca

Read more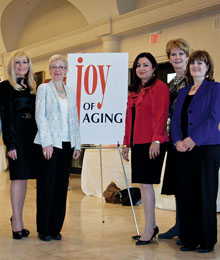 With over 350 attendees, The Joy of Aging 2012 raised funds for Mackenzie Health Foundation. Tina Tehranchian and Janine Purves were the co-chairs. Erin Davis was the master of ceremonies and Rona Maynard was the keynote speaker.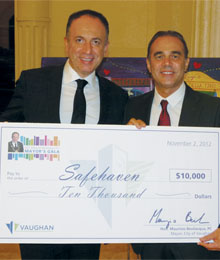 The Safehaven Gala: Celebrating 23 Years event attracted over 700 supporters and raised $100,000 at the Bellvue Manor in Vaughan. Guests included Vaughan mayor Maurizio Bevilacqua, the Knights of Columbus of St. Peters Parish, the directors of Italian Car Day and chief meteorologist Anthony Farnell of Global News Toronto. A charitable organization, Safehaven provides support to families whose children suffer from multiple disabilities and complex needs.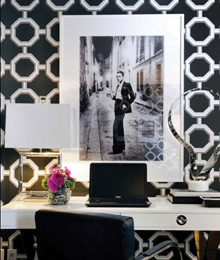 Unwind in a beautiful space full of colour and surrounded by art.
1. HOME IS WHERE THE HEART IS The award-winning firm Atmosphere Interior Design is known across North America for its striking work and visionary team. Using rich textures and bold furniture, designers Trevor Ciona and Curtis Elmy join project manager Heather Whyte to make clients' dreams of a beautiful home come true. www.atmosphereinteriordesign.net
2. A LONG SHELF LIFE Choose a shelving unit that also stands as an art piece. This Chicago 8 unit is available in a variety of hardwood finishes and beautifully complements a modern home. www.urbanmode.com
3. TIME AFTER TIME 1212 Décor in Toronto will give you timeless interior design. Offering home consultations and a spectacular showroom Read more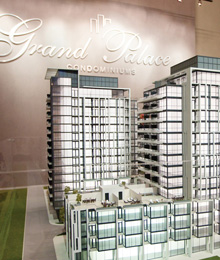 On Sept. 24, 2012, a groundbreaking ceremony marked the beginning of construction for a brand new Guizzetti development. The much-anticipated Grand Palace Condominiums is underway, bringing excitement to future residents in the heart of Richmond Hill. The three 15-storey buildings will include over 500 units and many luxury amenities, welcoming tenants in the summer of 2014.
Read more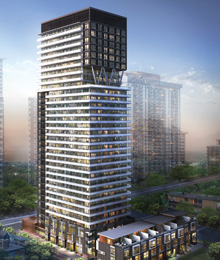 CANARY DISTRICT Even in its initial phase, the beauty of Canary District Condominiums and Townhomes is transparent. With a glass, steel and grey limestone shell, this residential waterfront condominium community at the cornerstone of Front and Cherry Streets is slated to be the official athletes' village for the 2015 Pan Am Games.
www.dundeekilmercondos.com
101 ERSKINE With a strong standing for sustainable building, Tridel and Beaux Properties' 101 Erskine — now selling and located in the burgeoning Yonge Street and Eglinton Avenue neighbourhood — is designed for green-inclined condo dwellers. Among its beyond-textbook amenities is a sixth floor outdoor terrace that features a bright blue infinity swimming pool and fireplace lounge. www.tridel.com Read more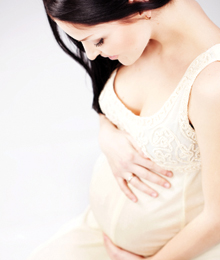 Lucy Sanna was pregnant with her second child when her maternal instincts for an alternative care option kicked in. She had mused about midwifery during her first pregnancy, but as other women before and after her, wasn't so certain about its scope of practice. She wondered about its quality of care, safety and benefits. She wondered if there was a fee. Heeding the referrals of others, she placed a call to a midwifery clinic near her place of work in Etobicoke, Ont. "I was trying to figure out what to do. I have two cousins of mine who went with midwives as well, and they tried to convince me from the beginning with my first [pregnancy] to go, and the second time, I said, 'that's it, I'm going to do it,'" recalls the Bolton, Ont. resident. Nine months later, Sanna welcomed a full-term, healthy baby girl she and her husband named Mariah. Read more