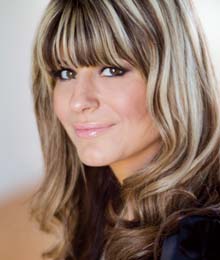 Tease the season for amped-up eyes and angelic complexions. Makeup artist Rita Stirpe shows us how.
1. Express your eyes with a seductive stare using Infallible Never Fail Eyeliner by L'Oréal
2. Kiss your cupid's bow with a stroke of MAC's Subculture lip liner
3. Blend Lise Watier's Couleur Folle Mineral Loose Powder Eyeshadow in Folie D'or for a star-studded wink
4. Create a sultry smokescreen with the Black Pearl Eye Palette from Bobbi Brown
Read more
Get in on the fashion scene with the latest must-haves.
Colour
The fall season is looking bright – as bright as fall can be. Orange is the colour of the season, along with coffee, cedar, phlox (eggplant for the vegetarians out there), and bamboo. There's a whole range of colours to complement orange – have fun with it!
The Jean Jacket
The season's must-have item. Not the boxy kind from back in the day but a more tailored blazer-esque fit to accentuate your silhouette. Opt for a shorter crop to streamline your body and longer tapered sleeves to make this look even sexier. What's perfect about this look is its versatility – dress it up, dress it down, layer it, wear it Read more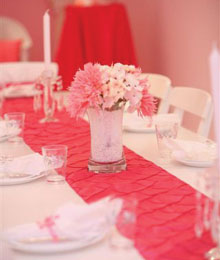 While your child's birthday is a special day, it can be one of the most stressful days for you.
That's why Silvia Persechini and Julie Russo created The Party Closet, a fun-filled birthday venue where every detail is taken care of. "There's a lack of venues for birthday parties in Vaughan where parents can go and enjoy themselves. There was a need for something fresh and more creative," says Russo, mother of two.
The Party Closet provides the ultimate girly, personalized birthday party where little ladies aged 2 to 13 can experience a fantasy day brimming with excitement.
The party starts with each little girl putting on crystal rhinestone-adorned flip-flops and going into the magnificent Read more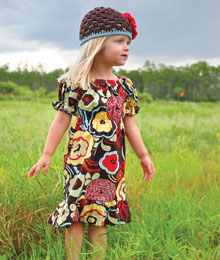 Help your little ones show off their individuality, creativity and style with some items they'll enjoy using just as much as you'll enjoy finding them here.
1. This John Deere fabric crayon roll will help prevent your kids' crayons from getting broken or lost. www.etsy.com
2. Get your little girl ready for a play date or outing with mommy and daddy by putting her in this cute peasant dress. www.etsy.com
3. Bring the beauty of the outdoors in with this cherry blossom tree wall sticker decal art that is colour customizable. www.etsy.com
4. Help your young ones get used to telling time with these cool, artistic timepieces wrapped around their little wrists. Read more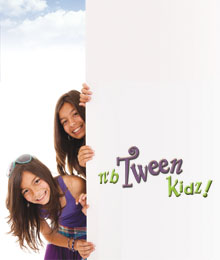 After 26 years of stylishly dressing kids of all ages in Toronto, Nancy and Cathy of Little Ones have opened a fashion destination in Vaughan that caters specifically to the tween market! Conveniently located on Rutherford Road just east of the Highway 400, N'B Tween Kidz features great fashion finds right here in Vaughan.
"We opened this store because we recognized the need for tweens to have their own space for shopping," says Cathy. "We know that the last thing today's preteen wants is to shop in kiddy stores surrounded by juvenile clothing."
"Having just opened the store in March, the response from moms and kids has been overwhelmingly positive," says Nancy. "Style is very important to today's fashion-savvy preteens. They are in-step with current fashion trends and colours and many moms Read more
Prowling on the scene, the alpha male deserves only the crème de la crème in accessories and apparel. Summer style is here to make a statement and this is no exception to men's fashion.
ICCompanys Suave suits cut to perfection are a classic of all seasons. This summer, snag a charcoal grey suit for a stylish twist in your wardrobe. www.iccompanys.com
Etsy Cufflinks Go vintage with Etsy's antique clockwork cufflinks. Made with sparkling ruby gemstone movements, these 1/2 inch diameter cufflinks can add polish to any suit. www.etsy.com
Etsy Card holder Embellished with silver wings and a polished vintage strip, the Thermal Time glider card holder by Versatile Elements is small but makes a powerful impression. Read more
Starting Feb. 1st to Apr. 1st, Dermaglow will be accepting story entries from women who have been inspired by other women in their lives, be it their mothers or other mentors. Share your story or vote on your favourite and be entered to win fabulous prizes like all-inclusive vacations, jewelry, accessories, Dermaglow discounts and products! www.sheinspiresme.ca

To celebrate Prima Lighting's 5th anniversary, guests were invited to visit its new location in the village of Vaughan Mills and enjoy delectable treats provided by Café Cache while observing Read more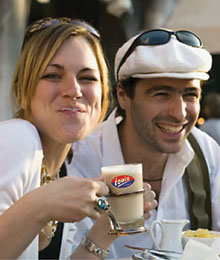 Do you recall when you enjoyed your first sip of coffee? Chances are your intense love affair with caffeine is still going strong, as you yearn for its rich aroma each morning. "It must be of a sweet taste – not bitter – and it must have a few centimetres of froth or schiuma, as we call it. And when you pour the sugar into the coffee, it should be allowed to sit for a few seconds. It is an art. No doubt about it," says Ross Cammalleri, owner and general manager of Alfa Cappuccino. This, his sharp, impassioned and tempting description of the ideal espresso, sends the java-obsessed on frenzied coffee runs.
Alfa Cappuccino is an importing mecca: an impressive 20,000 sq. ft. of espresso machines, coffee makers, whole coffee beans, coffee grinders and restaurant equipment and accessories. Ross, along with his brother Sam, began Alfa Cappuccino in 1986. "This coming October it will be 23 years," explains Ross. Read more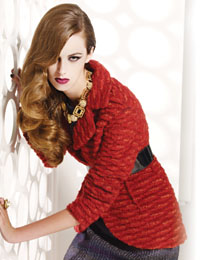 Glitz and glam is back. After last autumn's neutral-toned ensembles, this season's embellished necklines and bedazzled pieces are primping you for the sparkling winter season to come. Canadian designer Franco Mirabelli's fall collection sparkles and shimmers just a little brighter, drawing in an audience ready for precisely contoured suiting and textured solids paired with extravagant costume jewelry. Keep an eye out for a classic-cut peacoat, asymmetrical lines and fun fur textures that Mirabelli blends with classy contemporary pieces. The simple solids matched with eye-catching accessories will have you all polished up for a day at the office or a night out at a hot spot. Read more