Birthday Freebies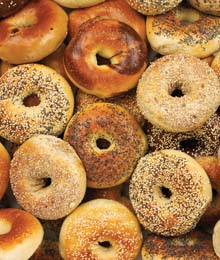 City Life Magazine gives you 10 good reasons not to cry on your birthday. We've scoured the GTA and uncovered free merchandise, food and fun for you to save hundreds of dollars on the one day you can.
1. COMPLIMENTS OF THE CHEF
For those who think there's no such thing as a free lunch, feast your eyes on Tucker's Marketplace's free birthday buffet. Located in Mississauga, Burlington and Etobicoke, this culinary hot spot will make you salivate on that special day with scratch-made soup, hand-carved roast beef and crème caramel. Just show some proof and enjoy the bread pudding! Value is $18.99 on weekdays and $22.99 on weekends.
www.tuckers.ca
2. IN CASE YOU DIDN'T KNOW
This is the ideal deal for the good friend who offers to treat their birthday buddy. The rules are simple: simply pick up the celebratory chum, take them to the nearest Casey's restaurant, order yourself a delicious entrée (min. $14.99) with a drink and let Casey's cover the cost of your ID-carrying comrade.
Maximum Value is $14.99.
www.caseysbarandgrill.com


3. A CHEAP LAUGH
Do you remember the last time you had a free laugh? Neither do we, but we spoke to Yuk Yuk's Vaughan and apparently a good guffaw doesn't cost a thing if it's the week of your birthday. To capitalize on this stand-up deal, make a reservation online in advance and include a note in the comments section that you'd like to take advantage of the birthday offer. You should receive an email confirmation shortly. Value is $22 on Friday and Saturday nights with the exception of special shows.
www.yukyuks.com
4. HOLE-IN-ONE
What A Bagel gives you 12 yummy reasons to enjoy turning a year older. On that special day, get a dozen freshly baked bagels to share with family and friends. Most locations we checked across the GTA will honour this deal but, to be sure, call your desired spot in advance. To squeeze the most out of this freebie, simply freeze your leftovers and snack away on a rainy day. Valued at $6.
www.whatabagel.com
5. FREE TIME
Chivalry might be dead most days of the year, but at Medieval Times courtly manners come to life for birthday-celebrating guests. Those who think ahead and sign up for the Birthday Fellowship program online will receive a coupon code and instructions for free admission. Just bring a paying friend and your dinner and tournament show will be on the castle. Valued at $63.95.
www.medievaltimes.com
6. A GOOD BUZZ
With dozens of locations across the GTA you're bound to pass by a Boston Pizza on your birthday. If you're not already stuffed, let's hope you signed up for the BP Buzz email club online so you can redeem your free b-day pasta or dessert. Maximum Value is $16.99.
www.bostonpizza.com
7. BIRTHDAY SUIT
This century-old business hasn't lost its courteous customs. If you take a minute to become a member online, Parkers Dry Cleaners will not only instantly send you a $10 free dry cleaning coupon for signing up, it will also send you another $10 on your birthday. Don't get caught in your birthday suit, with six locations across Toronto, your favourite ensemble will be perfectly pressed and polished.
www.parkersdrycleaners.com
8. GRAND SLAM
If you're going for a birthday joy ride and happen to pass a Denny's, step on the break fast. It doesn't get better than piping hot buttermilk pancakes, eggs, bacon, sausage and hash browns for #free. This is the glory of starting your b-day off with a bang at Denny's. With locations in Brampton, Mississauga and Oakville, there's no excuse to miss out on a gratis Grand Slam breakfast. While it's not mandatory, you may want to splurge on a cup of Joe to get you through the chaos that awaits. Valued at $9.69.
www.dennys.ca
9. GET THE SCOOP
Marble Slab Creamery sweetens the deal with a free medium vanilla waffle cone and one "mixin" when you sign up for Marble Mail (which takes about 20 seconds). You also get the option to enter the names and birthdays of four family members so they can also receive free birthday surprises! The joys of giving are oh-so saccharine.
www.marbleslab.ca
10. CHERRY ON TOP
Who needs cake when you can get a sugar rush from Sephora? Beauty Insider members get a special b-day kick-back that repairs, nourishes and plumps your mistletoe mechanism. There's no sign-up fee, so the Fresh Sugar Kisses Mini Lip Duo is complimentary. While the actual value is unknown since the mini versions are custom-designed for this occasion, we can tell you that the regular sized sticks sell for $26 each.
www.sephora.com