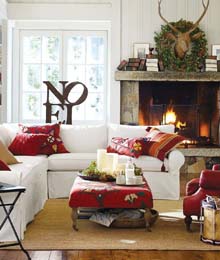 HOLIDAY WISHES FOR HER
1. SIGN ME UP
Sweet, rustic touches like this 'Noel' sign will make your home merry and bright this season.
www.potterybarn.com
2.DANGLING DAZZLES
Don these white coral Angelica earrings for an alluring look.
www.vivre.com
3.SWEET & SWANKY
This platter of luxury chocolates with Swarovski Elements will bewitch your guests.
www.godiva.com
4. BOLD BAUBLES
Cast a spell with these bold and unexpected accessories from Anthropologie.
www.anthropolgie.com
5. HAND CANDY
Find your fancy flair with this baroque-inspired Kotur box clutch.
www.net-a-porter.com
Read more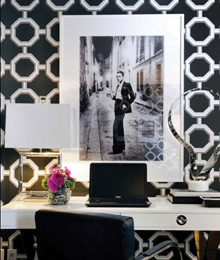 Unwind in a beautiful space full of colour and surrounded by art.
1. HOME IS WHERE THE HEART IS The award-winning firm Atmosphere Interior Design is known across North America for its striking work and visionary team. Using rich textures and bold furniture, designers Trevor Ciona and Curtis Elmy join project manager Heather Whyte to make clients' dreams of a beautiful home come true. www.atmosphereinteriordesign.net
2. A LONG SHELF LIFE Choose a shelving unit that also stands as an art piece. This Chicago 8 unit is available in a variety of hardwood finishes and beautifully complements a modern home. www.urbanmode.com
3. TIME AFTER TIME 1212 Décor in Toronto will give you timeless interior design. Offering home consultations and a spectacular showroom Read more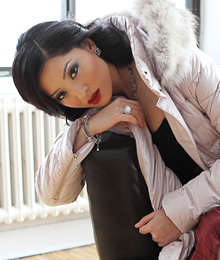 Johnny Yiu Handmade in Canada, Johnny Yiu jackets are filled with goose down to withstand harsh weather. Available in an array of cuts and colours, this fall/winter must-have is cinched with style. www.johnnyyiu.com
Anthropologie Bracelet Designed by Athens-based designer Dimitriadis and handcrafted in Greece, this canary yellow bracelet sparkles with porcelain roses and Swarovski crystals. www.anthropologie.com
Cottonfield From Cottonfield's autumn 2012 collection, this navy blue sweater is a great addition to a fall wardrobe. Wear a plaid shirt underneath to give your look a touch of sophistication. www.iccompanys.com Read more

This quintessential summer shade brings about the freshness we seek on those warm, sunny days. Whether you prefer it in a pretty lace dress, crisp bedding or sexy heels, we've selected a range of ways to be white-hot this summer. Read more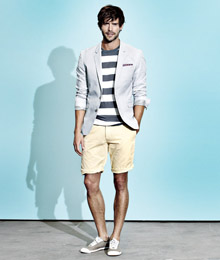 Dress Up
Your little man in a plaid bow tie that's fun for him and classy for you.
www.etsy.com
Heeling Power
You can accomplish anything in these hot pink heels. Pair them with orange or blue for a colour block effect, or with a neutral outfit for a pop of colour.
www.zara.com
Brace Yourself
This sterling silver Scott Kay bracelet is not for the faint-hearted. Show off your wild side with this eye-catching accessory.
www.cupidodesigns.com
Read more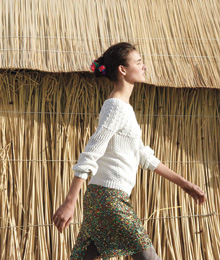 Pay homage to the heyday of design with fashion and décor that will woo even the wildest horses.
Horseshoe www.anthropologie.com
Mounted trong>
Anchor your home with striking ironwork inspired by the equestrian life. Anthropologie's Stable Hook is a subtle detail that no one will be able to overlook.
www.anthropologie.com
Take the Reins
A throwback to the saddlebag, J.W. Hulme Co.'s Legacy Shoulder Bag is great for the girl on the go. If you need a purse that will come along for the ride, the lifetime guarantee offers added insurance.
www.anthropologie.com
Read more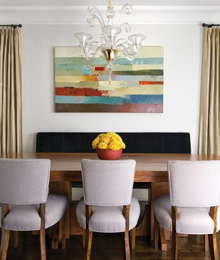 There are opportunities to experience unique design in every facet of your life. Discover the possibilities with the distinct products fashioned by these cooks, designers, artists and events from across the city. Add some flavour to your world.
Read more
Country Strong
This V-neck cotton dress is proof that you don't have to compromise style for comfort. Jackpot's Giany dress wins big with a floral print piece that's a jean jacket away from out West. www.iccompanys.com
Sundial
Nothing to wear? Add Anthropologie's Oval Stack Necklace to your little black dress and you're ready to head out the door. The muted simplicity of this chunky piece presents the perfect solution to any wardrobe dilemma. www.anthropologie.com
From Heel to Toe
Known for creating outside-the-box pumps, renowned footwear designer Brian Atwood opens up this fall with studded peep-toe pumps. Don these delicious heels in Fuxia Suede Read more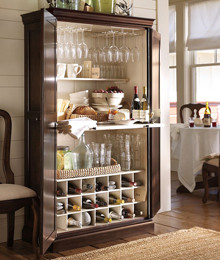 Peel open the drapes and let sunshine in. Embrace the season's embellished elegance as you invite warmth in your home with the new trends of floral printed upholstery and Art Nouveau-inspired pieces. Read more
Blooming designers and flirty fashionistas all around town are turning to blushing hues and floral prints for spring 2010. If fashion characterizes the expression of mood and personal style, the floral print is certainly a direct statement of the season. Over the last year we have seen the greeting of the garden print trend make an entrance onto the fashion scene. As we carry over to this season, the trend is accelerating at full force with noteworthy designers who are excited to reinvent these playful prints in an array of flattering compositions.
Among the many competing brands are Soaked in Luxury and Anthropologie. Their collections teem with flirtatious lace, gorgeous prints, and stunning silhouettes. Accentuating feminine curves is on the agenda this spring, and the key to the season is the radiance of playful pieces. Read more