When the women and children at Red Door Family Shelter in Toronto awoke last Christmas morning to find nearly 200 shoeboxes stuffed with thoughtful presents from local women, they were shocked. "It's a real gift to see that the community cares about them and cares about the crises they're going through," says Bernnitta Hawkins, Red Door's executive director. What stemmed from a generous gesture has become a national initiative to spread joy over the holiday season to those who need it most. "It's not a huge thing, but I do believe in it," says Caroline Mulroney Lapham, co-founder of The Shoebox Project.
After a conversation in mid-November 2011, Mulroney Lapham was inspired to help her sister-in-law Jessica Mulroney extend her mother's philanthropic mission to the streets of Toronto. "Her mother would put together shoeboxes filled with small items that women really enjoyed — little splurges — and she would ask her friends to do the same and deliver them all to a local shelter in Montreal. Jessica said she wanted to bring it here and I thought it's such a nice idea." So they banded together with fellow sisters-in-law, Vanessa and Katy Mulroney, and sent an email out to family and friends inviting them to participate. "We were worried for a while that we wouldn't even get 100 shoeboxes, and low and behold, we got almost 400 without any kind of marketing," says Mulroney Lapham, who was delighted to be able to share the shoeboxes with other local shelters across the city.
Read more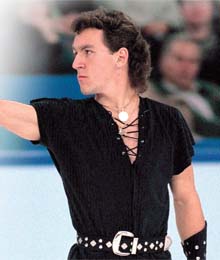 Elvis Stojko is peering out of his office window, directing his gaze towards Mexico's shimmering Lake Chapala. Surrounded by lush Sierra Madre mountains in the town of Ajijic, Jalisco, the Canadian-born ice icon has found his home in a hacienda-style estate that's more than 5,000 feet above sea level. "You pretty much see the sun every single day," he says over the phone, revelling in the dry heat he's become acclimatized to over the last 11 years. In the cottage country community of 15,000, Stojko has found the warmth and seclusion he's always craved. "Living life here is very relaxed in a way," says the three-time world figure skating champion, who savours the anonymity his celebrity rarely sanctioned on the streets of Toronto. It's been a decade since Stojko officially left the competitive realm, but as he reflects on his remarkable career and the personal and professional spin-offs it elicited, there's a sense the word retire will never be in his lexicon.
The 40-year-old, whose blades first sliced the ice when he was four, captured Canadian audiences with his unconventional charisma and outspoken opinions, yet he can't aim a dart at just one bull's-eye benchmark that stands out as his most memorable. "Oh my gosh," he says, sweeping the corners of his mind to find the right feat. "Making the world team back in 1990 was huge because I was only 17 and I came out of nowhere," he begins, segueing to the clean program he delivered at the Canadian championships that same year: "I'll always remember that skate in Sudbury." One stride at a time, he started seizing world titles and Olympic medals, breaking records in-between by landing the first-ever competition quad-double and quad-triple combinations in '91 and '97. "It was crazy, it was just so intense and I just put it all on the line," he says of the latter accolade, which he nailed at the sold-out Grand Prix finals in Hamilton. "I could have just went for the win because I was first after the short program, but I said, 'no, let's do this, let's risk it all.'"
Read more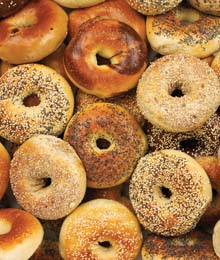 City Life Magazine gives you 10 good reasons not to cry on your birthday. We've scoured the GTA and uncovered free merchandise, food and fun for you to save hundreds of dollars on the one day you can.
1. COMPLIMENTS OF THE CHEF
For those who think there's no such thing as a free lunch, feast your eyes on Tucker's Marketplace's free birthday buffet. Located in Mississauga, Burlington and Etobicoke, this culinary hot spot will make you salivate on that special day with scratch-made soup, hand-carved roast beef and crème caramel. Just show some proof and enjoy the bread pudding! Value is $18.99 on weekdays and $22.99 on weekends.
www.tuckers.ca
2. IN CASE YOU DIDN'T KNOW
This is the ideal deal for the good friend who offers to treat their birthday buddy. The rules are simple: simply pick up the celebratory chum, take them to the nearest Casey's restaurant, order yourself a delicious entrée (min. $14.99) with a drink and let Casey's cover the cost of your ID-carrying comrade.
Maximum Value is $14.99.
www.caseysbarandgrill.com
Read more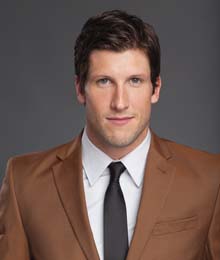 Local figures reveal their favourite New Year's Eve memories.
Brad Smith
Bachelor Canada, Citytv
''I started a tradition about five years ago where I would always go back home to my parent's place in Montreal for New Year's Eve and cook them dinner. So every year since then I've spent it subsequently with my brother, my sister and the kids, and we'd just have everybody over to celebrate. The most memorable one was 2009. I made six pounds of mussels in a spicy tomato marinara sauce, Swiss chard and collard greens with diced bacon, and goat cheese smashed sweet potatoes. We also had about seven bottles of wine. Whenever I go back to Montreal I love doing the same thing, which is just trying to get my entire family under one roof because we're just absolute crazies! This year I think Bianka and I are actually going to be in Mississauga for New Year's. We're going to my parent's from December 21st to the 25th and then we'll head to her parent's for Christmas night probably through to New Year's."
Read more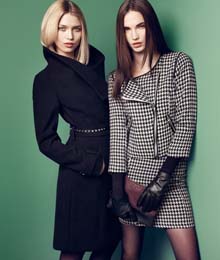 Whether you're standing under the mistletoe or the office glow, these outfits will ensure you're always in the spotlight. One of the perks to imperfect weather is the plush, patterned fashion that tends to trend this time of the year. Add a little spice to your wardrobe with these haute holiday pieces.
1. Zippers, studs and houndstooth coats make the coldest winter months worth it.
www.soakedinluxury.com
2. This beaded miniskirt gives Tinseltown new meaning. An unexpected biker jacket kicks this look into full gear.
www.zara.com
3. Shake up the classic holiday ensemble by sporting a sequined, embroidered cardigan over an oriental print chiffon blouse. Slip into seamed jeans and go get your jollies.
www.zara.com
Read more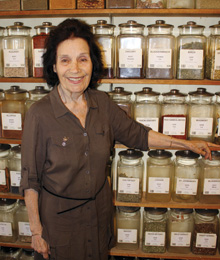 "I still feel his presence here all the time," says Evelyn Dorfman. The petite, moxie brunette is staring at an oval-shaped frame featuring her late grandfather Max Harriman Thuna, founder of the famed family business she's been running for the last 24 years. "He listens to the various conversations here, there's a vitality to him," she adds of the patriarch she barely knew. The intimate Danforth Avenue store, that's redolent of the past and lined with more than 1,500 vintage apothecary jars, is perhaps better known for its history than its herbs.
Thuna planted the first seeds of his nearly 125-year-old legacy at a small shop on Queen Street West in 1888. The former storefront was, at the time, swathed in block-lettered promises of herbal remedies — something Dorfman says wouldn't be acceptable today. Read more
The telltale ting of the sitar provides the soundtrack to my first meditation class. A wooden flute weaves its way through the track and already I feel like my preconceived notions about meditating are being met. The sounds are coming from a stereo in a simple meeting room at the North York Public Library. I make my way to the back to avoid standing out in a crowd of about 20 presumed masters that seem far more attuned.
Despite my cavalier best efforts to camouflage myself, I am quickly discovered. Someone hands me an informative diagram for beginners on how to raise the Kundalini (a dormant, corporeal energy at the base of the spine viewed as a motherly spirit) and a biography on the founder of Sahaja Yoga meditation. A gentle-looking Russian man stands at the helm of the room, anxious to begin. He introduces Read more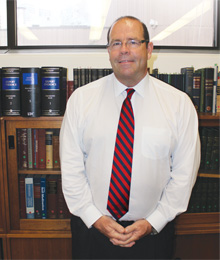 "What led me to where I am right now is kind of a circuitous journey," says Dr. Andrew McCallum. The chief coroner for Ontario is sitting in a large, antiquated boardroom that's covertly connected to his personal office in downtown Toronto. Behind him is a bookshelf brimming with encyclopedia-sized texts that advise on cerebral subjects such as expert evidence, fractures, forensic medicine and poisonings. From the strict security check-in to the closed-mouthed hallways, it's the makings of a CSI: Crime Scene Investigation episode — but as McCallum contests, he's no Al Robbins. "The big difference is that we focus on stuff that wouldn't make great television but what really matters. I'm talking about, 'how do you keep people alive?'"
What he means by "circuitous" is that after finishing medical school, Read more
How often do you say 'thank you' in a day? A month? A year? It's a word that Serge Kaptegaine believes should be heard more often, and it's a word he'd like to repeat at the Canadian Centre for Refugee Employment's (CCRE) Gratitude Gala on Sept. 20, 2012. Kaptegaine, director of the CCRE, is taking this opportunity to recognize the mentors, employers and organizations that have aided his organization in its mission to ease newcomers into Manitoba — a province that offered him peace when he emigrated from unspeakable circumstances in war-torn DR Congo in 2005. "To see the faces of real people devoting themselves to help others to achieve greatness, it makes me believe that the human race can live together in harmony," says Kaptegaine. By raising awareness and creating a platform for refugees to gain the skills and knowledge necessary for employment, the CCRE has created opportunities Read more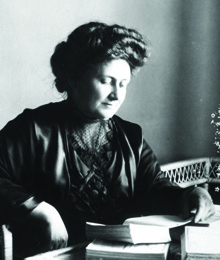 The Montessori method has methodically swept across the educational landscape, fostering young minds to think independently and shepherding parents to give their fawns a fair shot at a ripened yet revolutionary form of learning. With thousands of private and public schools across North America carrying on this legacy, why are Maria Montessori's early 20th century revelations still so relevant?
The answer to this question is something John Chattin-McNichols, an associate professor of education at Seattle University, stumbled upon after he embarked on a serendipitous trip to Bergamo, Italy in 1970 — exactly 100 years after Montessori was born in a small town just a few hours away. At the time, the-then 20 year old was working as a summer helper at a Montessori school in the U.S., teaching preschoolers archery, ice-skating and other activities when he was approached to attend a training course abroad. "Because none of the Read more