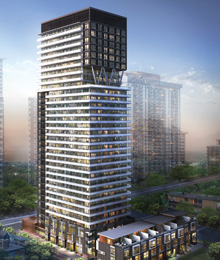 CANARY DISTRICT Even in its initial phase, the beauty of Canary District Condominiums and Townhomes is transparent. With a glass, steel and grey limestone shell, this residential waterfront condominium community at the cornerstone of Front and Cherry Streets is slated to be the official athletes' village for the 2015 Pan Am Games.
www.dundeekilmercondos.com
101 ERSKINE With a strong standing for sustainable building, Tridel and Beaux Properties' 101 Erskine — now selling and located in the burgeoning Yonge Street and Eglinton Avenue neighbourhood — is designed for green-inclined condo dwellers. Among its beyond-textbook amenities is a sixth floor outdoor terrace that features a bright blue infinity swimming pool and fireplace lounge. www.tridel.com Read more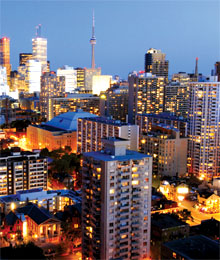 Posh Condominiums & Towns
Offering everything from a 24-hour concierge, modern-styled party room, library and a fitness centre, Posh Condominiums & Towns fulfills your desire for luxury and modern-day style. Feel right at home in these marvellous Vaughan condos. www.poshcondos.ca
X2 Condos
Contemporary design and urban living collide in magnificent fashion with X2 Condos designed by Cecconi Simone. Combining an awe-inspiring view with the maximum in comfort, "move up" with these fabulous Toronto condos. www.X2condos.com
Signature Developments
Tranquility and luxury are wrapped in nature's bow at the Triumph Resort Condominiums. Surrounded by nature and Read more
Solmar Development Corporation proudly announces the imminent debut of Tower 3, as construction efforts pave the way for the third installation in the exclusive condominium complex of Bellaria Residences, Vaughan's most prestigious address.
The Solmar Design Team is bursting with excitement as it selects rich colour schemes, elegant décor and elaborate furnishings that will sweep through the polished interiors of Tower 3. Form and function unite with classic details and the highest quality of appliances found in every stylish suite. Relics of fine art and contemporary accents complement each other as newlyweds, young professionals and empty nesters alike get set to live in the charm of a European-style abode. Read more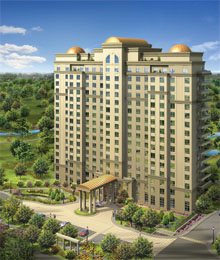 As the third tower of Bellaria Residences prepares to debut its splendour, the lavish condominium complex set in the expanding city of Vaughan is proving that good things do come in threes. Carving a niche in the luxury condo market, Bellaria sets the standards high for those who want to follow in its footsteps.
A feat superbly accomplished by Solmar Development Corporation, the lavish Tower 1 and Tower 2 structures of Bellaria Residences are not just the first high rises in Vaughan, but the epitome of a fairytale lifestyle with all the trimmings. "As a Bellaria resident, I can say wholeheartedly that it's a great place to live," says Amal Mishaiel. "The building itself is aesthetically beautiful and meticulously kept. Often times, my guests feel as though they are in a hotel rather than a residence," she gushes. Read more
With crossed gold keys pinned to the lapel of his uniform, a courteous Les Clefs d'Or concierge greets me warmly with a smile and a sweep of his hands. "Welcome to Bellaria Residences, my name is Vic Geiger," says the experienced curator, as a swanky syncopation of jazz drifts through a stunning atrium of marbled floors, stoned walls, gleaming glass and artistic expressions of the Renaissance. "It's a lifestyle that is very pleasing, because you walk in and you feel like you're welcomed home," says longtime sales representative Frances Chetti.
In just a few steps, the expectations of a boutique condominium complex set in suburbia are surpassed, as the extravagance of a European hotel unfolds. "I feel like I'm waking up in The Ritz-Carlton every morning," gushes a resident as she heads to the private women's changing room adjacent to a Read more