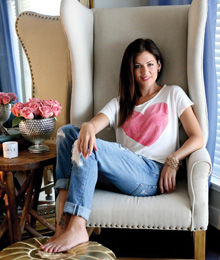 Interior designer and former Bachelorette star Jillian Harris lives life by love and design.
Q: What led you to pursue a career in interior design?
A: My family has always been very crafty and into design — well, my mom, mostly. She owned a few home décor and design stores when I was a kid and I always remember being so fascinated with moving my furniture around, decorating my room and thinking of fun colour schemes. Growing up in a small town in northern Alberta, a career as an interior designer wasn't really an option. It wasn't until I moved to Calgary and was juggling a waitressing job at Cactus Club and a retail job at Caban that I fell in love with the idea of being a designer. Shortly after, I applied to be the executive assistant to the creative director of Cactus Club and it was then that my career in design was born. Read more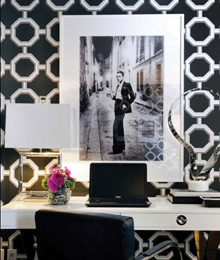 Unwind in a beautiful space full of colour and surrounded by art.
1. HOME IS WHERE THE HEART IS The award-winning firm Atmosphere Interior Design is known across North America for its striking work and visionary team. Using rich textures and bold furniture, designers Trevor Ciona and Curtis Elmy join project manager Heather Whyte to make clients' dreams of a beautiful home come true. www.atmosphereinteriordesign.net
2. A LONG SHELF LIFE Choose a shelving unit that also stands as an art piece. This Chicago 8 unit is available in a variety of hardwood finishes and beautifully complements a modern home. www.urbanmode.com
3. TIME AFTER TIME 1212 Décor in Toronto will give you timeless interior design. Offering home consultations and a spectacular showroom Read more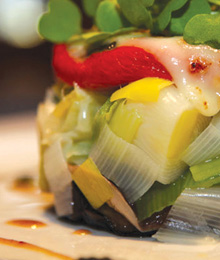 Find your cool from this list of hot destinations and must-haves.
1. HAVE A BALL Bowl, dine and celebrate at The Ballroom, Toronto's entertaining social hub. www.theballroom.ca
2. PETITE ITALY Primo & Secondo brings a zap of art, culture and superb cuisine to Montreal's Little Italy. www.primoesecondo.ca
3. PUMPED-UP KICKS Add a splash of colour to your step with these brilliant Converse sneakers. www.shopcaster.com
4. A PEEK IN THE PAST This Baroque-style mirror adds a touch of rustic charm to any décor scheme. www.shopcaster.com
5. TIME TRAVEL Add some funk to your morning wake-up call with Read more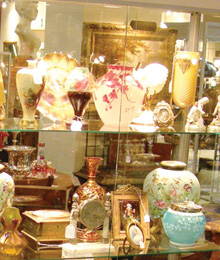 In its third year, the Premier Antique Show at the Metro Toronto Convention Centre continues to blow vintage lovers away. Antique dealers from across Ontario and Quebec are coming together on October 26, 27 and 28 to feature decorative arts, furniture, porcelains, clocks, pottery, fine jewelry and more. Read more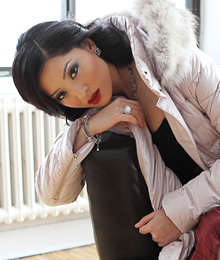 Johnny Yiu Handmade in Canada, Johnny Yiu jackets are filled with goose down to withstand harsh weather. Available in an array of cuts and colours, this fall/winter must-have is cinched with style. www.johnnyyiu.com
Anthropologie Bracelet Designed by Athens-based designer Dimitriadis and handcrafted in Greece, this canary yellow bracelet sparkles with porcelain roses and Swarovski crystals. www.anthropologie.com
Cottonfield From Cottonfield's autumn 2012 collection, this navy blue sweater is a great addition to a fall wardrobe. Wear a plaid shirt underneath to give your look a touch of sophistication. www.iccompanys.com Read more
Our natural landscape is our best resource when it comes to inspiration, especially with colour. Neutrals are often considered exclusively to be white, grey, cream, brown, and even black, but there are other hues nature offers, and it's time to incorporate them back into our spaces.
While decorating with neutrals can be a very chic approach to design, you also need to make sure you don't create a room that feels bland or boring. What if neutral colours didn't have that boring connotation attached to them? What if neutral colours weren't just shades of cream and grey? Can you extend neutrals into other colours? The answer is yes, because a neutral colour helps to balance and create harmony with dominant hues. Read more
By way of limited resources, I was able to pull together a backyard bash for a family celebration. It was held outside because our house was undergoing a complete renovation, but with a bit of ingenuity, it all came together seamlessly. First, we hauled our table and a few chairs from our storage space to create a pleasant dining area. Next, I dug up some vintage frames purchased at garage sales and thrift stores, spray-painted them white, and placed them onto the brick façade of our home.
The lunch was meant to be light and refreshing, with chicken salad croissant sandwiches and fruit. For dessert, I served an array of candies, cookies and cupcakes. Plain water and lemonade were served as drinks, but I kept things interesting by adding cucumber and lemon slices. I also found small glass bottles, which I filled with milk. I then added some cookies on top for a fun treat – which the children and adults enjoyed equally. Read more
MAY FLOWERS
Everything will be coming up roses with some floral wall art. www.bouclair.ca
PILLOW PLAY
From puffy pillows to stylish storage and diverse decorations, give your interior the accessories it needs for a finished look. www.bouclair.ca
BEJEWELLED
A diamond-encrusted cushion adds flair to a comfy couch. Read more
Keep that light and bright colour from last season in your home as the fall starts to bring darker, gloomy weather our way.
LIMITLESS White adds an extra sense of harmony, space and vividness into any room. With this all-white bed or sofa set, you'll surely be adding a bit of brilliance into any dark room. www.limitless-toronto.com 416.366.5288
STRAWBERRY LANE Add beautiful, flourishing plant life to your home to create positive energy and to remind yourself that your plants won't be buried in leaves and snow forever. www.strawberrylane.ca
THE COMPANY STORE Your summer flowers may not be in bloom anymore, but you can add that pretty floral liveliness indoors with a fun flower-printed pillow. Read more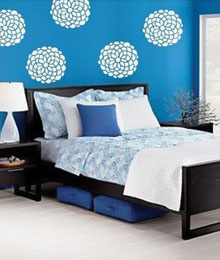 When you are searching for a place to unwind and call your own, consider some of these prime properties.
1. Wall Decal Stickers
Wallpaper can be a nice décor touch, but you may not want a pattern repeatedly lining your walls. Slap some fresh flair onto your walls by sticking on these blooming beauties. This set of graphics made from vinyl comes in a set of 10 blooms that are 13 inches in size. www.etsy.com

2. Sweet Poms
Looking for a new and creative way to brighten up your home? Whether you want to add a splash of colour throughout the rooms in your home for just a day or all year round, these tissue pom-poms made from 100 per cent recycled tissue Read more