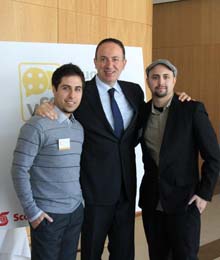 Toronto, Cannes, Vaughan! The magic of the movies hit Vaughan this year when the city announced its first Vaughan Film Festival. Established by local filmmakers Antonio Ienco and Mark Pagliaroli, the VFF will celebrate local and international artists by selecting 20 to 30 short films to screen and crowning the Best Picture, Best Actor, Best Actress and Best Director with Golden Reel Awards.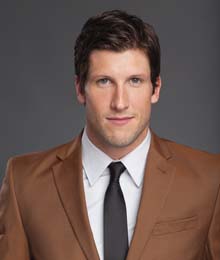 Local figures reveal their favourite New Year's Eve memories.
Brad Smith
Bachelor Canada, Citytv
''I started a tradition about five years ago where I would always go back home to my parent's place in Montreal for New Year's Eve and cook them dinner. So every year since then I've spent it subsequently with my brother, my sister and the kids, and we'd just have everybody over to celebrate. The most memorable one was 2009. I made six pounds of mussels in a spicy tomato marinara sauce, Swiss chard and collard greens with diced bacon, and goat cheese smashed sweet potatoes. We also had about seven bottles of wine. Whenever I go back to Montreal I love doing the same thing, which is just trying to get my entire family under one roof because we're just absolute crazies! This year I think Bianka and I are actually going to be in Mississauga for New Year's. We're going to my parent's from December 21st to the 25th and then we'll head to her parent's for Christmas night probably through to New Year's."
Read more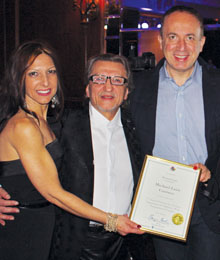 On Nov. 18, 2012, more than 400 people filled Montecassino Banquet and Event Venue in Woodbridge for the Michael Luisi Fashion for a Cause on the Runway. Haute couture, live music and refreshing fare made the joys of giving back even more enjoyable. Hosted by Michael Luisi Couture, the event raised funds and awareness for the Children's Wish Foundation of Cananda.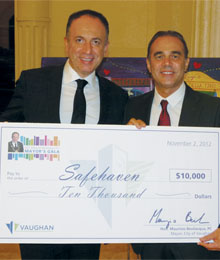 The Safehaven Gala: Celebrating 23 Years event attracted over 700 supporters and raised $100,000 at the Bellvue Manor in Vaughan. Guests included Vaughan mayor Maurizio Bevilacqua, the Knights of Columbus of St. Peters Parish, the directors of Italian Car Day and chief meteorologist Anthony Farnell of Global News Toronto. A charitable organization, Safehaven provides support to families whose children suffer from multiple disabilities and complex needs.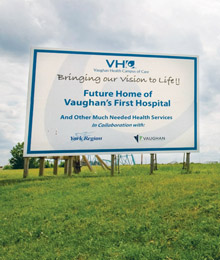 An enormous promise is entrenched in an otherwise vacant 35-hectare field at Major Mackenzie Drive and Jane Street. "Future Home of Vaughan's First Hospital" reads the conspicuous blue and white sign that's weathered a few more storms than expected. In the background, the vibrant colours of Canada's Wonderland offer a unique parallel to a far less amusing theme: for the City of Vaughan, it's been a roller-coaster ride to the realization of a premier health-care facility.
The ups and downs were set in motion in 2003, when Vaughan Council decided it was time Canada's largest municipality without a hospital finally built one. The city has swelled significantly since then, yet it's faced with an empty stretch of land, a recently relinquished health-care foundation, a contentious $10 million federal grant that's slipped out of grip and a sign that's getting stale. With a major player
Read more
The crowds are wild. The sky brims blue, and Milan's rigid, snow-capped mountains are reduced to mere blurs as bicyclist Ryder Hesjedal zooms over the finish line of Giro d'Italia, becoming the first Canadian to ever win the prestigious race.
Across the pond, a pursuit is pulling Vaughan's citizens to the streets. The air buzzes with excitement as jersey-clad riders make their way to Villa Charities' fourth annual Giro cycling event. While the crowds aren't in the millions, and the prize isn't a swirling golden trophy, community members beam with generous hearts.
Like Hesjedal, it was Nick Sanci's first time reaching the finish line, and like his fellow Canadian champion, Sanci's race began long before May 27. Sanci, who belongs to Team Rosehaven, began collecting donations weeks prior to hitting the track, striving to meet Read more

On April 3, 2012, at the Committee of the Whole, Ward 1 resident Hugh Cook received the Civic Hero Award, which is presented to individuals who show outstanding community involvement. A long-time resident, Cook's contributions include volunteering in local amateur sports and a continued dedication to preserving the history of Vaughan, especially through his work with the Vaughan Historical Society. 
Read more
On Oct. 12, 2011, Audio One blasted its sleek stereos and opened its showroom doors to loyal customers, suppliers and friends that have shown support through 25 years of success in business. Founding brothers Gino D'Ascanio, Carlo D'Ascanio and Anthony D'Ascanio celebrated their silver anniversary with Read more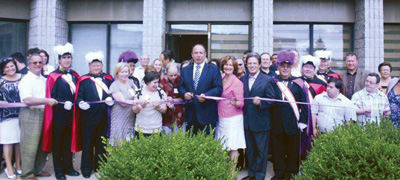 On Aug. 25, 2011, Alternatives Integrating People with Cognitive Challenges held a grand opening for its new office and day program space. Alternatives is a registered charitable organization that provides day support for adults with a developmental disability. Participants of the program are provided Read more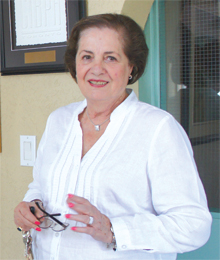 Some of us travel down roads that split into darkness until we can't see where we end up or how we got there in the first place. It's late afternoon and the sun beats down on idling drivers, frustrated by the wait that comes with a freight train charging through a railway crossing like the speed of life. The horizon appears as the gate arms rise, and, like the train, cars speed off into unknown destinations. Turning off a traffic-laden Vaughan road, a utopia of green and tranquility draws you towards a place that has driven 15,000 lives toward the right direction.
The Vitanova Foundation is a former private residence-turned-rehabilitation centre based on a client-centred treatment philosophy. I walk through double doors and take a seat on a green couch in the foyer to meet Franca Carella, the monarch of a not-for-profit corporation that has helped to rebuild the lives Read more