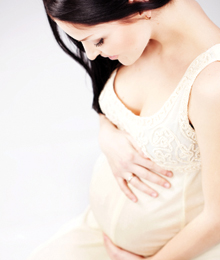 Lucy Sanna was pregnant with her second child when her maternal instincts for an alternative care option kicked in. She had mused about midwifery during her first pregnancy, but as other women before and after her, wasn't so certain about its scope of practice. She wondered about its quality of care, safety and benefits. She wondered if there was a fee. Heeding the referrals of others, she placed a call to a midwifery clinic near her place of work in Etobicoke, Ont. "I was trying to figure out what to do. I have two cousins of mine who went with midwives as well, and they tried to convince me from the beginning with my first [pregnancy] to go, and the second time, I said, 'that's it, I'm going to do it,'" recalls the Bolton, Ont. resident. Nine months later, Sanna welcomed a full-term, healthy baby girl she and her husband named Mariah. Read more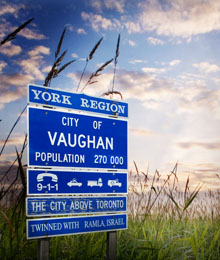 A Toronto Life magazine feature disheartens the Vaughan community, whose major accomplishments are clouded with claims of corruption and scandal.
Every time I'm asked where I'm from I hesitate. I pause because I want to avoid the know-it-all smirk. I equivocate because I don't want to hear the toxic and discriminative comments that fall from ignorant lips. That's not fair to me or any other resident of Vaughan who lives life according to the law.
I'm not naive, but Vaughan is primarily a city full of heart, ­not villains. So why do cantankerous mediums continue to pollute our clean air with what appears to be anti-Italianism and acrimonious sound bites? Read more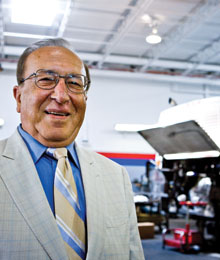 For a man who has successfully conquered the competitive industry of transportation, Vahe "Cy" Tokmakjian emanates bashful charm. He's dressed in a light-coloured suit and dress shirt of a royal blue. Sipping on his morning coffee, Cy's face is never without smile or nostalgic expression, as he delves into the storied past of his domestic and international conglomeration, Tokmakjian Group, a prodigy in the transportation business.
Headquartered in Ontario's industrial community of Concord, Tokmakjian Group was conceived from childhood dreams and born via skilled experience. During a time when deals were sealed with a handshake, Cy set out solo at 29, unbeknown to what the future had in store for him. "I remember shaking hands with Tony DeGasperis, when we were both small businessmen beginning our journeys," Cy, 69, reflects. Read more