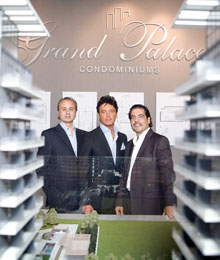 A new standard of grandeur is coming to Richmond Hill, and its name is Grand Palace Condominiums. While its lavish amenities and stunning edifice exudes opulence of the highest order, this palace isn't reserved for royalty. Its project leads, Stefano Guizzetti, Jack Scivoletto and Albert Gasparro, share a spectacular vision for this city on the rise, and it's one that doesn't cost a king's ransom.
With a name like Grand Palace, thoughts of unbridled luxury accessible only to the city's elite may parade by one's mind. But the Guizzetti Corporation team puts a halt to such processions. "It's luxurious, but it's affordable luxury," says Scivoletto, vice-president of Guizzetti Corporation. "We're trying to update the city's esthetic; to bring it up to the class it deserves." The plan is to reach beyond the now customary fare of condo living that's springing up across the GTA, to accent Richmond Hill's skyline with progressive style and to create a community that caters to and complements modern lifestyles, all starting from the low $300,000s.
Designed by renowned architectural firm Hariri Pontarini Architects, which has worked on other notable landmarks such as York University's Schulich School of Business, Grand Palace's three exquisite glass towers are fashioned with contemporary design unique within the city. Thanks to soaring nine-foot ceilings and stylish glass walls, which both come standard in each of the 524 units, living spaces are bathed in natural light. Sleek fixtures and energy-efficient appliances including Fisher & Paykel refrigerators and Whirlpool stainless-steel dishwashers, ovens, microwaves and full-sized stacked washers and dryers enhance the open-concept suites. Granite countertops and premium porcelain tiles are also standards, further adding to the prestige.

Read more

When the weather is warm, the last thing you want to see is your children staring at a screen. But with one parent working late and the other taking the oldest to soccer practice, bringing the family together can be trying. Canadian summers are short, so get the family together to enjoy your home's outdoor space with a swimming pool from GR Pools.
"For children, it's a source of fun, no doubt about it," says Carlo Riccardi, co-owner of GR Pools. With years of experience, he recognizes the liberating transformation felt by customers once they start splashing around in their new backyard oasis. "Once you fix your backyard properly with a nice pool, you'll find that you'll be spending a lot of time in the backyard. It definitely brings the family closer together."
Read more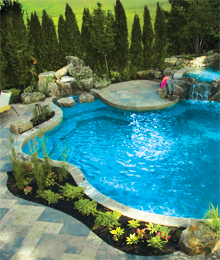 Have you always wanted to spend your summer days in a lush tropical lagoon instead of an ordinary backyard? This longing need not remain a mere fantasy – you can transform your yard into a sultry oasis with a breathtaking pool as the focal point.
"It's like having your own waterfront property," says Ed Gibbs, president of Gib-San Pool & Landscape Creations. The world's first ISO-certified pool company and a member of the coveted Master Pools Guild, Gib-San is more than just a pool-builder. For over 40 years, it has been designing and creating pristine properties, renovating backyards into little pieces of paradise. "You really have to have designers and architects involved if you want to achieve something more than an average backyard and pool," he adds. Read more