It's a Vaughanderful Life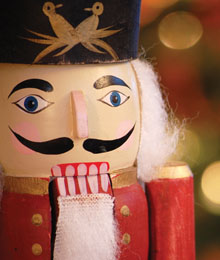 There's no need to hibernate — oodles of winter activities are calling your name, and they're all just around the bend.
Black Creek Pioneer Village
Step back in time and discover the rustic simplicity of a pioneer Christmas. Black Creek Pioneer Village invites you to celebrate with traditional candlelit dinners, Victorian-style ballroom dances, taffy pulls and more.
www.blackcreek.ca
Uplands Ski Centre
Hit the Alps — without leaving town! Uplands Ski Centre, Vaughan's hidden winter wonderland, gives families a safe environment to make a day of dashing through the snow.
www.uplandsgolfandski.com
Supervised Outdoor Skating Rinks
It's like a scene from The Bishop's Wife: skates laced, scarf wrapped and hands clasped to your significant other's. Give your holiday a playful spin by hitting the ice at Nathan Phillips Square or Woodbridge's Chancellor Park.
www.toronto.ca



Tobogganing Hills
Neither children nor grown-ups can let the wintry weather slip by without flying down a snow-frosted hill, laughing all the way. Haul your sled to the Boyd Conservation Area for a day of fun in the flurries.
www.trca.on.ca
Winterlicious, Jan. 25–Feb. 7, 2013
The fun doesn't stop at the end of December — this annual event keeps the snowball rolling with its focus on Toronto's local restaurants. After your holiday turkey, be sure to leave room for Winterlicious!
www.toronto.ca
Lowe's Toronto Christmas Market, Nov. 30–Dec. 16, 2012
Rustic romance, homemade goodies and holiday cheer can all be discovered at the Lowe's Toronto Christmas Market, inspired by the Old World and set in the city's historic Distillery District.
www.torontochristmasmarket.com
The Nutcracker at the National Ballet of Canada
Dec. 19, 2012–Jan. 5, 2013
Bedazzling costumes, a twinkling stage and the whimsical movement of dancers' legs — this refreshing rendition of The Nutcracker will whisk you off your feet and into the holiday spirit.
www.national.ballet.ca