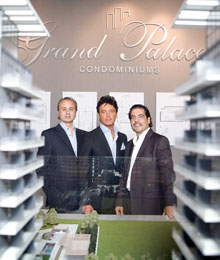 A new standard of grandeur is coming to Richmond Hill, and its name is Grand Palace Condominiums. While its lavish amenities and stunning edifice exudes opulence of the highest order, this palace isn't reserved for royalty. Its project leads, Stefano Guizzetti, Jack Scivoletto and Albert Gasparro, share a spectacular vision for this city on the rise, and it's one that doesn't cost a king's ransom.
With a name like Grand Palace, thoughts of unbridled luxury accessible only to the city's elite may parade by one's mind. But the Guizzetti Corporation team puts a halt to such processions. "It's luxurious, but it's affordable luxury," says Scivoletto, vice-president of Guizzetti Corporation. "We're trying to update the city's esthetic; to bring it up to the class it deserves." The plan is to reach beyond the now customary fare of condo living that's springing up across the GTA, to accent Richmond Hill's skyline with progressive style and to create a community that caters to and complements modern lifestyles, all starting from the low $300,000s.
Designed by renowned architectural firm Hariri Pontarini Architects, which has worked on other notable landmarks such as York University's Schulich School of Business, Grand Palace's three exquisite glass towers are fashioned with contemporary design unique within the city. Thanks to soaring nine-foot ceilings and stylish glass walls, which both come standard in each of the 524 units, living spaces are bathed in natural light. Sleek fixtures and energy-efficient appliances including Fisher & Paykel refrigerators and Whirlpool stainless-steel dishwashers, ovens, microwaves and full-sized stacked washers and dryers enhance the open-concept suites. Granite countertops and premium porcelain tiles are also standards, further adding to the prestige.

Read more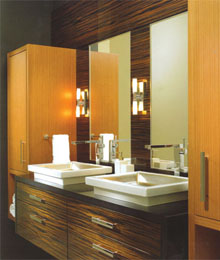 Transform your domain into your very own masterpiece.
ORGANIZED INTERIORS Walking into a cluttered home can add unneeded stress to anyone's life. Create an organized space with the help of professionals at Organized Interiors. www.organizedinteriors.ca 1.866.266.5678
LANCIANO FURNITURE Classical furniture in a home should be treasured. Sustain that memory piece in your home for years to come with Lanciano's restoration and refinishing services. www.lancianofurniture.com 416.746.7310
IRPINIA KITCHENS As an industry leader in developing stylish finishes for both kitchens and bathrooms, you can count on Irpina Kitchens to bring you a truly personalized space Read more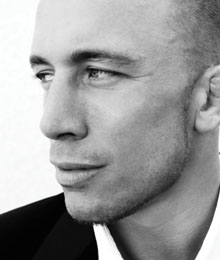 Everyone has a dream. Most often, it's tales of rags to riches that give people inspiration, driving them to be like a heroic protagonist. For anyone whose dream involves becoming the Welterweight Champion of the UFC, there's one man who knows exactly what it takes. Rising to the top with an already soaring career, Georges St-Pierre, also referred to as GSP, is the ultimate example of a winning warrior and a living legend.
Growing up in the humble parish municipality of Saint-Isidore, Que., St-Pierre's early life was far from easy. Simple things like going to school provided big challenges for the young fighter, forcing him to defend himself as early as the second grade. "To tell you the truth, I was really concerned back in the day about my ego and my image," St-Pierre admits during a telephone interview. "Even though I knew I was going to get beat up when somebody was trying Read more