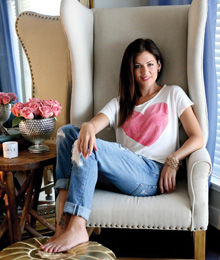 Interior designer and former Bachelorette star Jillian Harris lives life by love and design.
Q: What led you to pursue a career in interior design?
A: My family has always been very crafty and into design — well, my mom, mostly. She owned a few home décor and design stores when I was a kid and I always remember being so fascinated with moving my furniture around, decorating my room and thinking of fun colour schemes. Growing up in a small town in northern Alberta, a career as an interior designer wasn't really an option. It wasn't until I moved to Calgary and was juggling a waitressing job at Cactus Club and a retail job at Caban that I fell in love with the idea of being a designer. Shortly after, I applied to be the executive assistant to the creative director of Cactus Club and it was then that my career in design was born. Read more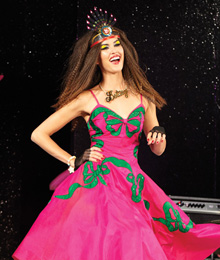 Bursting with fresh colours, bold patterns and striking attitude, Mercedes-Benz Fashion Week in New York rocked the runways and wowed fashion lovers. Vera Wang, Carlos Miele and Naeem Khan brought a flush of culture and colour with Indian-inspired masterpieces; fairy tale couture is making a comeback thanks to designers Oscar de la Renta and Carolina Herrera; and a barrel of hot trends can be chalked up to Betsey Johnson, the queen of fun. The coming months will see a rush of brilliant colours, and fashionistas will play a little truth-or-dare with the upcoming leather and cut-out trends. This trend report promises a season stuffed with fun ways to twist the classics and add personal touches. Here is your chance to glimpse your year's shopping list! Read more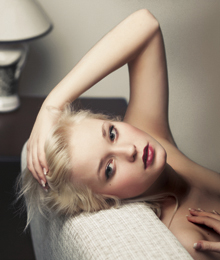 Josie Maran Luxury Bear Naked Wipes
Take care of your sun-drenched skin with these natural makeup removing wipes. A blend of aloe vera, chamomile, cucumber, and vitamin E will soothe and revitalize your complexion. www.sephora.com
Sephora Makeup Bag
This sexy faux-snakeskin makeup bag is perfect for all of your fall essentials. Bold, stylish and compact, it's your style sidekick this fall. www.sephora.com
Bobbi Brown Desert Twilight
With eight neutral shades to choose from, this eyeshadow palette will complement the warm fall colours in your wardrobe. www.sephora.com Read more
As we plunge into the unknown expanses of the future, we must navigate the always-changing waters of the digital sea. Growing and multiplying at an ever-accelerating rate, technology is constantly evolving in both looks and functionality. There was a time when technology changed infrequently – a time when typewriters were used for typing, cameras took pictures and calculators calculated. But ever since the introduction of the consumer computer, technology has increased its pace, leaving consumers adrift in the wake of obsolete devices, software and formats.
It's no secret that technology is always on the move. Devices and hardware we once thought to be ideal, important and perhaps even "cool" eventually become obsolete. We've recently seen this through pagers, fax machines, physical maps, VCRs and more recently, DVDs. With the popularity of Facebook, who even Read more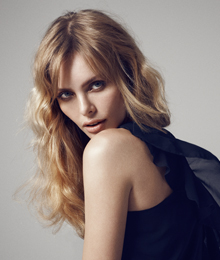 From cosy pillows to unique accents for your home and wardrobe, enjoy life's simple pleasures this year. Comfort, style and class are key.
1. SULTRY STYLE
Spruce up your current style. IC Companys brings forth a selection of fashion-forward brands to cherish. www.iccompanys.com
2. BLUSH PLUSH
Lipstick-red, and oh-so-cuddly, the perfect pillow from Pier 1 cushions your head after a long day. www.pier1.com
3. SECRET GARDEN
Inspired by crystal tear catchers from 19th century Europe, this richly scented floral garden scent will have your pulse Read more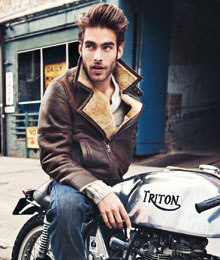 Scan through this hit list to find some fashions you'll fall for.
Zip yourself up in this rugged but classic leather jacket. www.matinique.com
Keep track of the time and on top of autumn fashions with this large faced watch with an adjustable band. www.aldoshoes.com
The military look is hot this season, so prepare for combat in this stylish necklace. www.aldoshoes.com
Try on this modern take on the trench coat. It's lightweight but will still keep you warm. www.matinique.com
Mix and match between a solid button-up shirt with a fun sweater or blazer for an overall sharp look. Read more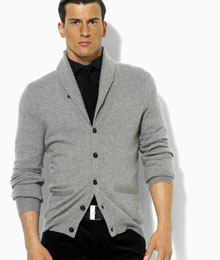 Fall back into style this season with the latest in fashion, food, gifts, and gadgets. From the businessman to the homebody – there is something for everyone.
Wasabi Peanuts Give your nuts a kick and turn to World of Flavours Wasabi Peanuts, created by President's Choice. www.presidentschoice.ca
Demaria Available at Cupido, DEMARIA blends tradition and fashion, creating an innovative collection. www.cupidodesigns.com
Guitar Cufflink Rock out in style and add a finishing touch to any outfit with this bold and adjustable guitar cuff. www.etsy.com
Hugo Boss Business meets pleasure as you embody Read more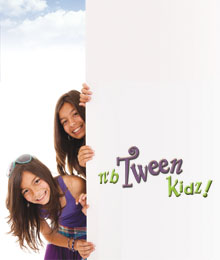 After 26 years of stylishly dressing kids of all ages in Toronto, Nancy and Cathy of Little Ones have opened a fashion destination in Vaughan that caters specifically to the tween market! Conveniently located on Rutherford Road just east of the Highway 400, N'B Tween Kidz features great fashion finds right here in Vaughan.
"We opened this store because we recognized the need for tweens to have their own space for shopping," says Cathy. "We know that the last thing today's preteen wants is to shop in kiddy stores surrounded by juvenile clothing."
"Having just opened the store in March, the response from moms and kids has been overwhelmingly positive," says Nancy. "Style is very important to today's fashion-savvy preteens. They are in-step with current fashion trends and colours and many moms Read more