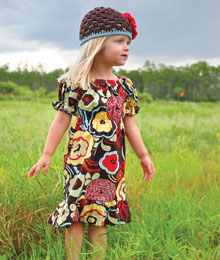 Help your little ones show off their individuality, creativity and style with some items they'll enjoy using just as much as you'll enjoy finding them here.
1. This John Deere fabric crayon roll will help prevent your kids' crayons from getting broken or lost. www.etsy.com
2. Get your little girl ready for a play date or outing with mommy and daddy by putting her in this cute peasant dress. www.etsy.com
3. Bring the beauty of the outdoors in with this cherry blossom tree wall sticker decal art that is colour customizable. www.etsy.com
4. Help your young ones get used to telling time with these cool, artistic timepieces wrapped around their little wrists. Read more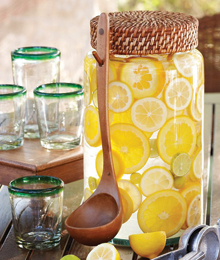 Enjoy the finest in food, décor and entertainment this summer with these items that will help to set the mood.
1. Corsica Single Chaise and Cushion Feel like you are on vacation at a tropical resort as you relax in the beaming sun on this hand-woven, durable, all-weather wicker lounge chair. It is quick drying in case any cool drinks are spilled and features a thick, comfy cushion that's covered in a stain-resistant fabric. www.potterybarn.com
2. Chesapeake Double Chaise and Cushion Sit back and enjoy a good book, a cool drink or some company in this inviting chair that adjusts to four positions and comes with a convenient pullout tray. As nature surrounds you, you'll be consumed by summer's beauty. www.potterybarn.com Read more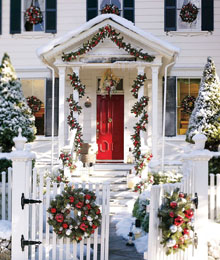 1. Pottery Barn: Bring the Holiday spirit closer to home with festive décor pieces from Pottery barn. Blending gorgeous wreaths and ornamented garland, you can embellish your house for passers-by to appreciate Christmas throughout the day and night. Read more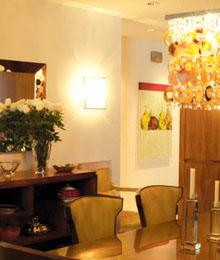 1. Lee Wilder Design: Fresh and innovative designs that capture a clean and timeless sensibility are what Lori Wilder and David Macri deliver at Lee Wilder Designs. Having spent over a decade in the design industry, the expert duo blends myriad textures, hues and styles to create luxurious spaces with a modern, contemporary edge. Clients bask in the gorgeous details of their functional designs.
www.leewilder.com, 416.203.9086
2. Gracia Bath Kitchen Interiors: Outfit your home in functional, contemporary kitchen and bathroom products from Gracia. Its superb collections allow homeowners to create ambiences that reflect their tastes and cater to their needs. With help from this industry leader, your home will ooze beauty and innovation.
www.gracia.ca, 905.265.8777, 416.223.2241 Read more
Distinctive Nest Inc. offers personalized design consulting by Colleen Palmer and Nancy Durelle – each with skilled backgrounds in décor and styling, to bring out the best in your home or business. With a motto that no home is too big or too small, the company designs your private living areas and workspace, featuring the best lighting, layout, size and atmosphere. 905.669.1880, www.distinctivenest.ca
Photo: Distinctive Nest's Holiday Wreath