For the discerning tongue of a critical gourmand, quality is a special word. It encompasses an unwavering posture towards high standards, exceptional creations and gastronomic excellence. For restaurateurs, it means never settling on a second-rate product and always delivering the best meal possible, one that exceeds the expectations of guests that crave quality.
"Quality is No. 1," says local restaurateur Steve De Vittoris, owner of Sapore by Zafferano, Sapore North, Spumante and Zafferano. "We buy only top-quality ingredients for all the food that we make. It's something that I pride myself on."
A veteran of the Toronto dining scene, De Vittoris believes that a quality meal begins with ingredients. This means ensuring all his establishments serve, at minimum, AAA-grade meat, Read more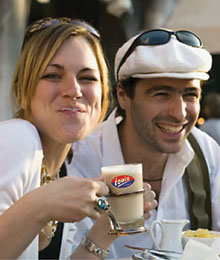 Do you recall when you enjoyed your first sip of coffee? Chances are your intense love affair with caffeine is still going strong, as you yearn for its rich aroma each morning. "It must be of a sweet taste – not bitter – and it must have a few centimetres of froth or schiuma, as we call it. And when you pour the sugar into the coffee, it should be allowed to sit for a few seconds. It is an art. No doubt about it," says Ross Cammalleri, owner and general manager of Alfa Cappuccino. This, his sharp, impassioned and tempting description of the ideal espresso, sends the java-obsessed on frenzied coffee runs.
Alfa Cappuccino is an importing mecca: an impressive 20,000 sq. ft. of espresso machines, coffee makers, whole coffee beans, coffee grinders and restaurant equipment and accessories. Ross, along with his brother Sam, began Alfa Cappuccino in 1986. "This coming October it will be 23 years," explains Ross. Read more