Extreme Makeover's Ty Pennington reflects on the emotional stories of families and lives he has helped on television through his book, Good Design Can Change Your life. Pennington notes the ways in which individuals can bring about their own passions and creativity through their unique personal spaces.
Focused on the three main components of each home – sleeping, living and work spaces – these environments allow for the most interaction between family members and friends; spawn creativity and keep you productive. Don't be shy with colour, intricate design or wallpaper. As Pennington explains, using the power of three – grouping smaller items in threes, using a three-colour palette, etc., can simply and easily set a particular mood in a room. While personalizing your style, the book provides inspiration from art, museums and accent pieces that you already own Read more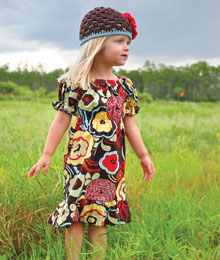 Help your little ones show off their individuality, creativity and style with some items they'll enjoy using just as much as you'll enjoy finding them here.
1. This John Deere fabric crayon roll will help prevent your kids' crayons from getting broken or lost. www.etsy.com
2. Get your little girl ready for a play date or outing with mommy and daddy by putting her in this cute peasant dress. www.etsy.com
3. Bring the beauty of the outdoors in with this cherry blossom tree wall sticker decal art that is colour customizable. www.etsy.com
4. Help your young ones get used to telling time with these cool, artistic timepieces wrapped around their little wrists. Read more