Get the latest looks, treats and toys for your little ones and those young-at-heart.
1. At Gymalaya, a gymnastics club geared towards children, your kids can tumble and roll in a safe, supportive environment. Using state-of-the-art equipment and a stimulating curriculum designed for a fun experience, your children will build physical, mental and social skills. www.gymalaya.com
2. Sure, bikes and rollerblades are all great fun, but only the Wiggle Racer utilizes the power of a jiggle. Suitable for boys and girls of all ages, this sleek little ride requires no batteries or fuel. Read more
The name Terry Fox has become synonymous with hope, perseverance and goodwill. His determination to fight cancer and prove that every dream is a step away from reality makes him a symbol of strength for Canadians and citizens of the world.
Losing his leg to bone cancer in 1977 at 18 didn't deter Terry Fox from striving to raise money for cancer research and inspiring people with his 143-day Marathon of Hope, in which he ran more than 5,000 kilometres. Fox's race ended when cancer was found in his lungs, but his legacy continues to this day through those that participate in the annual Terry Fox Run around the globe. September 18, 2011 marked the 31st run; to date more than $550 million has been raised. Read more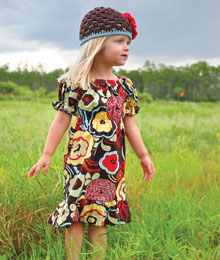 Help your little ones show off their individuality, creativity and style with some items they'll enjoy using just as much as you'll enjoy finding them here.
1. This John Deere fabric crayon roll will help prevent your kids' crayons from getting broken or lost. www.etsy.com
2. Get your little girl ready for a play date or outing with mommy and daddy by putting her in this cute peasant dress. www.etsy.com
3. Bring the beauty of the outdoors in with this cherry blossom tree wall sticker decal art that is colour customizable. www.etsy.com
4. Help your young ones get used to telling time with these cool, artistic timepieces wrapped around their little wrists. Read more
Since black belt student Brooke-Lynn Brunette passed away from leukemia in 2006, the students of the Northern Karate School in Richmond Hill have held an annual Brooke Brunette Kids Friendship Charity Read more
1. Christmas bells are not going to be the only thing ringing this season. Let your little one add the Anthropologie vintage rotary phone to their fun-filled collection. Read more