Prowling on the scene, the alpha male deserves only the crème de la crème in accessories and apparel. Summer style is here to make a statement and this is no exception to men's fashion.
ICCompanys Suave suits cut to perfection are a classic of all seasons. This summer, snag a charcoal grey suit for a stylish twist in your wardrobe. www.iccompanys.com
Etsy Cufflinks Go vintage with Etsy's antique clockwork cufflinks. Made with sparkling ruby gemstone movements, these 1/2 inch diameter cufflinks can add polish to any suit. www.etsy.com
Etsy Card holder Embellished with silver wings and a polished vintage strip, the Thermal Time glider card holder by Versatile Elements is small but makes a powerful impression. Read more
As your kids grow, clothing and various products may only be used once – if not at all. The Woodbridge Mom 2 Mom Sale has gathered over 50 Moms selling their gently used clothing, toys, costumes, books and various baby items. Join the moms for one day only on May 1st from 9 a.m. until 1 p.m. at Vellore Village Community Centre. The door entrance fee is $2 and goes entirely to charity partner, ETA Vaughan. For more information, call 905.856.5460 or visit www.woodbridgemom2mom.com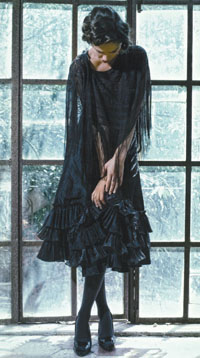 With stunning designs from Europe and North America, A-Lizt Fashions has dazzled its patrons for the past six years. Offering clients the latest high-end fashion merchandise with brands that include Solola, Cop Copine and Alberto Makali, A-Lizt Fashions are the designer destination for Vaughan Residents. Step into A-Lizt fashions to take advantage of its sale – up to 50 per cent off everything in the store!
Photo: Elegant Black Ruffle Dress accentuated by long flowing shawl.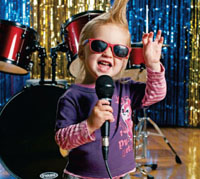 Be Original. Dress Original. Shop Original Marines! With over 700 locations worldwide, new owner Giuliana DeCristofaro brings Italian fashion to Woodbridge with the only Original Marines clothing store in North America. Providing an incredibly fresh and stylish collection for children and toddlers, Original Marines will have your little ones in style, especially with its exclusive Warner Brothers line! 905.264.8344, Market Lane, www.originalmarines.com
Photo: One hundred per cent cotton Double Tee Zebra top comes in purple/pink or black/pink