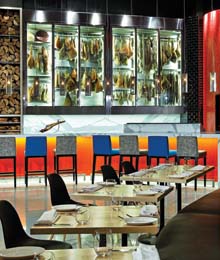 When it comes to the palate of the experienced epicurean, ambiance is a distinct necessity. It involves an unabashed drive to beautiful design, a commitment to exceptional service and an irresistible selection of gastronomic creations. For the seasoned restaurateur, it's a road map to raising the roof for those that crave the wow factor. "This is an urban restaurant for the suburban patron — someone searching for a downtown feel without leaving home," says Luigi Beccati, owner of A1 Autostrada in Vaughan. "And it's all about family and good food."
A restaurateur and chef with over 20 years of experience, Beccati's unending search to reinvent the dining experience has culminated in an innovative concept that began two and a half years ago. Guests are immediately welcomed into a sublime setting that ingeniously simulates the adrenaline rush of riding in a supercar. Designed by the award-winning firm II BY IV DESIGN, the spacious interior is awash with pops of colour, subway-inspired graphics, marble fixtures and a pizza oven blazing with a mosaic of red-orange tiles. A wine cellar and trendy prosciutto bar displaying market-style charcuterie are among the restaurant's favoured features. A glance at the sunken dining area in the heart of Autostrada reveals a table for eight embraced by a mesh fabric scrim. The centrepiece showcases a sentimental print of Italian people gathered in tradition. Speeding along the wall of the main dining area is a customized Pirelli tire tread, achieved by individually placed, luminescent tiles that result in a stunning 3D feature. In 2011, Boutique Design Awards praised Autostrada with a Best Restaurant award.

Read more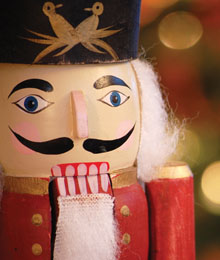 There's no need to hibernate — oodles of winter activities are calling your name, and they're all just around the bend.
Black Creek Pioneer Village
Step back in time and discover the rustic simplicity of a pioneer Christmas. Black Creek Pioneer Village invites you to celebrate with traditional candlelit dinners, Victorian-style ballroom dances, taffy pulls and more.
www.blackcreek.ca
Uplands Ski Centre
Hit the Alps — without leaving town! Uplands Ski Centre, Vaughan's hidden winter wonderland, gives families a safe environment to make a day of dashing through the snow.
www.uplandsgolfandski.com
Supervised Outdoor Skating Rinks
It's like a scene from The Bishop's Wife: skates laced, scarf wrapped and hands clasped to your significant other's. Give your holiday a playful spin by hitting the ice at Nathan Phillips Square or Woodbridge's Chancellor Park.
www.toronto.ca

Read more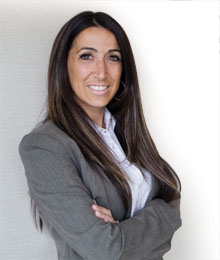 1. If I have mortgage default insurance do I also need mortgage life insurance?
Yes. Mortgage life insurance is a life insurance policy on a homeowner, which will allow your family or dependants to pay off the mortgage on the home should something tragic happen to you. Mortgage default insurance is something lenders require you to purchase to cover their own assets if you have less than a 20 per cent down payment. Mortgage life insurance is meant to protect the family of a homeowner and not the mortgage lender.
2. What steps can I take to maximize my mortgage payments and own my home sooner?
There are many ways to pay down your mortgage sooner that could save you thousands of dollars in interest payments throughout the term of your mortgage. Most mortgage products, for instance, include prepayment privileges that enable you to pay up to 20 per cent of the principal (the true value of your mortgage minus the interest payments) per calendar year. This will also help reduce your amortization period (the length of your mortgage). Another way to reduce the time it takes to pay off your mortgage involves changing the way you make your payments by opting for accelerated biweekly mortgage payments, which will not only help you pay off your mortgage more quickly but will also save you a significant amount of money over the term of your mortgage. Visit me to find out which strategy suits your specific needs.

Read more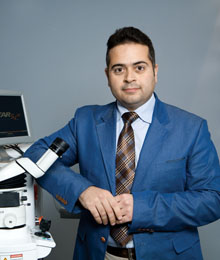 There's more to Dr. Mark Fava than meets the eye. Educated in prestigious universities across Canada and taking the road less travelled to the U.S. to further pursue his passion for eye health, the born-and-raised Vaughan native is now a leading authority in ophthalmology. And where better to cultivate his homegrown skills than the place where he first envisioned a future in medicine. "My roots are here," explains Dr. Fava, who recently left Boston to debut an innovative, full-service practice in Vaughan. "Eyes Above Toronto represents my homecoming."
Introducing a new generation of eye care to the city, Eyes Above Toronto fuses a patient-driven approach with state-of-the-art procedures. Fitted with the most advanced diagnostic equipment and medical technologies to treat the tertiary stage of eye disease, the clinic welcomes patients with friendly staff members and a warm, comforting environment. Among its star technologies is the iLASIK platform, a revolutionary bladeless procedure in laser vision correction that reshapes the cornea to correct your vision. Safe and painless, the sophisticated procedure is also efficient, requiring about 10 minutes per eye and one weekend of recovery time. "We're giving patients not just the freedom from glasses, but the ability to see the world," says Dr. Fava, who coedited Cornea and Refractive Atlas of Clinical Wisdom (2011), a medical book that shares invaluable clinical experience from authoritative voices in cornea and refractive surgery. "It's quite an amazing experience to wake up in the morning and not scramble to find your glasses because you can now see."
Read more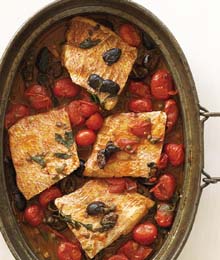 Ingredients:
1 tablespoon extra virgin olive oil
6 cloves garlic, thinly sliced
32 grape tomatoes
2 tablespoons nonpareil capers
12 oil-cured black olives, pitted
6 tablespoons roughly chopped fresh flat-leaf Italian parsley
4 (5-ounce) boneless red snapper fillets
salt
freshly ground black pepper
1 lemon
Method:
1. Preheat the oven to 325°F.
2. Heat the olive oil with the garlic in a large, nonstick, ovenproof skillet and cook until the garlic is golden brown, about 2 minutes.
Add the tomatoes and cook until they blister and soften, about 3 minutes. You can help the tomatoes pop by gently pressing them with a fork. Add the capers, olives and parsley to the sauce and bring to a simmer.
3.
Season the snapper with salt and pepper and place on top of the tomato sauce skin-side up. Place in the oven and cook until the fillets are warmed through, about 5 minutes.
4.
Remove the fillets and place them on 4 plates. Using the small holes of a box grater or a Microplane zester, grate ¼ tablespoon lemon zest and add it to the sauce, then cut the lemon in half and add a squeeze of juice. Spoon the sauce over the fish.
The Red Snapper Puttanesca dish found in Rocco DiSpirito's latest cookbook, Now Eat This! Italian: Favorite Dishes From the Real Mamas of Italy, is one of over 90 recipes under 350 calories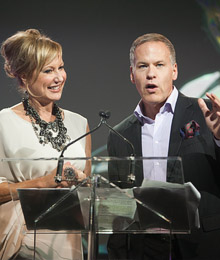 The 3rd Annual Stems of Hope Gala: Heroes Among Us
Over 1,000 guests came out to support Three To Be, a charitable foundation for children with neurological disorders, at the 3rd Annual Stems of Hope Gala: Heroes Among Us. When guests arrived at Kool Haus on Sept. 29, they were immediately transported into the pages of an animated comic-book story, featuring retro decor, live action heroes, sumptuous "super" foods and non-stop entertainment, including incredible performances by the Heroes of Hip Hop.
Anne Mroczkowski and Leslie Roberts of Global Toronto were the hosts for the evening. Honouring the heroic efforts of individuals making a difference in the lives of children, Three To Be's Community Hero Awards were presented by founders Dana and Jared Florence and paralympian Josh Cassidy. The winners included Heather Hamilton for the Families category, Jacob Trossman for the Champions category and Yaffi Ulman-Scheinberg for the Believers category. The $500,000 raised at this year's gala is supporting The Hospital for Sick Children's Stem Cell program, led by the renowned Dr. Freda Miller, as well as Holland Bloorview Kids Rehabilitation Hospital's research in brain-computer interfaces and the March of Dimes Canada Academy of Conductive Education (ACE).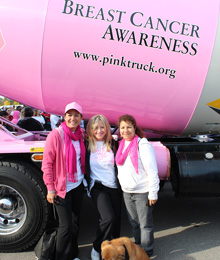 On the last Sunday in September, 62,000 men, women and children joined together at one of 22 run sites in Ontario for the Canadian Breast Cancer Foundation CIBC Run for the Cure. Participants ran for their mothers, grandmothers, daughters, sisters and friends. Their amazing efforts mean that the Canadian Breast Cancer Foundation will continue to invest in relevant and innovative research and continue to support and advocate for the breast cancer community. Together they raised $13.1 million in Ontario and over $30 million nationwide. Next year's run is taking place on Oct. 6, 2013.
Read more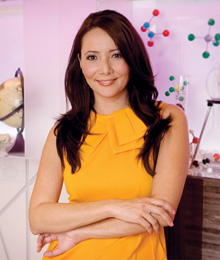 Ziya Tong and I have been forced to seek refuge in the last bastion of safety at CTV's studios: the set of Canada AM. Dan Riskin, the mad scientist sophomore that he is, is concocting some volatile experiment, and the results point to explosive. We can only pray for the well-being of the Daily Planet set and take cover where Beverly Thomson serves up the day's headlines over coffee.
OK, so that's a bit of a stretch. But there's enough pyrotechnic business brewing that we've been instructed to steer clear. That, and they're filming. So a dimly lit corner and two comfy armchairs beside a faux fireplace will just have to do.
While certainly not ideal, these circumstances are actually unsurprising. This "intelligent insanity," as Tong describes it, is just business as usual on, Daily Planet, Discovery Channel Canada's flagship series. One day they're learning to fight forest fires with fans, the next they're meeting an artist who created "bulletproof skin" out of spider silk and goat milk. Today, it just Read more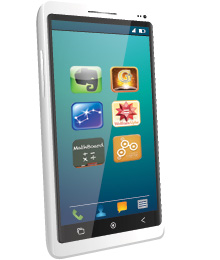 Help your child brush up on the basics and excel in academia with these comprehensive apps ideal for school life.
WORDFLEX TOUCH DICTIONARY
Like a dictionary 2.0, Wordflex Touch Dictionary maps the bottomless depths of language for easy and insightful user navigation. Search a specific word to find its definition, syntax, synonyms and more, all organized in malleable word-trees of expandable nodes – a handy sidekick for those English essays or for bolstering vocabularies.
GRAMMAR UP
With over 1,800 questions, Grammar Up is an excellent tool for learning the intricacies of English grammar. From word choice to verb tense, explore 20 topics delivered through randomized tests Read more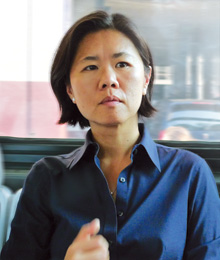 I'd like to introduce you to a man that I never met. In fact, few have ever met him. Yet sadly, we all know who he was.
This man was forgotten by a world fast moving. This nameless, faceless man remained unknown until his death on June 12, 2012. His decomposing body was found under a stairwell three weeks after his death of "natural causes." He was found only because the rotting stench of human decay alerted us to his presence.
William (Bill) Buss was born on April 2, 1941, in the tiny hamlet of Minitonas in Manitoba. Even those who knew Bill knew very little about him. For over 17 years, Bill was a member of The Good Neighbours' Club. The Club is located in the downtown east side of Toronto, where I serve as a newly elected city councillor. The Good Read more