Red Snapper Puttanesca Recipe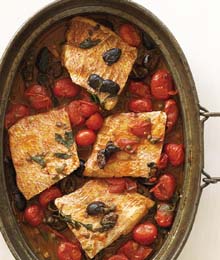 Ingredients:
1 tablespoon extra virgin olive oil
6 cloves garlic, thinly sliced
32 grape tomatoes
2 tablespoons nonpareil capers
12 oil-cured black olives, pitted
6 tablespoons roughly chopped fresh flat-leaf Italian parsley
4 (5-ounce) boneless red snapper fillets
salt
freshly ground black pepper
1 lemon
Method:
1. Preheat the oven to 325°F.
2. Heat the olive oil with the garlic in a large, nonstick, ovenproof skillet and cook until the garlic is golden brown, about 2 minutes.
Add the tomatoes and cook until they blister and soften, about 3 minutes. You can help the tomatoes pop by gently pressing them with a fork. Add the capers, olives and parsley to the sauce and bring to a simmer.
3.
Season the snapper with salt and pepper and place on top of the tomato sauce skin-side up. Place in the oven and cook until the fillets are warmed through, about 5 minutes.
4.
Remove the fillets and place them on 4 plates. Using the small holes of a box grater or a Microplane zester, grate ¼ tablespoon lemon zest and add it to the sauce, then cut the lemon in half and add a squeeze of juice. Spoon the sauce over the fish.
The Red Snapper Puttanesca dish found in Rocco DiSpirito's latest cookbook, Now Eat This! Italian: Favorite Dishes From the Real Mamas of Italy, is one of over 90 recipes under 350 calories