All roads lead to Autostrada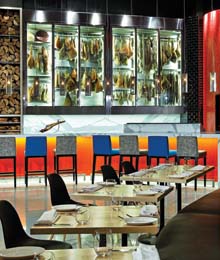 When it comes to the palate of the experienced epicurean, ambiance is a distinct necessity. It involves an unabashed drive to beautiful design, a commitment to exceptional service and an irresistible selection of gastronomic creations. For the seasoned restaurateur, it's a road map to raising the roof for those that crave the wow factor. "This is an urban restaurant for the suburban patron — someone searching for a downtown feel without leaving home," says Luigi Beccati, owner of A1 Autostrada in Vaughan. "And it's all about family and good food."
A restaurateur and chef with over 20 years of experience, Beccati's unending search to reinvent the dining experience has culminated in an innovative concept that began two and a half years ago. Guests are immediately welcomed into a sublime setting that ingeniously simulates the adrenaline rush of riding in a supercar. Designed by the award-winning firm II BY IV DESIGN, the spacious interior is awash with pops of colour, subway-inspired graphics, marble fixtures and a pizza oven blazing with a mosaic of red-orange tiles. A wine cellar and trendy prosciutto bar displaying market-style charcuterie are among the restaurant's favoured features. A glance at the sunken dining area in the heart of Autostrada reveals a table for eight embraced by a mesh fabric scrim. The centrepiece showcases a sentimental print of Italian people gathered in tradition. Speeding along the wall of the main dining area is a customized Pirelli tire tread, achieved by individually placed, luminescent tiles that result in a stunning 3D feature. In 2011, Boutique Design Awards praised Autostrada with a Best Restaurant award.



Travelling across the culinary regions of Italy, the extensive lunch and dinner menu at Autostrada whets the palate with samplings from the salumi bar, tantalizing antipasti, wood-fired pizza and tried-and-true entrees brimming with extraordinary flavour. Think gnocchi gorgonzola, black linguini pasta, braised ribs, osso bucco and the ever-popular pappardelle al coniglio dish. "At Autostrada, our philosophy is to deliver an experience that never has to be forgiven," says Beccati. And his delivery is spot-on.
Whether it's a midday meal or evening affair, the establishment whisks you away to a far-off Italian experience, all the while making you feel at home. "It's like eating dinner with your family on a Sunday afternoon," explains Beccati, who entered the restaurant world at a tender age, peeling potatoes in a kitchen in Southern Italy. "This is a place where you can rediscover the taste of your mother's cooking and the aroma of age-old recipes in a rural, family-oriented environment."
The restaurant's ample interior and separate event space affords corporate meetings, private events and cocktail parties the luxury of creating a personalized setting with an intimate surrounding that can accommodate up to 200 people.
With contemporary Italian music flowing through the sound system, traditional recipes and a dedication to décor, the restaurant attracts an eclectic list of patrons, from businesspeople stopping by for lunch, to families out for dinner and suburban trendsetters stopping by for a glass of wine and appetizers. "The ambiance of the restaurant ignites a five-star urban experience in a priceconscious, suburban setting and a comfortable downtown vibe without the hustle and bustle and parking nightmare of the city," says chef Beccati, who recently launched the Autostrada Wine and Dine Tour Dinner series. Guests can choose from one of three packages to indulge in a sensory experience of food and wine pairing, as well as limousine service. A connoisseur of lifestyle, Beccati's Autostrada evokes an experience driven by passion, a devotion to family and a good time.
a1autostrada.com
3255 Rutherford Road, Vaughan, Ont.
To reserve your Wine and Dine package, please call (905) 760-8338