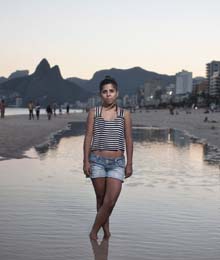 Prashant worked as a computer consultant for a leading telecommunications company with networks across Europe and most of Asia. We ran into Prashant during an afternoon stroll in a busy city park in Mumbai. He spoke English fairly well, so we were able to engage him in conversation about a typical week in his life: 12-hour days, meagre earnings and a constant flow of people around him. He explained how he had been offered a job in Europe with better pay and fewer hours, but he had declined it simply because he couldn't give up what he had here in his country. It occurred to us as we sat in that city park — with trash piled everywhere and a fountain in the middle of a garden constantly spurting oily black water — that Prashant was a living, breathing reminder of what home really is. We realized that home is more than beautiful landscapes, city attractions and social status, and it's not where you lay your head down to sleep. This became clear to us after a few minutes of talking to him.
We met Prashant during the course of our journey around the world, passing through 19 countries, boarding over 20 planes, travelling over 60,000 miles to engage with 300 different strangers. Throughout our experience, we had 70 meals with people we had never met before. Although food was at the core of our project, it was in no way what it was all about. The heart and soul of our search was an honest attempt to collide with the stories of people, with the belief that everyone has a tale to tell. We sought to engage with individuals from all walks of life and all types of locations on the map. Our mission was to love and serve the stranger, not because we wanted to change the world, but rather because we thought the smaller, more intentional encounters are the types of interactions that actually matter.
Read more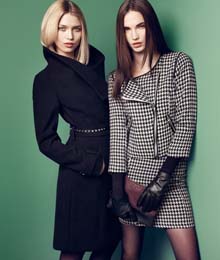 Whether you're standing under the mistletoe or the office glow, these outfits will ensure you're always in the spotlight. One of the perks to imperfect weather is the plush, patterned fashion that tends to trend this time of the year. Add a little spice to your wardrobe with these haute holiday pieces.
1. Zippers, studs and houndstooth coats make the coldest winter months worth it.
www.soakedinluxury.com
2. This beaded miniskirt gives Tinseltown new meaning. An unexpected biker jacket kicks this look into full gear.
www.zara.com
3. Shake up the classic holiday ensemble by sporting a sequined, embroidered cardigan over an oriental print chiffon blouse. Slip into seamed jeans and go get your jollies.
www.zara.com
Read more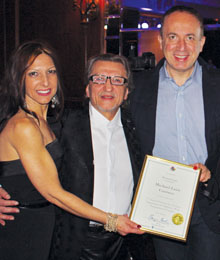 On Nov. 18, 2012, more than 400 people filled Montecassino Banquet and Event Venue in Woodbridge for the Michael Luisi Fashion for a Cause on the Runway. Haute couture, live music and refreshing fare made the joys of giving back even more enjoyable. Hosted by Michael Luisi Couture, the event raised funds and awareness for the Children's Wish Foundation of Cananda.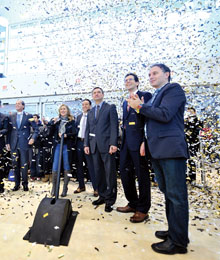 Yorkdale Shopping Centre in Toronto rolled out the red carpet this holiday season by unveiling 145,000 sq. ft. of fresh retail for spirited shoppers to revel in. The grand, multi-million dollar expansion that launched in mid-November introduced Microsoft, Ann Taylor, Kate Spade New York, Joey Restaurant and Hugo Boss among an exclusive list of hot spots. 
Country Strong
This V-neck cotton dress is proof that you don't have to compromise style for comfort. Jackpot's Giany dress wins big with a floral print piece that's a jean jacket away from out West. www.iccompanys.com
Sundial
Nothing to wear? Add Anthropologie's Oval Stack Necklace to your little black dress and you're ready to head out the door. The muted simplicity of this chunky piece presents the perfect solution to any wardrobe dilemma. www.anthropologie.com
From Heel to Toe
Known for creating outside-the-box pumps, renowned footwear designer Brian Atwood opens up this fall with studded peep-toe pumps. Don these delicious heels in Fuxia Suede Read more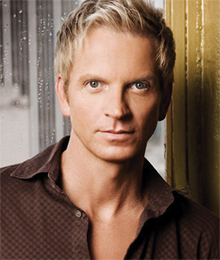 Known for elaborate beading and Swarovski-encrusted gowns, Tony Bowls continues to create dresses that turn girly girls and lovely ladies into stars. He opts for feminine designs that play with beautiful colours and flattering silhouettes.
American Idol runner-up Lauren Alaina wore his designs on the show, proving that he continues to flawlessly create for the young female consumer. This summer, Bowls will be launching his first shoe and accessory line. Looking towards celebrities like Lady Gaga and Twilight's Ashley Greene for style inspiration, Bowls has set out to create fashion-forward pieces. "It's like a whole new generation of young social customers out there," says Bowls. "They make it challenging, which is why I love it." Read more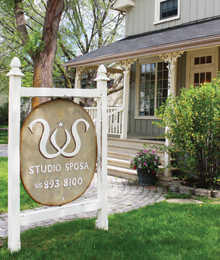 Here comes the bride, all dressed in a predicable gown worn by others before her: a fashion no-no committed on the most important day of her life. Luckily, these cookie-cutter bridal looks play second fiddle at Studio Sposa.
Bringing some of the world's best designers home, the warmly romantic boutique offers rare collections for a unique and beautiful approach to modern elegance and traditional affection in bridal wear. Amidst tufts of tulle and delicate silk duchess rises a Studio Sposa bride – a woman who fittingly swathes her silhouette in fine beauty, expert craftsmanship and handmade couture. "We always thought that if we were to do something, how would it be different. We then started doing research on wedding dresses and designers," says Mariangela Muia, who met Mary D'Aversa while both worked in the financial sector. Read more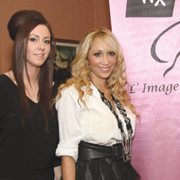 Woodbridge's hottest designers and wedding entertainment companies north of the city came together on April 8, 2011, for a spectacular event. L'Image De Femme had its 2011 Woodbridge Bridal Event with shows from Paraezo couture house, Zero 20 Bambini, and more. Entertainment, fashion and excitement filled the air as blushing brides gathered for this year's event. Read more
These inspiring designers continue to devote their talents and creativity to orchestrating beautiful spaces that mesmerize our minds. Passion for art and a heightened imagination often materialize at an early age. For Tara Seawright, Theresa Casey and Cobi Ladner, this passion has elevated each of them to incredible heights.
Cobi Ladner
Cobistyle is all about showing your true colours at home and making a comfortable, beautiful and happy place for the ones you love – it's as simple as that.
Spring is in the air! Why not use the new season as motivation to freshen things up around your house and add some personality and colour. Your home should be a joyful backdrop for daily life and reflect your own unique character – in short, Read more
To Paula Mendoza, jewelry can completely revolutionize an outfit. Fusions of precious and semi-precious stones mixed with melted and moulded metals make up the beauty and inventiveness of Mendoza's jewelry. Through travelling in Colombia – her native country – and Halong Bay, Vietnam, Mendoza was inspired by the wonders of nature. These prompted her to create Cave of Wonders, a collection featuring stunning, original looks that embody the natural transformations in nature caused by the elements.
http://paulamendoza.com
www.vivre.com