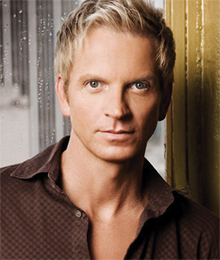 Known for elaborate beading and Swarovski-encrusted gowns, Tony Bowls continues to create dresses that turn girly girls and lovely ladies into stars. He opts for feminine designs that play with beautiful colours and flattering silhouettes.
American Idol runner-up Lauren Alaina wore his designs on the show, proving that he continues to flawlessly create for the young female consumer. This summer, Bowls will be launching his first shoe and accessory line. Looking towards celebrities like Lady Gaga and Twilight's Ashley Greene for style inspiration, Bowls has set out to create fashion-forward pieces. "It's like a whole new generation of young social customers out there," says Bowls. "They make it challenging, which is why I love it." Read more
Cruise down Highway 7, head north on Edgeley Boulevard and follow your nose to Applewood Crescent, where you'll find a joyous shop of decadent delights all served with good humour and a smile. That's Son of a Chef Catering, where they're serious about food, but not about themselves – and who could be with a name like that?
"People get a kick out of our name," says owner Fabio Fantauzzi. "The name branched out from what most people think [laughs], but my mom was a chef, so we played around with it, and Son of a Chef was born."
Catering all occasions, from small to big, Son of a Chef has the culinary creations ideal for any birthday, wedding or simple intimate gathering – it doesn't matter. Son of a Chef will cater for a two-person dinner or an event with hundreds of people. Read more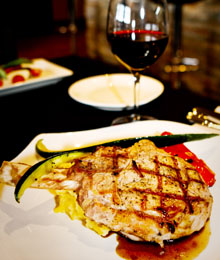 There's something about Mideastro – it's air thick with culture and elegance, it's atmosphere saturated with downtown cool. Tucked away on a quiet street just north of Toronto, every visitor is whisked away on a romantic Italian journey, floated through the Mediterranean Sea and landed on the eastern shores of Israel. A place where East meets West, Mideastro isn't your proverbial restaurant but an opportunity to delve into the mysterious and complex twists and tastes of flavours hailing from influential world-class cuisines, which bubble and melt like a dream on your palate.
A powerhouse when it comes to offering the local dining scene something a little more than the ordinary, Mideastro flexes with versatility. Its subdued décor of flickering candles soothes you, the syncopation of classical jazz from a live band Read more
Embracing the Slow Food Movement, Lina and Silvano DeRocchis stand behind the concept of indulging in fresh, scrumptious foods cooked one bite at a time. At any hour of the day, enjoy a meal Read more
As  you open the doors of Mercato Fine Foods, the sounds of friendly chit-chat and the aromas of home-cooked specialties and robust espresso transports you to a charming Italian village.
Taking its inspiration from the culture-rich country of Italy, the bakery-deli's name translates to market. And that is exactly the feeling that customers get when they come in from a busy day to browse the selection, grab a bite or replenish their weekly groceries. "The vibrant colours in our décor invite you inside," says Rosanna Loiero, who owns Mercato with her husband, Salvatore Loiero. "I think we've created a very welcoming atmosphere," he says. Read more