One-of-a-kind Bridal Dresses at Studio Sposa, Kleinburg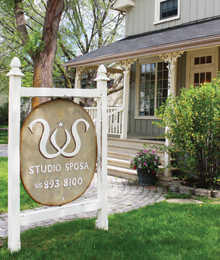 Here comes the bride, all dressed in a predicable gown worn by others before her: a fashion no-no committed on the most important day of her life. Luckily, these cookie-cutter bridal looks play second fiddle at Studio Sposa.
Bringing some of the world's best designers home, the warmly romantic boutique offers rare collections for a unique and beautiful approach to modern elegance and traditional affection in bridal wear. Amidst tufts of tulle and delicate silk duchess rises a Studio Sposa bride – a woman who fittingly swathes her silhouette in fine beauty, expert craftsmanship and handmade couture. "We always thought that if we were to do something, how would it be different. We then started doing research on wedding dresses and designers," says Mariangela Muia, who met Mary D'Aversa while both worked in the financial sector.
The duo waited a year before they opened the doors of their boutique in the intimate village of Kleinburg, a treasured photo shoot location for newlyweds. During this time, Muia and D'Aversa carefully selected renowned bridal houses that design one-of-a-kind semi-custom dresses by hand. What soon filled their showroom were the accoutrements of David Fielden's simple prettiness; the ethereal romance of Katerina Bocci; Claire Pettibone's delicate vintage looks, and more. "The designer that really inspired us the most was Atelier Aimée," says Muia. "Through our visions of what we saw in regular bridal, this was above and beyond what bridal was." The whimsical, enchanting creations of this European brand sparkle with Swarovski crystals, the finest French lace, hand-sewn rosebuds and flowers. A Grace Kelly inspired dress by Atelier Aimée rivals the intricacy of Sara Burton at Alexander McQueen's wedding dress for the Duchess of Cambridge (Kate Middelton). Your first steps into Studio Sposa are the prologue to your own personal fairy tale.
With the class of a horse-drawn carriage and the shine of a jewelled tiara, Studio Sposa provides all brides-to-be with the royal treatment. "Elegance is indicative of what we do here. You're not just getting a couture gown; you're getting that service, that reliability," says D'Aversa. At Studio Sposa, relaxing sit-down consultations reveal multiple layers of a bride's personality, even before dresses – which come equipped with authentic warranty tags – are shown. This materializes the gown that will suit personality and silhouette while stirring orchestral awe. "The gown chooses the bride, it's not the bride that chooses the gown," says Muia. Refreshingly, the prevention of bride doppelgängers is ensured at Studio Sposa, where a dress is never shown to multiple brides living in the same community. What's more, the boutique offers designer trunk shows starting in January, where brides get to meet the designers of their dress and inquire about additions such as crystals, flowers and rosebuds to their dress. A bride also has the option to ask for cost-effective solutions, such as switching a higher-priced material with one that costs less yet boasts valuable quality. "When brides walk out of our boutique with their dress, we say, 'Wow, that's her,'" says Muia.  Unveil yourself as you walk down the aisle as a Studio Sposa bride.
By personal, one-on-one appointment
www.studiosposa.ca
905.893.8100