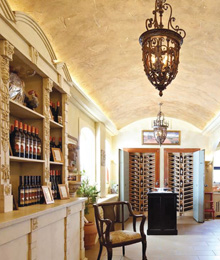 Virtually every start-up starts with a story — the most underrated tool at our disposal. Stories are motivators, inspirational and rewarding at the highest level of personal experience. But stories must be genuine, able to draw the listener in a way, as if those stories were their own.
For Marisa (my wife and partner of 40 years) and I, the motivation driving our desire to develop a winery was stirred by my stint as Ontario's trade representative to Italy — Milan, to be exact. The event was so pivotal to us that we often define our life as before and after Italy. We fell in love with the essence of Italian ingenuity, creativity and outstanding crafted wines. We began to embark on a dream to develop Amarone-styled wines in Canada, with the grapes we grow and subject to the differing climactic conditions. After a few years of talking about our dream, events reminded us that it was time to move forward. In essence, we realized that if a dream is genuine Read more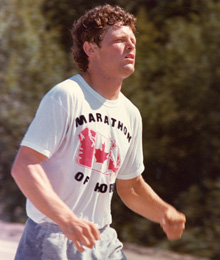 On June 28, 1981, Fred Fox and his family stood by Terry Fox's side as his battle with cancer came to a close. He had been forced to halt his Marathon of Hope when his cancer returned, but he remained hopeful of finishing his journey back home to British Columbia. On that tragic day in June he passed away, leaving a legacy that would inspire millions to carry on his journey to end cancer during the annual Terry Fox Run.
Not one for fame or glory, Terry's mission was never about himself. "He was running all those miles every day — almost an average of a marathon a day — not to be considered a hero or to be famous 32 years later," says his brother Fred. "He just wanted to be out there to do what he could to help other people who would be diagnosed with cancer."
Eugene Strauss is one of those rare cases: he's a man who has a love affair with learning and believes in knowledge for knowledge's sake. Greeting people with a sweet smile and gentle handshake, Strauss makes everyone feel instantly comfortable. What are his goals for the upcoming year as a student at Ryerson University? "To survive," he laughs. Strauss is 87.
Born in 1925, his work experience is vast, ranging from waiting tables before the outbreak of WWII, to moving up the ranks with the Ontario government years later. Along the way, his thirst for education gave way to degrees in economics, public administration and psychology. "I wouldn't have done anything much different. I have no serious regrets," he says. One thing that keeps Strauss feeling vibrant in his elderly years is his constant curiosity about the world. Read more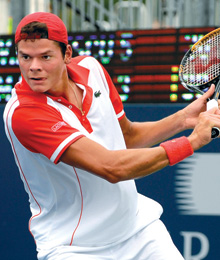 While most twenty-somethings remain uncertain about their plans for the future, the answer is clear for Milos Raonic, 21: "I don't want anything more than to succeed and make big things in tennis," he said in a recent Tennis Canada teleconference.
Ranked 25th in the world, the Montenegro-born Canadian is certainly on his way to doing so. With a killer serve (he hit nearly 250 kilometres per hour at the SAP Open in San Jose this past February), a towering 6-foot-5 advantage, and praise from legends Andre Agassi and John McEnroe, he's quickly shaping up as the real deal.
"It's a great source of pride for us to have one of the world's top tennis players come from our school and our city," says Adam Saperia, a fellow graduate of Thornhill Secondary School (TSS) and Read more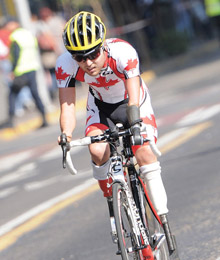 The buzzer sounds and for three and a half minutes Victoria Nolan pulls on her paddles with all her might, feeling the tension of the water through her arms. A year of intense training has led up to this crucial moment, and soon she'll have her victory.
"To come out and win gold, you realize that this is what it takes, and it was all worth it," she says of her and her team's triumph in the adaptive rowing event at the 2010 World Rowing Championships in New Zealand. She has maintained this philosophy of hard work while training for this year's adaptive rowing event at the London Paralympics. Dedication and perseverance are common words in Nolan's vocabulary. Diagnosed with an eye disease at 18, she discovered that she had been gradually losing her eyesight for years. With the birth of her two children accelerating her condition, Nolan was left with three per cent of her vision. As a result, she became Read more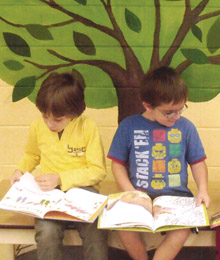 Once a previously neglected room used only as a meeting space, Giant Steps' new library now flourishes with the latest technology for autistic children. Touch-screen white boards, iPads and an Xbox Kinect are some of the innovative tools this school and therapy centre has incorporated to help build the communication, academic, social and lifestyle skills of its students.
Howat Noble, president of Giant Steps, believes that adopting these modern technologies has made the library unique. "It engages the child," he says, "and once you've got the child engaged with this technology, you can really accelerate communication skills." As social interactions improve, so too does the child's connection with friends and family.
From the room's colours to its seating areas, the library is designed Read more
On the evening of May 10, 2012, the Vaughan Chamber of Commerce honoured community stars at the Annual Business Achievement Awards.
While the accolades praised individuals in fields from business to media work, the moment that capped the night was when Broker of Record Vivian Risi of Royal LePage – Your Community Realty received the Philanthropic Business Person of the Year award for her charitable work.
"What inspires me is helping people – vulnerable people – who are not as fortunate as I am," says Risi. As chair of Yellow Brick House's Second Shelter – Second Chances Capital Campaign, she has helped raise awareness and funds of $4 million for an additional YBH crisis shelter. Alongside her efforts in helping abused women and Read more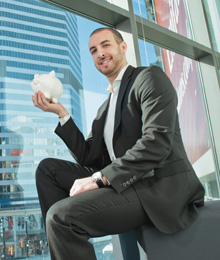 Chris Bryson, CEO and founder of Unata Inc., pulls a fresh Ping-Pong ball out of his pocket and casually serves it across the table, the conversation hot on its tail. With each swing of the paddle, Bryson explains to his opponent, a potential hire, the direction he's aiming his technology company and the vision for his brand. Between backhands and an accelerating rally, the two discuss the speed of the constantly advancing industry, the fundamental shifts required to keep a company relevant and the strategies Bryson implements.
Read more
First impressions mean everything to Canadian impresario Aubrey Dan. It's all about foreshadowing – priming the audience for an unforgettable experience – even if it means asking your staff to find palm trees in the middle of a harsh Canadian winter so they can feel the warm rays of the sun long before the first act of South Pacific. "That emotional connection is critical," says the eccentric president of Dancap Productions Inc.
As he strides into an empty boardroom on the 17th floor of his company's North York headquarters, he proves that the cardinal rule of first impressions doesn't just apply to theatre. Extending his arm for a firm handshake, he carefully presents his business card that features the brand's trademark fedora logo, a silhouette nearly identical to the real-life wide-brimmed Borsalino version he's wearing today. Read more
I travel to London, England several times a year for business and typically stay in the same hotel. The reason is less about the rooms (a good room is a non-starter) and more about the service and the amenities, specifically the bar; I love a great hotel bar, one that is well-designed with a good vibe and fantastic music, and is just as busy with locals as it is with hotel guests. I have been staying at The Connaught and usually take the day flight over. By the time I am checked into my room, it is typically around 10 p.m., and while it is getting late in London, it is 5 p.m. in Toronto, which means it's time for a cocktail. I know several of the bartenders and some of the local patrons, and when I enter, I feel totally comfortable. They know me and they know my cocktail, and it is as if it is a local joint in my hometown. But therein lies the beauty; it is not.