The Gen-Y CEO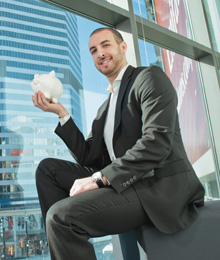 Chris Bryson, CEO and founder of Unata Inc., pulls a fresh Ping-Pong ball out of his pocket and casually serves it across the table, the conversation hot on its tail. With each swing of the paddle, Bryson explains to his opponent, a potential hire, the direction he's aiming his technology company and the vision for his brand. Between backhands and an accelerating rally, the two discuss the speed of the constantly advancing industry, the fundamental shifts required to keep a company relevant and the strategies Bryson implements.

This impromptu interview, held in SPiN Toronto's fluorescently lit basement bar, is unorthodox to say the least, but it's one of many unconventional methods incorporated by today's young, emerging, outside-the-box-thinking entrepreneurs. They're the Gen-Y CEOs, the technologically inclined, progressively minded and forward-looking twentysomethings capitalizing on the new opportunities rapidly evolving devices present. "The technological changes that have happened in the last four to five years by the way of mobile have just quickened the pace of innovation, more than anything else that we've ever seen," Bryson says.

At its core, Unata is the real-world integration of personalized marketing similar to Amazon and Netflix. Through its mobile application, customers will interact with retailers on a one-to-one basis, with the self-learning software adjusting and customizing recommendations and loyalty rewards based on shopping habits. It's a novel idea, but the 27-year-old acknowledges it's not without its obstacles. "There's a disconnect between what you see from technology and what other people and older generations see in terms of its potential or what's cutting-edge."
Throughout its two-year existence, Unata has made headway, however, finding a major partner in Aimia, a loyalty solution provider, and an investor in Mantella Venture Partners. But Bryson admits it's been a struggle to lockdown a major client. He's even forgone a salary for months to save costs. "A lot of retailers that I've met with are perfectly content with saying, 'Yeah, it's cool, let's do that next year.'"
But Bryson doesn't let this hinder his progress. He climbs the ladder rung by rung, and unlike the stigma often swirling around Generation-Yers, he isn't afraid to put in the hours, either. "This week, basically, I've been working until about one or two in the morning, taking a two-hour break at some point for dinner and getting into the office at nine and then usually working half the weekend."
At a small sushi bar on the opposite end of Toronto's downtown, Robert Ostfield explains how his company, andPOP Inc., an online news and pop culture publication, is also highly consuming. "I don't want to say 24-7, but otherwise every waking hour is spent on this thing one way or another," says the 25-year-old.
Ostfield joined the andPOP team in 2005 after befriending two fellow Ryerson University undergrads who started the website as a portfolio project. The two founders eventually moved on, but Ostfield stuck with his dream of creating a multi-platform entertainment brand. He sees the fulfillment of that desire through new devices such as smartphones and tablets. They're potential TV screens, new mediums for deploying and consuming content, as Ostfield notes, "Five years ago, the concept of a mobile app was not in people's vocabulary; now it's the hottest thing to have … people need something to put on these things."
Justin Bieber, Daniel Radcliff and Matt Damon are just a few of the notable celebrities andPOP has interviewed.
While Bryson laments retailers' often-sluggish adoption of new technologies, Ostfield explains that isn't always the case in the realm of media. "They know what time it is," he says, explaining how in the world of pop culture it's vital to stay in tune with what's next. "In order for them to stay relevant, they've got to be aware of what's going on."
Using social networking as a marketing tool, producing quality content, staying persistent – and with a little luck finding funding – andPOP is steadily growing. "We're extremely lucky that the audience we're targeting is very social media savvy," says Ostfield. Social networking sites act as free distribution mechanisms that allow content-driven enterprises, like andPOP, to easily and economically disseminate text and video. It's a medium Ostfield has embraced wholeheartedly,and the results have been game-changing. Their YouTube channel, for example, has close to 9 million views alone, and through multiple media outlets – including their own websites and other major networks like Aux TV and Sirius Satellite radio – andPOP's global reach is upwards of four million unique visitors per month worldwide. It's no longer the case that online media start-ups need to partner with the digital giants like Yahoo or AOL: "You just need some really compelling content, and the audience will decide if it's good or not."
Both these CEOs discuss the issue of funding, and how deal flows in Canada aren't anywhere near the rates in American hubs such as New York and San Francisco's Silicon Valley. There are, however, others that are providing the foundation for young entrepreneurs to grow here in Toronto. One such institution is Ryerson University's Digital Media Zone (DMZ). Much like Stanford University supported growth in Silicon Valley, the DMZ acts as an incubator for start-ups in the GTA. Since opening in April 2010, over 60 projects have been initiated and 41 start-ups have been developed and accelerated.
"It's an absolutely great environment," says Daniel Shain, 26, founder and CEO of Finizi. "They provide you with free office space and then different resources to help you get a business off the ground."
Shain's website (Finizi.com) acts as a bidding platform where financial institutions put their best rates forward and customers can choose which company they would like to purchase from. There's no obligation and it's a completely free service. At the time of writing this article, over $44 million worth of auctions had been completed. Focusing on GICs for the time being, Shain is looking to move into other realms such as mortgages and credit cards in the near future. In fact, Finizi recently added a credit card recommendation engine to the site. "The vision for the business is to really be a one-stop-shop for all financial products," says Shain. It's a model that could potentially reshape customer-bank relations.
Shain's idea has already attracted major veterans, such as former chief technology officer of RBC Michael Velshi, and former banking executive at BMO, Royal Trust and CIBC Sam Cukierman. Their experience has been essential to developing the brand. "They just see a lot of different angles for this business," says Shain. "They've been a great help in terms of opening doors and introducing me to people, because you know, running a successful company is all about building strong resources around you."
But resources are often hard to find. Even after positive reviews from both customers and financial institutions, Shain still searches for the required funding to nurture growth. And the journey to find it is often an emotional rollercoaster. He describes a recent promising encounter with a Silicon Valley venture capital fund looking to invest. Unfortunately, the VC pulled the chute at the last minute – an occurrence that is more than common, explains Shain. "You really have to be strong because it takes so much out of you – putting yourself on the line and hoping you're going to get the funding," he says. "My saying is until the money is in the bank, you can't get too excited."
Other DMZ members, like Lindsey Goodchild, founder and CEO of Greengage Mobile, appreciate the Zone's collaborative environment. "I would say the thing that's been most beneficial for us is the peer-to-peer mentoring," says the 27-year-old. In the DMZ, she's been exposed to the collective insight of unique and budding young minds. Their knowledge and connections have helped foster growth and propel her project forward. "They helped me undertake interviews, helped me get connected to the community, and essentially, they helped me find the people working on this project today," she says.
Goodchild's Greengage app is an interactive tool for employees to provide feedback concerning corporate responsibility within their company. It's a universal tool, applicable to all industries. "Whether it's mining or telecom or hospitality, it doesn't matter where you are. If you have a lot of people in your company and you're trying to be more sustainable, we have a way of reaching those goals," she says. Goodchild hopes this app will inspire employees to be the drivers of sustainability, shifting mentalities towards more eco-conscious solutions.
But for Goodchild, it's not just about breaking into markets. It's also navigating a realm that's predominantly occupied by males. "I was at an event the other day and these events are like 95 per cent men, so it takes a certain amount of courage to just be there at the table, and be confident and comfortable with your idea," she says.
And like the other millennial CEOs before her, Goodchild is no stranger to late nights. "I live and breathe and eat and sleep and think about Greengage," she says. "It's more than a full-time job." But when you love what you do, the commitment comes easy, she adds.
Thankfully, her hard work is paying off. Goodchild explains her app has received ample praise from environmentally conscious corporations, with the majority asking to demo her software at the end of marketing interviews. "It's exciting for me," she says, "not only as a business leader but as a person who studies sustainability to see that's there's a real need and desire for tools that help bring more awareness."
It's a risky realm these entrepreneurs have ventured into, an unfamiliar and constantly shifting landscape where failure is just as probable as success. But it's also a new and unexplored world, one filled with possibilities waiting for those brave enough to pursue. No one ever achieved greatness without being exposed to peril. And in the game of life, sometimes you have to step up to the table and just give it your
best swing.

www.unata.com