On the evening of May 10, 2012, the Vaughan Chamber of Commerce honoured community stars at the Annual Business Achievement Awards.
While the accolades praised individuals in fields from business to media work, the moment that capped the night was when Broker of Record Vivian Risi of Royal LePage – Your Community Realty received the Philanthropic Business Person of the Year award for her charitable work.
"What inspires me is helping people – vulnerable people – who are not as fortunate as I am," says Risi. As chair of Yellow Brick House's Second Shelter – Second Chances Capital Campaign, she has helped raise awareness and funds of $4 million for an additional YBH crisis shelter. Alongside her efforts in helping abused women and Read more
Run by bodybuilding and nutrition expert Dimitri Giankoulas, Pure Motivation Fitness has been helping clients achieve their dream bodies for years. Proving that hard work pays off in the gym and in business, this successful fitness boutique recently won in the small business category at Vaughan Chamber of Commerce's 22nd annual Business Achievement Read more

On Nov. 3, 2010, the Vaughan Chamber of Commerce held its first Women to Women event. A crowd of over 200 businesswomen attended the phenomenal event, to hear from a panel of successful female Read more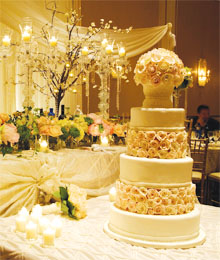 Not many banquet halls are quite like The Venetian, where you can look around and admire huge mosaics and glance up at a ceiling decorated with inspiring paintings and mouldings. The lobbies feature double tiers of gold, off-white and beige. The light reflects on the colours, juxtaposed with those of the mosaics and paintings to create an architectural masterpiece – a hall that not only displays art but is, in itself, a work of art.
The Venetian accommodates a variety of events, cultures and needs. It hosts everything from bachelor parties and showers to sacraments and weddings, including bar and bat mitzvahs and can cater to a wide variety of cuisines including Kosher, European, Chinese and Middle Eastern. Clients can also opt for a more traditional menu. "We pride ourselves on the diverse selection of food and services offered," says owner Joseph Mete. Read more