Everybody Loves Milos Raonic: A local tennis star goes global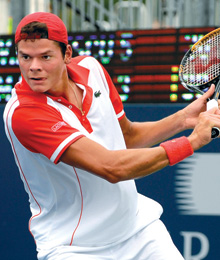 While most twenty-somethings remain uncertain about their plans for the future, the answer is clear for Milos Raonic, 21: "I don't want anything more than to succeed and make big things in tennis," he said in a recent Tennis Canada teleconference.
Ranked 25th in the world, the Montenegro-born Canadian is certainly on his way to doing so. With a killer serve (he hit nearly 250 kilometres per hour at the SAP Open in San Jose this past February), a towering 6-foot-5 advantage, and praise from legends Andre Agassi and John McEnroe, he's quickly shaping up as the real deal.
"It's a great source of pride for us to have one of the world's top tennis players come from our school and our city," says Adam Saperia, a fellow graduate of Thornhill Secondary School (TSS) and an executive member of the TSS Alumni Association. Recalling the days when Raonic participated in the school's High Performance Athlete program, Saperia is looking forward to a seat at Toronto's Rexall Centre when Raonic hits the hard court at the Rogers Cup this summer. Unable to attend last year's tournament in Montreal due to a hip injury, Raonic is geared to take on the premier Canadian competition in a field comprised of top seeds like Roger Federer, Rafael Nadal and Novak Djokovic.
"The whole sense of being here in Toronto and being home, there's an ease to it. At the same time, there's an excitement to do well and really hope for my best tennis at my best level during that week," says Raonic.
After an early exit from the hallowed grounds of Wimbledon 2012, Raonic will be under the watchful eye of fans during his matches at this year's Rogers Cup. That scrutiny will carry to London as he returns to the All England Club with the Canadian tennis team to compete at the 2012 London Olympics. At home, however, there is nothing but high expectations for the face of Canadian tennis.
"The entire school community and the Thornhill community is behind him. We're all huge supporters and huge fans, and we hope to see him continue to do well," says Saperia.