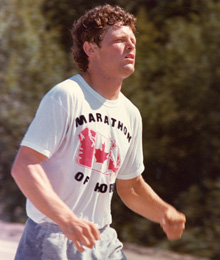 On June 28, 1981, Fred Fox and his family stood by Terry Fox's side as his battle with cancer came to a close. He had been forced to halt his Marathon of Hope when his cancer returned, but he remained hopeful of finishing his journey back home to British Columbia. On that tragic day in June he passed away, leaving a legacy that would inspire millions to carry on his journey to end cancer during the annual Terry Fox Run.
Not one for fame or glory, Terry's mission was never about himself. "He was running all those miles every day — almost an average of a marathon a day — not to be considered a hero or to be famous 32 years later," says his brother Fred. "He just wanted to be out there to do what he could to help other people who would be diagnosed with cancer."
The name Terry Fox has become synonymous with hope, perseverance and goodwill. His determination to fight cancer and prove that every dream is a step away from reality makes him a symbol of strength for Canadians and citizens of the world.
Losing his leg to bone cancer in 1977 at 18 didn't deter Terry Fox from striving to raise money for cancer research and inspiring people with his 143-day Marathon of Hope, in which he ran more than 5,000 kilometres. Fox's race ended when cancer was found in his lungs, but his legacy continues to this day through those that participate in the annual Terry Fox Run around the globe. September 18, 2011 marked the 31st run; to date more than $550 million has been raised. Read more