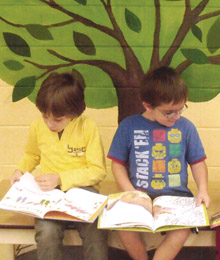 Once a previously neglected room used only as a meeting space, Giant Steps' new library now flourishes with the latest technology for autistic children. Touch-screen white boards, iPads and an Xbox Kinect are some of the innovative tools this school and therapy centre has incorporated to help build the communication, academic, social and lifestyle skills of its students.
Howat Noble, president of Giant Steps, believes that adopting these modern technologies has made the library unique. "It engages the child," he says, "and once you've got the child engaged with this technology, you can really accelerate communication skills." As social interactions improve, so too does the child's connection with friends and family.
From the room's colours to its seating areas, the library is designed Read more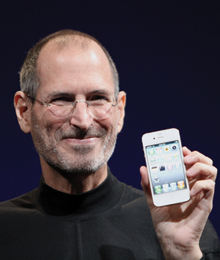 When Albert Einstein formulated E = mc2, he changed how we looked at the universe. When John Lennon told us to Imagine, he changed how we heard music. And when Steve Jobs gave us a new device, he changed how we interacted with technology. When the Internet exploded with dialogue discussing the passing of the 56-year-old Apple co-founder on October 5, it can be said with all confidence that millions of people did it using the products he created. This is his legacy; this is the most important innovator in the last 35 years.
No one, especially in the world of technology, has influenced more lives than Jobs. Rival developer Bill Gates spoke of the pleasure of knowing him, Facebook creator Mark Zuckerberg thanked him for showing "what you build can change the world," celebrities wished him a heartfelt farewell, U.S. President Barack Obama Read more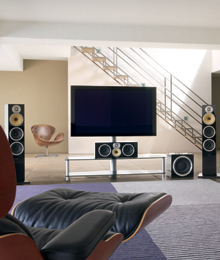 Innovations in modern home entertainment provide a plethora of possibilities for families to enjoy their media however they see fit. Although fascinating, today's technology can be the source of much confusion. Celebrating 25 years of home audio/video experience, who better than the experts at Audio One to provide valuable insights into how new technologies are creating exciting prospects for household entertainment.
"Home entertainment is becoming so customizable it's no longer a question of, 'what can I do with this room, but rather, 'what do you want to be able to do in this room?'" says Gino D'Ascanio, home audio/video specialist and partner at Audio One.
With extensive expertise in high-calibre home theatre and music systems, the team at Audio One is well aware of Read more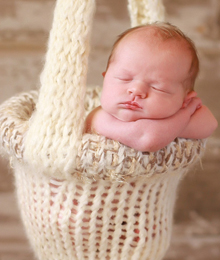 We've scoured the internet and the city yet again to bring you products that will excite your taste buds, spruce up your home and enrich your life.
1. Debis Creations Photo Prop For your next photo shoot with a little bundle of joy, use this very soft, caramel-coloured yarn basket photo prop. It's the perfect addition to any photographer's collection and is meant for photographic purposes only, not for personal use. Supervision required. www.etsy.com
2. Yellow Warblers Watercolour Painting Bring in the summer colours, thick green grass and, of course, the singing birds.  This original watercolour painting is sure to spring life into your domain. Drawing from references in ornithology, this painting resembles two parents softly singing to their little soon-to-be babies. www.etsy.com Read more