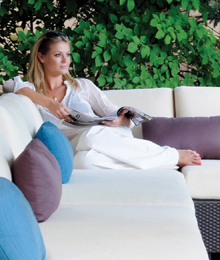 If summertime barbeques and backyard parties are on your menu, don't just settle for the traditional passé plastic of big box store furniture – add some style and comfort. And where better to liven up your alfresco living space than at Andrew Richard Designs (ARD).
Founded by brothers Andrew and Richard Bockner, the team at ARD feels backyards and patios are extensions of the home and should create the same comfortable feelings as any other room in your dwelling. "It's about lounging and enjoying it, having the space to do so, letting your mind go, distressing and relaxing. That's what I believe outdoor living is about," says Andrew Bockner.
Striving to refurnish dated outdoor memes, Bockner crafts furniture for the modern individual who craves tranquil feelings from their outdoor seating. "The way to go is to get some Read more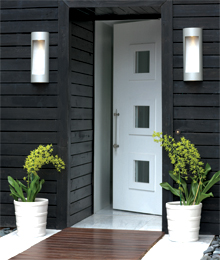 When the sun goes down, playtime begins, and what better place to get the good times rolling than in the privacy of your backyard? Without proper lighting, however, your once-exciting celebration can turn into a shadowy game of Marco Polo. With the right luminosity, this outdoor locale can become an intimately lit escape.
There once was a time when you strung some patio lanterns here, threw a spotlight there – no big deal. Today, the team at Prima Lighting understands that the art of illumination takes more than arbitrary lamp placement. "You have to be very careful with the number of lights and where they're positioned," says Luca Filice, co-owner of Prima Lighting. "Every light has it's own job and it's own unique style." Read more
Greater Toronto Area homeowners know that every square foot holds great value. With limited residential space and a 9 to 5-plus work life that can often confine you to an overcast cubicle, there's never been more of an incentive to make use of your sunny backyard space. This is where gardening guru Jennifer Hayman comes in. "In Toronto, space is at such a premium that rather than having neglected, unused lawns and gardens, why not make it a series of outdoor rooms that flow and connect and allow you and your family the opportunity to relax and really maximize your time outside." Hayman is the founder of Toronto's award-winning landscape design-build firm Jennifer Hayman Design Group.
While Hayman's firm fulfills a diverse array of landscaping dreams, she says that a rising trend in outdoor space solutions is to take existing abandoned garages and transform Read more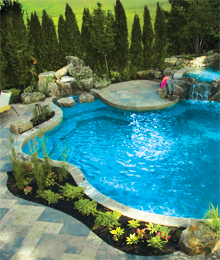 Have you always wanted to spend your summer days in a lush tropical lagoon instead of an ordinary backyard? This longing need not remain a mere fantasy – you can transform your yard into a sultry oasis with a breathtaking pool as the focal point.
"It's like having your own waterfront property," says Ed Gibbs, president of Gib-San Pool & Landscape Creations. The world's first ISO-certified pool company and a member of the coveted Master Pools Guild, Gib-San is more than just a pool-builder. For over 40 years, it has been designing and creating pristine properties, renovating backyards into little pieces of paradise. "You really have to have designers and architects involved if you want to achieve something more than an average backyard and pool," he adds. Read more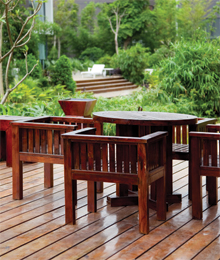 If there's one thing that can tarnish your backyard's good name, it's a poor-looking deck and fence. Over time, sun and moisture can damage exposed decks and fences, giving an undesirable weathered look. To ensure the longevity and durability of your wooden deck and fence, applying a good quality wood stain is a must. But before the brushing begins, there are a few important points to consider.
First and foremost, the wood must be prepared. If your deck and fence has seen a few winters and you're looking to recoat the lumber, cleaning is crucial. "It removes any mould, grime and dirt from the wood, and gives the finished product a more pristine look," says Claudio Grisolia, owner of Steeles Paint.
If this is the first season for your timber, you're in luck: no cleaning is required. However, if you just recently built Read more
Creativity isn't born out of someone who plays it safe. "If I'm not scared when I'm doing something, I'm not doing it right," says interior designer Sabrina Albanese.
Graduating from Ryerson University's School of Fashion in Toronto and Central Saint Martins University of the Arts in London, England, Albanese went on to co-own a clothing label called Wolves. After living in New York to pursue her fashion career, Albanese eventually moved back to Toronto where she realized her true calling. Now, she is a successful businesswoman and interior designer, who lends her talent to anything from commercial projects to vacation homes. "One thing about me is that I love design in general, so I embrace every discipline," says Albanese. Describing her style as eclectic, this multi-dimensional individual loves antique shopping and watching old movies for décor inspiration. "I like finding unusual things." Read more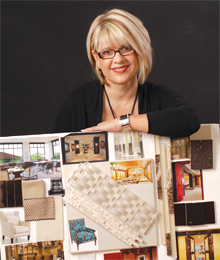 "I can't live without my imagination," says Roula Thalassinos, the owner and visionary behind Stagedfx. With a presence and passion for the home staging and interior decorating business, she doesn't have to.
Growing up, Thalassinos always had a love of beautiful things. "My mother was a custom dressmaker and I would always see luxurious fabrics and one-of-a-kind pieces." Following in her mother's footsteps, this businesswoman first started as a fashion designer for her own successful line of children's clothing. After years of compliments on the look of her home, it was time to apply her knack for decorating and creative vision to yet another endeavour.
Thalassinos soon became an expert in the home staging industry and a successful interior decorator. "When staging Read more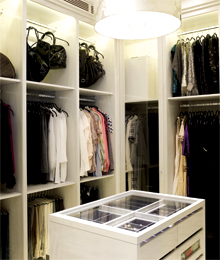 The day of the Royal Wedding was fitting to interview a princess – a practical princess, that is. "I am probably the most boring person in the whole-wide-world," says the sweet English voice on the phone. "I promise you darling, I am." With years of experience in the fashion industry and elite clients Kate Moss and Jimmy Choo co-founder Tamara Mellon, wardrobe guru Elika Gibbs is far from lacklustre.
Her personal shopping and wardrobe organizing company Practical Princess gives women the help they need to feel confident in their clothes and happy in their closets. The knowledge Gibbs has been sharing with celebrities is now available for everyone to enjoy. Her new book, Practical Princess Perfect Wardrobe hands us her winning formula on a silver platter. With posh closets and designer clothes spread across the pages, Gibbs makes it an easy, if not indulgent, read. "Clothes do hold memories and we do sort of Read more
These inspiring designers continue to devote their talents and creativity to orchestrating beautiful spaces that mesmerize our minds. Passion for art and a heightened imagination often materialize at an early age. For Tara Seawright, Theresa Casey and Cobi Ladner, this passion has elevated each of them to incredible heights.
Cobi Ladner
Cobistyle is all about showing your true colours at home and making a comfortable, beautiful and happy place for the ones you love – it's as simple as that.
Spring is in the air! Why not use the new season as motivation to freshen things up around your house and add some personality and colour. Your home should be a joyful backdrop for daily life and reflect your own unique character – in short, Read more
MAY FLOWERS
Everything will be coming up roses with some floral wall art. www.bouclair.ca
PILLOW PLAY
From puffy pillows to stylish storage and diverse decorations, give your interior the accessories it needs for a finished look. www.bouclair.ca
BEJEWELLED
A diamond-encrusted cushion adds flair to a comfy couch. Read more