Creativity isn't born out of someone who plays it safe. "If I'm not scared when I'm doing something, I'm not doing it right," says interior designer Sabrina Albanese.
Graduating from Ryerson University's School of Fashion in Toronto and Central Saint Martins University of the Arts in London, England, Albanese went on to co-own a clothing label called Wolves. After living in New York to pursue her fashion career, Albanese eventually moved back to Toronto where she realized her true calling. Now, she is a successful businesswoman and interior designer, who lends her talent to anything from commercial projects to vacation homes. "One thing about me is that I love design in general, so I embrace every discipline," says Albanese. Describing her style as eclectic, this multi-dimensional individual loves antique shopping and watching old movies for décor inspiration. "I like finding unusual things." Read more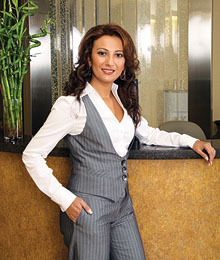 Even a top-notch businesswoman needs some time to herself. Time to rest her head, soak her feet, and let a professional take care of the rest. After a stressful day of meetings and deadlines, a trip to the spa is a haven of tranquility and rejuvenation. But there's no need to break the bank, or venture to the depths of the city, because An Ivy Spa has sprung up just outside your door.
Newly planted this past August, An Ivy Spa has been quickly flourishing into a lush and vibrant hotspot. Named after its lovely owner and trained nurse, Ivy Camelo, this family-operated Read more