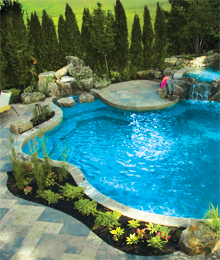 Have you always wanted to spend your summer days in a lush tropical lagoon instead of an ordinary backyard? This longing need not remain a mere fantasy – you can transform your yard into a sultry oasis with a breathtaking pool as the focal point.
"It's like having your own waterfront property," says Ed Gibbs, president of Gib-San Pool & Landscape Creations. The world's first ISO-certified pool company and a member of the coveted Master Pools Guild, Gib-San is more than just a pool-builder. For over 40 years, it has been designing and creating pristine properties, renovating backyards into little pieces of paradise. "You really have to have designers and architects involved if you want to achieve something more than an average backyard and pool," he adds. Read more
A company that has stood the test of time, Bancheri Bros. Interlock & Paving Corp. has transcended generations, fusing past traditions with modern materials. Aside from its revered paving and interlocking services, the company enhances its projects with landscaping, fountains and flowerbeds.
With projects throughout the GTA boasting the Bancheri brothers' superior work, this 25-year-old company makes homes sparkle with curb appeal. "Our clients appreciate our professionalism and efficiency," says Charlie Bancheri, who runs the company with his father, Filippo, and uncle Salvatore. "We're clean, courteous, and we concentrate on one job at a time, which allows us to finish projects very quickly."
The mark of a Bancheri Bros. project is its artistic Read more