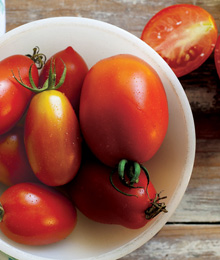 The taste of a juicy tomato freshly plucked from the garden is one of my favourite summer-gardening moments. Undoubtedly the world's most popular fruit grown in the vegetable garden, tomatoes come in all shapes, colours, sizes and flavours. From cherry tomatoes, slicers and plum tomatoes, to colours of red, yellow and purple – believe it or not, all require the same growing conditions. Here are some quick tips to get your perfect tomato garden growing this summer.
Make Them Feel Hot, Hot, Hot
Tomatoes like it hot and sunny, requiring at least six (but ideally eight) hours of direct sunlight – preferably in the afternoon – for optimum growth. The hottest summers produce the best tomatoes.
Feed Your Soil
Whether planted in the ground or in a pot, tomatoes require rich and
Read more
In most Canadian gardens, there is too much clay or sand content, say experts in this field. Both are responsible for a compromised growing environment – and that spells frustration for those of us who work hard to grow flowers, tomatoes, vegetables and fruit.
"For plant roots to thrive, they need a proper balance of moisture, nutrition and aeration," says Syd Pell at Miracle-Gro. "Clay soil is dense and heavy, with tiny pores, so the oxygen level is low. Water cannot readily pass through, causing drainage problems that essentially drown the plant. At the other extreme, sandy soil has large pores and is low in organic matter, making it difficult to retain nutrients as water drains away far too quickly. If the roots can't get sufficient water and oxygen to transport nutrients, the plants will shut down."
Read more
Greater Toronto Area homeowners know that every square foot holds great value. With limited residential space and a 9 to 5-plus work life that can often confine you to an overcast cubicle, there's never been more of an incentive to make use of your sunny backyard space. This is where gardening guru Jennifer Hayman comes in. "In Toronto, space is at such a premium that rather than having neglected, unused lawns and gardens, why not make it a series of outdoor rooms that flow and connect and allow you and your family the opportunity to relax and really maximize your time outside." Hayman is the founder of Toronto's award-winning landscape design-build firm Jennifer Hayman Design Group.
While Hayman's firm fulfills a diverse array of landscaping dreams, she says that a rising trend in outdoor space solutions is to take existing abandoned garages and transform Read more
Coming home from school one summer, Frank Ferragine realized something very simple yet extraordinarily important about himself. For years, he had his sights firmly planted on becoming a lawyer with dreams of judicial grandeur dancing through his mind. He fast-tracked through university to speed up the process while also gaining acceptance to Osgoode Hall Law School at York University. But something was amiss. Something just didn't feel right.
Ferragine took the year off to help his parents open their new garden centre in Barrie, Ont., – his hands in the dirt and the fragrance of fresh foliage wafting through his nose. It was during those days that he came to a blunt and obvious conclusion: "I really don't like paperwork." In that single moment of existential epiphany, Ferragine's true passion began to actualize and low-and-behold, his true calling was budding right before his eyes: gardening. Read more
Give your green thumb a workout with these gardening must-haves.
1 Zensations
With vibrant colours complementing the hues of spring blossoms, these traditional Buddha heads fuse Zen with a hint of modern design into your space. www.homesense.ca
2 Home Made
Carmine strawberries and leafy green asparagus by Harvest Collection will up the ante when harvesting season favourites. www.homedepot.ca
3 Green Bay
Stripe your grass as you mow with a system that can be easily attached to your walk-behind mower. The end-result is a Read more