Wood Staining Tips with Claudio Grisolia of Steeles Paint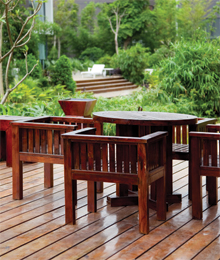 If there's one thing that can tarnish your backyard's good name, it's a poor-looking deck and fence. Over time, sun and moisture can damage exposed decks and fences, giving an undesirable weathered look. To ensure the longevity and durability of your wooden deck and fence, applying a good quality wood stain is a must. But before the brushing begins, there are a few important points to consider.
First and foremost, the wood must be prepared. If your deck and fence has seen a few winters and you're looking to recoat the lumber, cleaning is crucial. "It removes any mould, grime and dirt from the wood, and gives the finished product a more pristine look," says Claudio Grisolia, owner of Steeles Paint.
If this is the first season for your timber, you're in luck: no cleaning is required. However, if you just recently built your deck and fence, Grisolia highly recommends sanding the wood. "This removes the mill glaze – the polish left by the saw from the mill – and opens the pores to allow the stain to soak deep into the wood."
Weather and temperature also play key factors when applying stains. The wood needs to be completely dry, but if it is too hot outside the product won't properly penetrate, either. "When the sun is beating down on the surface, it's actually heating the wood," says Grisolia, who first opened Steeles Paint in 1988, and has over 30 years in the paint business under his belt. "What happens is the stain will start drying the minute it hits the wood and won't soak deep enough in." The ideal time to apply a stain is early in the day or later in the evening when the sun is away from the deck.
For the environmentally conscious consumer, Steeles Paints also carries a variety of eco-friendly, waterborne stains from companies such as Timber Pro Coatings and Benjamin Moore. These biodegradable products give a spectacular look, while remaining gentle on the environment.
If you're still apprehensive towards the process, Steeles Paint's more than knowledgeable staff can guide you step-by-step, as Grisolia concludes, "We won't sell anybody anything unless we walk them through it."
416.743.4040  www.steelespaint.com